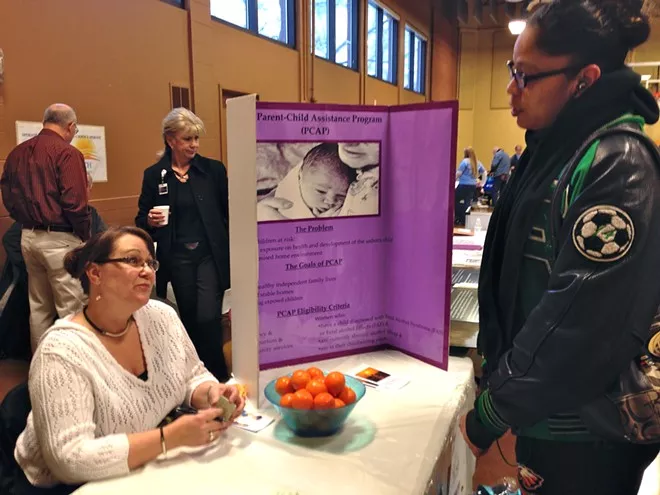 H
omelessness isn't
always what you see on the streets. In Spokane Valley, sometimes homelessness is a person going to the library just to sit there, in a clean, quiet place where they can be left alone.
It's something Aileen Luppert, managing librarian at the Spokane Valley Library, is seeing more of recently.
"We're starting to see it everyday," Luppert says.
Luppert thought Spokane Valley needed an event with one-stop shopping for homeless people, allowing them to be connected with services. Modeled after the annual Spokane Homeless Connect. On Friday, Sept. 14, the
first ever
Spokane Valley Connect will take place at Opportunity Presbyterian Church on 202 N. Pines Rd.
At Spokane Valley Connect, people can find housing resources, get free youth sports physicals, sign up for dental and health check-ups, or find mental health services. A full list of the more than 40 on-site providers
can be found here
.
Luppert, the chair of the event's organizing committee, says she's been alarmed by the growing number of homeless students in Spokane Valley. Spokane Valley schools saw a 9.6 increase in student homelessness in 2017-18 compared to the year before, she says. That figure includes students who are "doubled up" or sleeping on someone's couch.
The event will have more of a "family feel," she says, recognizing that homelessness in Spokane Valley may look a little different than it does in downtown Spokane. There will be educational services there, along with school supplies for families that can't afford them.
Luppert says the event is something that's been in the works for years, ever since the Spokane Homeless Connect — which usually takes place in January — launched seven years ago.
"We know there's a need here," she says.