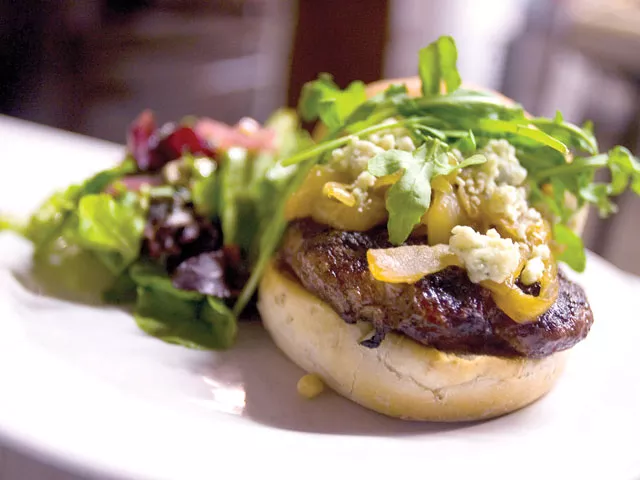 There is no place for self-consciousness at the dinner table.
When I go out to eat, I want a vacation for my taste buds. A brief holiday for my mind over a glass of wine or a plate of great food. When I go out, I just want to eat, laugh, smile and relax.
But on my two visits to Nectar, a seemingly adorable little café and wine bar in downtown Moscow, nearly everything — food, service, presentation — was less than savory. Both meals felt like an experience in self-doubt and constant questioning: Should this taste this way? Should my server be helping me? Did she just roll her eyes at me?
On our first visit, Nectar was surprisingly full for an early-weekday evening. Still, we were seated immediately. Our server gave us a couple of menus to peruse, some waters, a wine menu. She said she'd be back.
And she was — immediately. We knew we wanted the Artisan Cheese Plate ($8), so I told our server that we'd take the cheese. By the time she came back, we'd have dinner figured out.
Again, she was back immediately. She plopped the cheeses down on the table with a small plate of bread and, without a word, scurried back into the kitchen. We asked ourselves the first of many questions we'd wonder through the night: What were these cheeses? Did she forget that we wanted dinner?
We knew we had a Brie, a Manchego and a fl op of honeycomb — but what was this other chunk? It turned out to be a Morbier. The flavors were tasty, but each cheese was fairly mild — making us wish there was a more piquant option.
We ordered two side salads: a Caesar ($4;$7, full-size) for me and a Nectar salad — a mix of greens, red onion, blue cheese and pine nuts — for my date. For dinner, I ordered the mac 'n' cheese ($9) — a blend of local Cougar Gold cheese, aged Gruyère and Parmesan. My date ordered the steelhead trout ($18).
My companion's salad was delicious and simple. Mine, on the other hand, was not what I expected. It was heavy on raw egg and tasted like a scramble of eggs and mayonnaise.
Still, we welcomed the digestion and conversation time waiting for our entrées. As we talked, however, we noticed that our small table was littered with plates — two salad plates, a bread plate, the empty cheese plate and two appetizer-sized plates — a wine menu, two water glasses and two drink glasses. We kept giving our server feeble smiles, hints that went unnoticed. We wondered: Is it unreasonable to want a clear table?
In the wait for our dinners, I asked the server filling our waters to bring me a Pellegrino. She enthusiastically nodded. It never came.
My date's fish was cooked in a savory brown butter sauce served over crisp green beans and forbidden rice. He observed that this dish tasted best when you get a little of everything — fish, beans, rice — in one bite. And he liked the heavily salted flavor.
A crunchy, home-style breadcrumb topping covered the top of my mac 'n' cheese, adding a mild garlicky flavor to the dish. I usually love the twang that Cougar Gold has, but the addition of Gruyère here toned down the pungency. The crumb-top disappeared too fast.
For dessert, we went for the Poached Fruit Shortcake ($6): a mix of pears, cranberries and figs. It was, at best, unappetizing. The fruit tasted like it had been poached in a heavy merlot and vinegar. The shortcake was bone-dry, as though it had been baked a week before. We took a few bites and left it on the table unfinished.
Thinking Nectar had just had a bad night
, I returned a week later for lunch. I ordered the half-sized arugula salad ($4.50) and the muffaletta sandwich ($6) with sweet potato fries. I'm a vegetarian, so I specifically asked my server if that sandwich came with meat. She said no, but I could add salami for a dollar. I said no meat, please. No. meat.
After I blew through the crisp arugula, beet and chèvre salad, the sandwich arrived — with meat. My server was gone before I noticed, and I waited, hoping to send the sandwich back for de-meating. After five minutes, she was still nowhere to be found.
After unwillingly removing the meat slices myself, I could see the muffaletta for what it was. It comes on a gorgeous, crunchy baguette, complete with pickled asparagus, olive tapenade, tomatoes and provolone. It really was a delicious sandwich, and I tried not to let the stack of salami discs that I'd created on the far end of my plate ruin it. The fries were crisp and came with a delicious spicy aioli for dipping. My server apologized profusely for the meat — but she still left the stack sitting there in front of me. (Vegetarians must not come here often.)
I was thinking that my second trip — despite the salami snafu — was shaping up to be a better one as I finished my green tea and asked for the check. But as I was gulping down the last of my tea I noticed that the cup was filthy. And I felt self-conscious and full of questions yet again.
Nectar 105 W. Sixth St., Moscow, Idaho Open Mon-Sat 11 am-10 pm Call (208) 882-5914
VEGETARIAN/VEGAN/ GLUTEN-FREE OPTIONS: There's stuff for cheese-eaters, but vegans and those with celiac allergies will have to ask their server for options. Chef Eric Conte will happily accommodate dietary restrictions.
LOCAL INGREDIENTS: In the summer months, Conte estimates that more than 40 percent of the menu is locally sourced. Right now, local ingredients are the veggies, beef, lamb and, of course, Cougar Gold cheese.