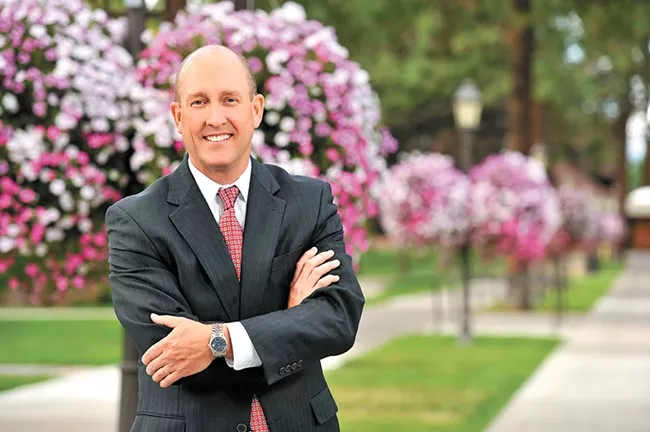 W
hitworth students who want to smoke
or vape will no longer be able to do so on campus, according to new rules passed by the school this week.
"Whitworth will be a smoke-free tobacco-free campus effective Jan. 1 2019," university President Beck Taylor announced on
Twitter
earlier this week.
That means there are no designated smoking areas, so even students who live in the dorms must leave campus to smoke or vape. If students are caught, then the school will provide resources to help them quit the addiction. If it happens too many times, starting next fall, they could receive a sanction that could include suspension, says Rhosetta Rhodes, vice president for Student Life at Whitworth.
Rhodes says the goal is to improve students' health. Surveys conducted by the university recently have shown that the majority of faculty, staff and students felt that colleges have the responsibility to reduce the risk of tobacco addiction by adopting policies that address tobacco use. The surveys also indicated that most smokers on campus had tried to quit at one point.
"What we would be doing would be helping them out," Rhodes says.
Colleges going smoke-free is not uncommon. Colleges going smoke
and
tobacco-free, which includes vaping and e-cigarettes, is just starting to catch on. This week, we wrote about how local public K-12 schools are trying to combat the
growing issue of kids vaping in school
, yet the schools are having little success. On college campuses, at least, students are
typically
of legal age to vape.
was
driven by a student group called the Health Education Action Team. Anya Nordling, a junior at Whitworth and part of the team, says the conversation started when students questioned why, even though marijuana was legal, it wasn't allowed on campus yet cigarettes and vaping was allowed.
"It came down to a general safe zone," Nordling says. "We don't allow alcohol and we don't allow marijuana, and now we don't allow cigarettes or tobacco."
Vaping, however, was the main concern.
"People our age aren't really smoking cigarettes, but vaping is seen as more trendy and it's perceived as less dangerous and less of a health risk," Nordling says. "But vaping is still bad, it's just bad in a different way."
Some research has shown that the millions of cigarette smokers could save a total of
86 million years of life if they switch
to vaping. Cigarette smoking among youth and young adults has
decreased dramatically
as vaping has increased. E-cigarettes don't have the tar present in traditional cigarettes but
still have many of the same carcinogens
as traditional cigarettes — albeit at much lower levels. Nicotine, however, is highly addictive and has
negative impacts on heart health
. Research hasn't really shown what the long-term effects of vaping might be.
"No one actually knows all the chemicals that are in the vaping products," says Mutsa Chiromo, a senior at Whitworth also on the Health Education Action Team.
Chiromo came to Whitworth from Zimbabwe. She says she's lost family members to smoking, including her uncle. She's worried that vaping targets youth and will lead them to become lifelong smokers.
The students held town hall meetings in which they gathered input from students on the proposed policy. They heard feedback wondering if the policy would deter students from wanting to go to Whitworth. But Chiromo says that as an international student herself, knowing that Whitworth is concerned for her health actually makes her
more
likely to want to go there.
They also heard feedback that students who vape don't want to be told how to live their lives. For those who live in dorms, Nordling admits that the policy will be particularly difficult.
"It's kind of the nature of the beast, and it really sucks, but if it ends up being enough of an inconvenience then hopefully it will lead them to seek cessation," Nordling says.