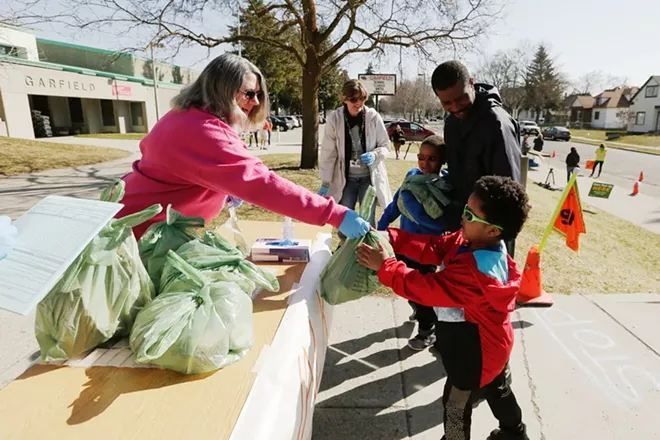 For a moment, the volunteers at Garfield elementary might have thought they'd need to wait a while before handing out their first bag of food Thursday. Cameras and reporters were clustered in front of the meal distribution site, but the neighborhood surrounding the school remained silent.
But then, seemingly all at once, dozens of kids from a local day care crossed the street single-file and arranged themselves in a line to get a sack of food. Within a few minutes after the meal site opened, the line had formed down to the street.
"We're making it so it's really easy: It's a bag, we're gonna hand it to them — no, they don't have to touch anything — we've all washed, sanitized, we've got our gloves on," says Doug Wordell, director of nutrition services for Spokane Public Schools. "We're maintaining a safe production for families and hopefully they bring kids in and get a good nutritious breakfast and lunch."
Thursday was the first day that Spokane Public Schools began offering grab and go meals for any child — whether they attend Spokane Public Schools or not from 11 am to 1 pm. The district had 21 locations this week, and Wordell says the plan is to expand to more schools next week. You can find
a map of the meal distribution sites here
.
Each site Thursday had 100 sacks of food, each with breakfast (yogurt, fruit, vegetables and milk) and lunch (a sandwich, fruit, vegetables and milk.) Those needing a meal can drive by and pick one up or walk by. Within 20 minutes, volunteers at Garfield already were worried that they might have to prepare more food.
Nearly 60 percent of students in Spokane Public Schools — which has more than 30,000 students — are on free and reduced lunch. Normal volume for the district in a day is 16,000 lunches and 8,500 breakfasts served out.
"Hunger doesn't take a break," says Wordell. "It doesn't take a break in the summer, it doesn't take a break in emergencies."
Wordell says the district will have to overcome some challenges with the supply chain. Lunch meat, for instance, is low. The district may start serving cold pizza or cold burgers that kids can microwave at home.
John Richey, a parent of two Garfield students, says heard about the meal site via email. He brought his two kids to the meal site as soon as it opened. Before the school closure, he had recently quit his job to start his own business. This week, he says, has felt like a "long weekend" so far.
"It's a little stressful, just the uncertainty of not knowing what's going to happen," Richey says of the school closure.
Francell Daubert, an office manager at Garfield, volunteered to help distribute food to families. She has her own two kids who are now at home because of school closures, but she wanted to help out however she could.
"It's what we need right now," she says. "I'm not a part of the vulnerable community, but I want to make sure those of our staff and families who are have something. And if I'm healthy enough, I can give it to them."