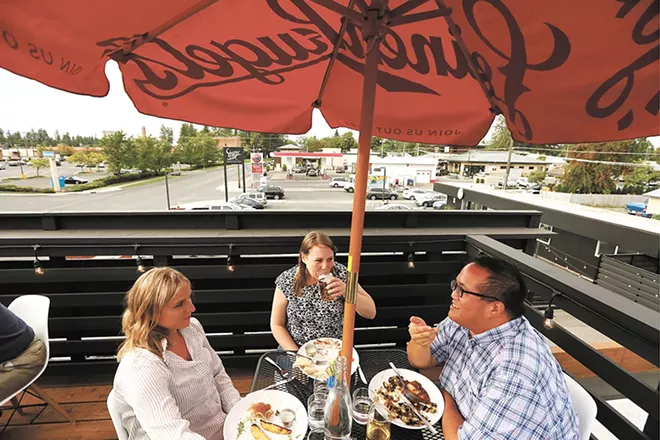 It was about halfway up High Drive, when the knot in my left calf muscle tightened beyond what I could bear, that I realized this might have been a bad idea. Each downward pedal stroke yanked the knot tighter, spreading dull and agonizing pain through the back of my leg. I wasn't even halfway to the first bar.
For this year's Drink Local issue, I was assigned to do a bicycle bar crawl on the South Hill. Then, like any good journalist would, I was to ride the route, and report back. It should be accessible. Popular bars. Nice beer selections. No problem, I thought.
In hindsight, six bars was a little ambitious. I rode a total of 15 miles (starting from the Inlander office in Kendall Yards) and stopped at five bars over a span of about six hours. The route descends from 57th Avenue to 10th Avenue and (mostly) avoids busy roads.
We begin the tour at a staple South Hill haunt: Morty's. By the end, the knot, along with some of my vigilance, had disappeared.
THE BARS:
Morty's Tap & Grille
5517 S. Regal, mortystapandgrille.com
Open every day, 7 am-2 am
What I drank: Moose Drool
Known for: Morty the Moose, whose head is displayed at the far end of the bar. The Wild Weasel, Morty's friend and former pub namesake, stands atop his head; breakfast served until 1 pm.
Bike rack? Yes; west side of the building near the dumpsters.
---
Waddell's Neighborhood Pub and Grille
4318 S. Regal, waddellspubandgrill.com
Open Sun-Thu, 11 am-11 pm; Fri-Sat, 11 am-midnight
What I drank: The Hoppy Sour, a collaboration between Waddell's and Paradise Creek Brewery.
Known for: The bar is named after the Baseball Hall of Fame pitcher Rube Waddell, an eccentric lefty with a nasty curveball and a smokin' fastball. Waddell is rumored to have wrestled an alligator one year during spring training; 50 taps constantly on rotation.
Bike rack? Yes; out front, across the parking lot.
---
Remedy Kitchen and Tavern
3809 S. Grand Blvd., Facebook: Remedy Kitchen and Tavern
Open Mon-Thu, 11 am-midnight; Fri, 11 am-2 am; Sat, 8 am-2 am; Sun, 8 am-midnight
What I drank: The always-refreshing Cascade Pilsner from Full Sail Brewery.
Known for: Billed as the "cure for the common South Hill dining experience," Remedy has a commendable beer selection (22 taps) and "crafty" cocktails mixed with fresh juices and "no shortcuts," says bartender Jamie Young.
Bike rack? No.
---
Manito Tap House
3011 S. Grand Blvd., manitotaphouse.com
Open Sun-Thu, 11 am-10 pm; Fri-Sat, 11 am-midnight
What I drank: Scrimshaw Pilsner
Known for: Named "the best bar in Washington state" by CraftBeer.com; 50 rotating taps
Bike rack: Yes; right out front, with plenty of room.
---
South Perry Pizza
1011 S. Perry, southperrypizzaspokane.com
Open Tue-Thu, Sun, 11:30 am-9 pm; Fri-Sat, 11:30 am-10 pm
What I drank: Kölsch from Perry Street Brewing Co. (right next door!)
Known for: Artisan pizzas; $2 bottled beer on Wednesdays.
Bike rack? Yes. ♦