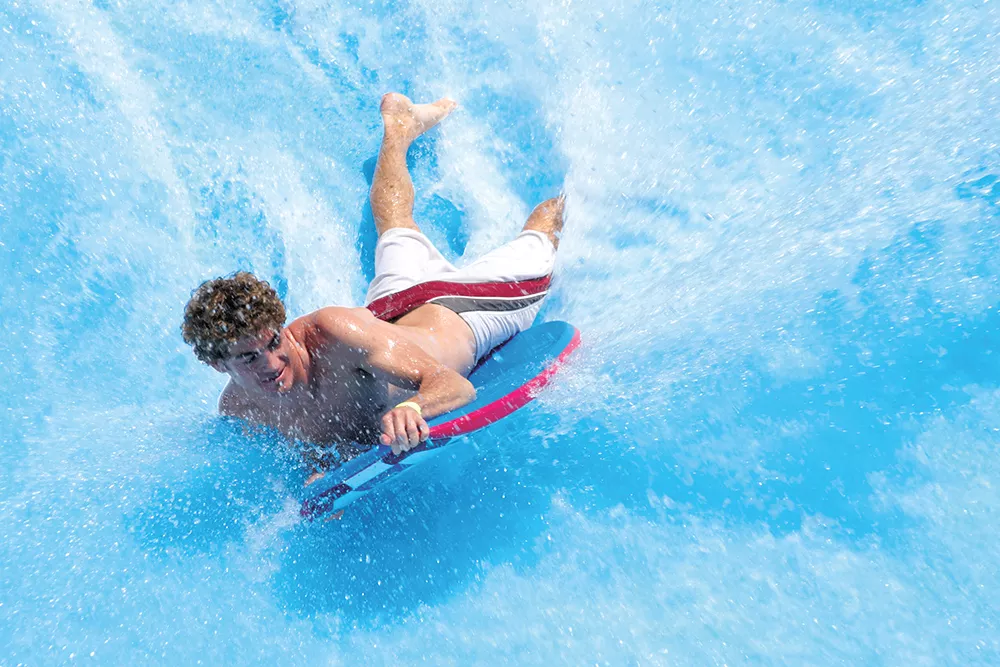 Surfing and downhill skiing don't usually go hand in hand, but when they do, you find a winter destination packed with adrenalin-rush fun for the whole family. Kellogg, Idaho, offers both the winter-weary and the snow lover a mother lode of winter recreation at its Silver Mountain ski resort and indoor water park.
Supposedly a mule led Noah Kellogg, a just-getting-by miner looking for gold, to an outcropping of lead ore that eventually developed into the Bunker Hill and Sullivan mines. Recreation came to the remote town when the first downhill ski run was cut into what was then called Jackass Mountain.
Today, Silver Mountain boasts 1,600 acres of terrain, 2,200 vertical feet, 73 named trails and an average of 300 inches of annual snowfall. A 700-foot moving carpet serves the beginner area and snow tube park.
You'll feel like you stepped off the airplane in tropical Hawaii when the constant, 84-degree temperature hits your face at Silver Rapids, Idaho's largest indoor waterpark. At the base of the mountain, adjacent to the gondola, Silver Rapids entertains all ages: there's the gentle Pollywog Pond, the Moose Sluice family raft ride, the FlowRider surf wave and the thrilling Prospector Plunge.
If you like your exercise on the dry, flat side, the Trail of the Coeur d'Alenes runs past the lodge and is perfect for a winter walk. Drive 10 miles to the Enaville Trailhead and hike west for a pretty walk along the Coeur d'Alene River.
Waterpark entrance is included in your room rate at Silver's Morning Star Lodge ($139 to $449). Choices include handsomely furnished studios, one- and two-bedroom suites and family lofts with full kitchens and fireplaces. All lodging has quick access to the waterpark, and the gondola to the top of the ski and snowboard hill. n
silvermt.com, 866-345-2675