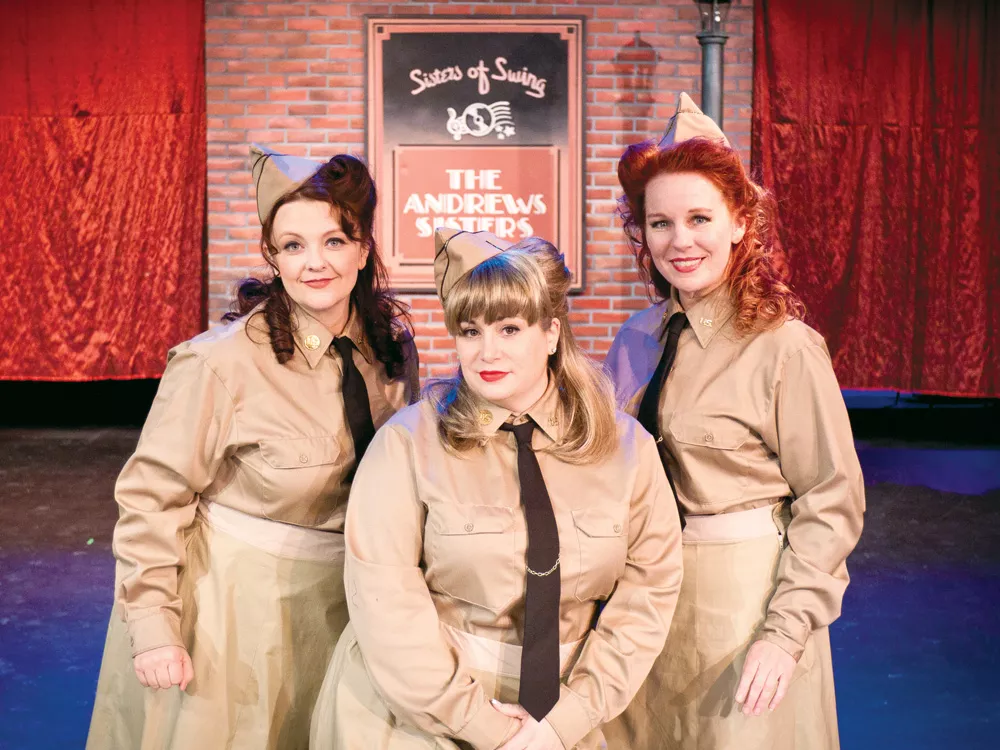 The Andrews Sisters' "Boogie-Woogie Bugle Boy" is one of the most enduring songs to come out of World War II. In 1972, Bette Midler camped it up for a new generation. In 2007, Christina Aguilera's "Candyman" rewrote the Andrews lyrics and sexed up the sisters' dance moves.
Now Spokane's Interplayers company is taking it on in Sisters of Swing, a musical that draws from movies of the 1940s starring the Andrews trio. With 20 songs, the production surveys the entire Andrews saga: humble origins and sudden fame, followed by breakups, lawsuits, reunions and deaths.
The question is: Will Interplayers be able to pull it off by showtime?
Two weeks ago, the show's three stars clustered around an upright piano in the Interplayers lobby, music books in hand. With the man at the keyboard voicing encouragement, they begin to harmonize: "He was a famous trumpet man from out Chicago way/ He had a boogie style that no one else could play."
At the piano is music director Jim Ryan, joined by Abbey Crawford as Patty, the youngest of the Andrews Sisters; Jennifer Jacobs as LaVerne ("the mama figure," as Crawford calls her), and Renei Yarrow as Maxene ("the sexpot").
Their show will open in just 13 days. They'd just gotten the music the day before.
Jacobs puzzles over a couple of musical phrases. "There isn't really a melody," she says. "We keep crossing all the time."
In most Andrews Sisters songs, Ryan would later explain in an email, the harmonies are "so inseparable" that "you'd be hard-pressed to identify exactly what the melody is. It's moving back and forth across all three vocal parts."
The rehearsal moves on to "Bei Mir Bist du Schoen" ("To me, you are beautiful"), a bouncy Andrews hit from four years before Pearl Harbor. Ryan launches a few chords, stops, tries again, mutters about "a bitch of a rhythm," then tries again and miscues a third time. "Let's just chant that much together," he says.
Andrews music, Ryan will later admit, has "a whole lot of syncopation and phrase-bending that doesn't come easy on a first reading of the music. A solo singer would have the freedom to approximate these rhythms, but the Sisters need to be completely synchronized."
"This two-week rehearsal period is definitely a challenge," he says. "These ladies have a ridiculous amount of words, notes and rhythms to cram into their heads."
They would learn the entire score in just four days.
Crawford, who's also directing the show, says that she cast "women who are musicians — not just singers, but musicians." She'll keep production values simple and emphasize the music, because there's a great story here to tell. "It's Patty's memory play," Crawford says. "It's all, 'This happened, and then this happened,' and the music is woven into it. They had their heyday in the '40s and their comeback in the '50s ... and then they were gone."
Earlier, while rehearsing "Bugle Boy," Ryan had urged the trio to listen to one another, blend their sound, give long vowels their full weight. The semi-staccato notes of "a famous trumpet man" need to make way, he said, for the longer, blended notes in "the top man at his craft."
As Jacobs makes a note ("So it travels a little more there"), Crawford starts humming, "Is there anyone fin-ah in the state of Carolina?" They still have "Dinah" and all those other songs to learn.
Ryan urges Yarrow to "pop that out on the bridge" (make her part more prominent). "You need volume, but you have to retain the rhythmic vitality," he says.
"Ooh, rhythmic vitality," Crawford purrs. "That sounds sexy."
Soon the trio's practicing the syncopated notes in yet another song, even as Yarrow checks her phone and Jacobs rummages in her purse. At one point, Yarrow admits that she "just made up some notes there," but not to worry, she's "recording it." After tonight's four-hour rehearsal, she'll go home tomorrow and listen to what needs improvement. She and her Sisters will have a dozen more days to get ready.
Sisters of Swing: The Story of the Andrews Sisters • Wed-Sat at 7:30 pm from Dec. 1-17, with some weekend matinees • $12-$24; $10, student rush • Interplayers • 174 S. Howard St. • interplayers.com • 455-PLAY