T
hese days, the words "school choice" have become a springboard for a debate on education policy. For some, those words mean more school options and chances for success. For others, it's a euphemism for draining public education resources.
Yet the concept of school choice goes a little bit further in Spokane Public Schools, beyond the options schools and two charter schools.
Parents can choose to enroll their kids in one of the five traditional high schools — Ferris, Rogers, Lewis and Clark, Shadle and North Central — and each has its own strengths that may lure students from outside its boundaries.
"Families are more consumer-oriented than they were in years past. I think they really do treat schools like they would for housing," says Marybeth Smith, principal at Lewis and Clark. "So you want to have a really clear identity."
In other school districts, parents don't always have the opportunity to "choice" their children into a high school outside their immediate neighborhood. Julie Lee moved to Spokane from the west side of Washington last year to become principal of Shadle. In the districts she worked in previously, there wasn't open choice enrollment like there is in Spokane. It can develop into competitiveness between schools, she says, though the five principals say they try not to directly compete with one another.
"It puts us in a position where we have to look at our work carefully and deliver an excellent educational program to our community," Lee says. "And I think that's a good thing."
Fortunately, all five major high schools have something unique to offer. We talked to all five school principals about what specifically helps their school stand out.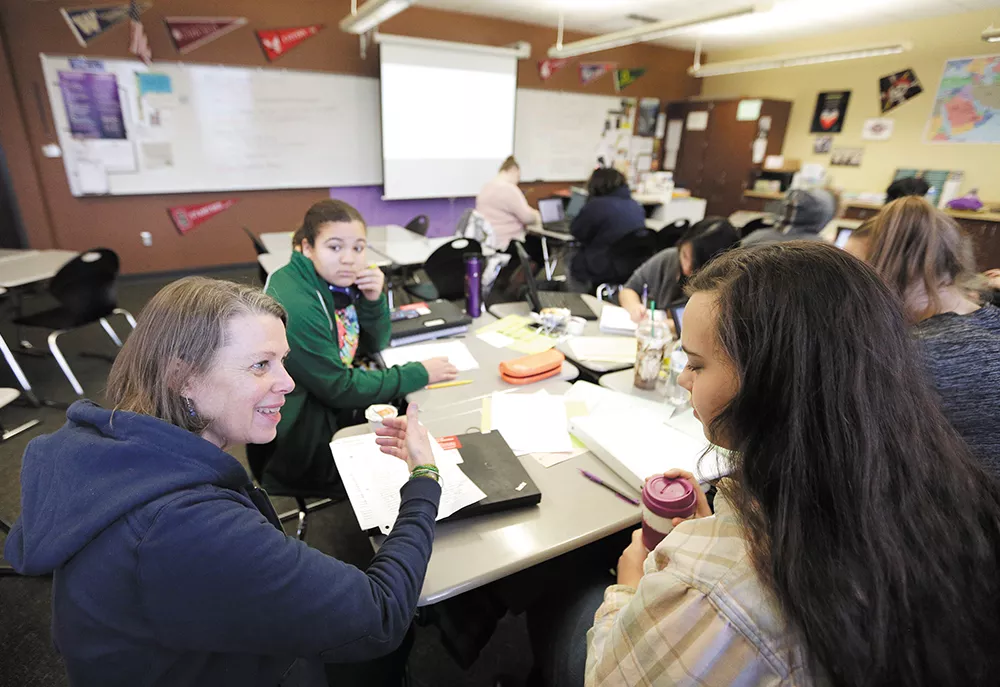 NORTH CENTRAL
There may be no program more distinguished in Spokane than North Central's INSTITUTE OF SCIENCE AND TECHNOLOGY. With the only two professional-grade high school science labs in the country, according to the school, students conduct experiments and make their own discoveries. It grew popular enough that in 2014, the school opened a new three-story building for the IST program. Now middle school aged students can enroll in NC, specifically to be part of NC's IST program, and the waiting list to get into the program is about 100 students.
It was created by teacher Randy James, who retired from NC after the 2016-17 school year, and with the help of former principals and district administrators. The idea, he has told the Inlander, was to have all kids — even those who may be reluctant at first — engage in authentic science.
Steve Fisk, North Central principal, admits the science program is the No. 1 draw for students going to NC, along with the strength of academics overall and the teachers at the school. He thinks the choice enrollment in Spokane Public Schools is a good thing for families.
"One size fits all isn't always the best way," Fisk says.
LEWIS AND CLARK
Once Lewis and Clark graduates move on to college, they quickly find out that the ENGLISH department taught them skills that translate to higher education, says Smith, LC's principal. And it was no different for Smith's three kids, she says. In college, all were asked which high school they went to, and where they learned to write like that.
"They were all told their writing skills are insane," Smith says.
In Spokane, the word is out on LC's English program (full disclosure: two Inlander writers, including me, are LC graduates). But Smith is hesitant to say that's the only unique strength about LC. The ENGINEERING courses are great, too.
In fact, Smith says maybe the greatest strength about LC is the entirety of its ADVANCED PLACEMENT and honors course delivery. As of May 2016, LC had more AP scholars than anywhere else in the area, with 79 students scoring a 3 or better on three or more AP exams, according to the school.
FERRIS
If there's one thing everyone knows about Ferris, it's that its MUSIC program is one of the best in the state, "if not the nation," says Principal Ken Schutz. More than 300 kids take two or more classes of music a day, he says.
"I think the arts give our kids a good balance," he says. "It's one of the beacons here that kids come for."
He stresses, however, that it's not the only reason families choose Ferris. Ferris, like the other high schools in Spokane other than North Central, offers a science curriculum called "Project Lead the Way," which introduces STEM (Science, Technology, Engineering, Math) skills for engineering and biomedical science. Students at Ferris score higher on the BIOLOGY end-of-course exam than any other high school in the district, according to the Washington state Office of the Superintendent of Public Instruction. Ferris also has a "school within a school" that focuses on PROJECT-BASED LEARNING, or teaching by letting students understand a subject by investigating a particular problem or challenge.
SHADLE PARK
For students who want more CAREER TECHNICAL EDUCATION and hands-on learning, Shadle may be the best choice. The school offers a class for aerospace engineering called "Boeing Core Plus," which is a manufacturing class geared toward building aircraft.
Shadle was able to add the Boeing curriculum because the company liked its shops and CTE program led by teacher Tony Anselmo.
"That is becoming a draw for us, particular for students who want more hands-on learning," Lee says.
Among the other unique programs at Shadle, Lee notes the school does great work in EARLY CHILDHOOD EDUCATION. There's a preschool on site, with both staff and community members that students can access while learning how to work in early childhood education.
"We are truly a comprehensive high school," Lee says.
ROGERS
Rogers has gained national recognition for the way it has increased its graduation rate and improved outcomes for students living in poverty during recent years. But one of the most effective programs at Rogers isn't as new, says Principal Lori Wyborney.
That AVID program, which stands for Advancement Via Individual Determination, is a "tried and true" national program that helps students get to college. At Rogers, Wyborney says that 96 percent of AVID students go on to a four-year school, higher than the national AVID rate. It's a four-to-six-year program (it can start in middle school) that essentially brings strategies to educators on how to guide student critical thinking, literacy and math skills.
"It's an amazing national program and it does what it says it does," Wyborney says. "Teachers are heavily trained in it."
All eight elementary schools that feed into Rogers do AVID as well, she says. She also praises her school's teaching in BIOMEDICAL SCIENCE through Project Lead the Way.
Overall, while she supports the choices that the comprehensive high schools offer, she says most students within Rogers' boundaries aren't moving around too much.
"My kids," she says, "are neighborhood kids."