Some people take their work home, which for interior designers often means a living space that doubles as a testing ground for professional ideas as well as an expression of their unique styles and design priorities. Take a tour of spaces that four local designers call their personal favorites.

Tammie Ladd had an unusual reaction
to the home she now shares with husband Justin, who does the accounting for her nearly 20-year old Tammie Ladd Design firm.
The couple was considering building a house to replace their single level rancher when they saw a "for sale" sign in the neighborhood, but there was no visible house. Intrigued, Tammie climbed a mysterious set of curving stone steps from the road and located the home, low-slung and unobtrusively tucked into a rise above a South Hill street. Tammie knocked on the door and found herself speaking to the original owner of the 1962 midcentury modern home.
"My eyes watered," says Tammie. "I can't even explain it."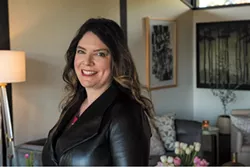 The house was designed by "John McGough of Walker McGough Architects, which has become Integrus," Tammie says, "He was one of Spokane's 'greats' in the midcentury era." In 2005, the Ladds moved in and have held off on any remodeling, preserving the authentic interior.
Tucked on a hillside, emerging from the rocky terrain, the home's unassuming metal and wood exterior gives way to a dramatic interior, featuring floor-to-ceiling windows spanning the entire back of the house and flooding Tammie's favorite room — the living room — with natural light.
Local art adorns the walls. Tammie's favorite piece is by Patrick Siler, a WSU professor emeritus, offering both a reminder of her own time at the university, as well as the Northwest Museum of Arts & Culture event where she got it. "It's not too serious," she says, noting it goes with anything they put near it.
The color palette in the living room is, like the rest of the house, neutral, tending towards grays that go well with the variety of wood tones throughout.
"Wherever you're sitting, you have to be able to set down your whatever!"

tweet this
Like many designers, Tammie moves things around frequently, especially in the living room. A high back settee first found a home in the living room, but has now migrated to the kitchen eating area, functioning as a cozy banquette. In the living room, Tammie always likes to have ample groupings of seating and within-reach surfaces on which to rest a dish or plate, so there are now two sofas, in gray microfiber to withstand kids and pets, as well as several smaller chairs and portable tables. A current favorite table is her hammered metal drum table from Target — a piece she says she's recommended to clients. "A measure of success of a good living room is wherever you're sitting, you have to be able to set down your whatever!" says Tammie, who worked for ALSC Architects, then migrated to Portland, before returning to Spokane and starting her own business in 2000.
The living room also features a large, dark rock fireplace that Tammie acknowledges can complicate modern function. "When this house was designed, it was not designed for a TV," says Tammie, who currently has the curved big-screen elegantly situated on a black sideboard with mother-of-pearl drawer fronts.
INHABIT design studio founder Debbie Bravo's view from her office is stunning: the Spokane River against a forested slope. And since she works from her Post Falls home, her commute can't be beat, either.
"It's important to have that visual connection to the outdoors," says Bravo, who designed the house with her husband and the help of architect, paying attention to every little detail. Numerous large, fixed sash windows are offset by smaller, screened ones to allow for both air circulation and a view, for example.
"Interior design is much more than making it look pretty," says Bravo, who recently started INHABIT after working with ALSC Architects in Spokane for close to 22 years.
Functional and beautiful, Bravo's house is a reflection of her playful and resourceful side. It features lots of warm wood and pops of color like the orange sofa and purposely mismatched carpet tiles she assembled underneath the dining room table. She splurged on the sparkly kitchen island counter, which glimmers under cylindrical pendant light fixtures nearby.
Bravo is keen on unique lighting in her house. Clear elements — crystal, Plexiglas, glass — sometimes unexpectedly combine with more industrial materials, like the crystal and black metal luminaire in the master bathroom.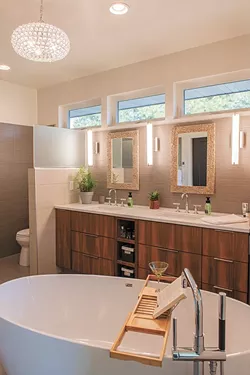 With its views of the river, the master bathroom is one of Bravo's favorite places in the two-story home.
"The tub is placed centrally in the room such that you can see the tops of the trees and the sky while soaking in the tub," Bravo says. "It's lovely, whether enjoying it during a snowy winter evening or a warm summer night."
A combination of patterned light- and medium-gray tiles more commonly found in commercial design form the walk-in shower area, which has half-walls of tinted glass for privacy. Recessed lighting illuminates two mirrors over two deep sinks set into a long counter above a walnut vanity. There are potted plants, plush towels and that incredible tub for unwinding after a long day.
"My house," Bravo says, "is very zen."
When Milieu founder and lead designer Sarah McGovern returned to Spokane from Mississippi, she really wanted a Craftsman home like one she'd previously rented near Manito Park. Instead, she got a late-'70s rancher she describes as not "architecturally significant."
Curious about where the design arose, the Washington State University graduate with a master of arts in interior design and undergraduate studies in both fine art and art conservation, probed the history of raised split-level ranchers like hers. She learned the genetic roots were actually in famed architect Frank Lloyd Wright's 1930s-'40s Usonian home. This modest, efficient, stylish variation on Wright's "prairie style," included built-in storage, an open plan design and emphasis on natural materials.
Reflecting on that, McGovern says, enabled her to really understand and appreciate the house and direct the remodel accordingly.
"When we bought our house in 2002 we were told it had a view," says McGovern, who founded Milieu 14 years ago, running the business out of a collaborative design space in the Cook Building on Second Avenue in Spokane. (Tammie Ladd Design is also housed there.)
McGovern laughs, explaining that the "view" from her favorite room, the living room, is heavily dependent on the seasons. In warmer months, McGovern and her family live as if in a leafy forest, while in winter, they can see the city and even Mount Spokane, but also neighbor's houses and the roadway.
"Interior design is much more than making it look pretty."

tweet this
When they remodeled in 2008, they replaced inefficient windows, as well as adding more panes in the living room and front entry. They kept the fireplace, which McGovern says is less about efficiency and more about creating ambience.
Her décor is a mix of styles, she says, with elements ranging from a knockoff Herman Miller midcentury modern George Nelson bench to her favorite item: a 1930s mahogany dry bar that she got at a yard sale. She's also partial to original art, like former University of Idaho professor Byron Clercx's piece currently hanging over the fireplace. She often changes artwork and furnishings around as she explores new design ideas, McGovern says.
"My house is sort of a laboratory."
Heather Hanley, of Tin Roof Furniture, is so excited to move into her new home — a midcentury modern showpiece — she almost doesn't miss the place she recently moved out of, except for maybe the pantry and the kitchen.
"I'm sad to leave that," says Hanley, who was drawn to the rock fireplace and vaulted ceilings in the body of the 1970s style home she and her husband purchased around three and a half years ago.
Renovations were the first order of business. First, they opened up the kitchen to flow seamlessly into the adjacent living room and dining area. Then they added a nearly 15-foot long marble island, along with an elegant granite and walnut storage space on one end of the kitchen to hold dishware. The island seats five comfortably and is both practical and beautiful, featuring storage underneath and a sink, and brass accents, which Hanley is partial to. In addition to cabinet pulls from Spokane Hardware, Hanley embedded brass accent strips into the kitchen island where it faces the living room. Hand-painted ceramic tiles form the kitchen backsplash.
"My house is sort of a laboratory."

tweet this
To the left of and behind the kitchen is the professionally organized pantry with custom metal shelves for black storage baskets and handsome striped bins from Target. Hanley, who says she has had a lifetime of art training, refurbished the existing cabinetry in a dusky teal color.
"I love vintage stuff," says Hanley.