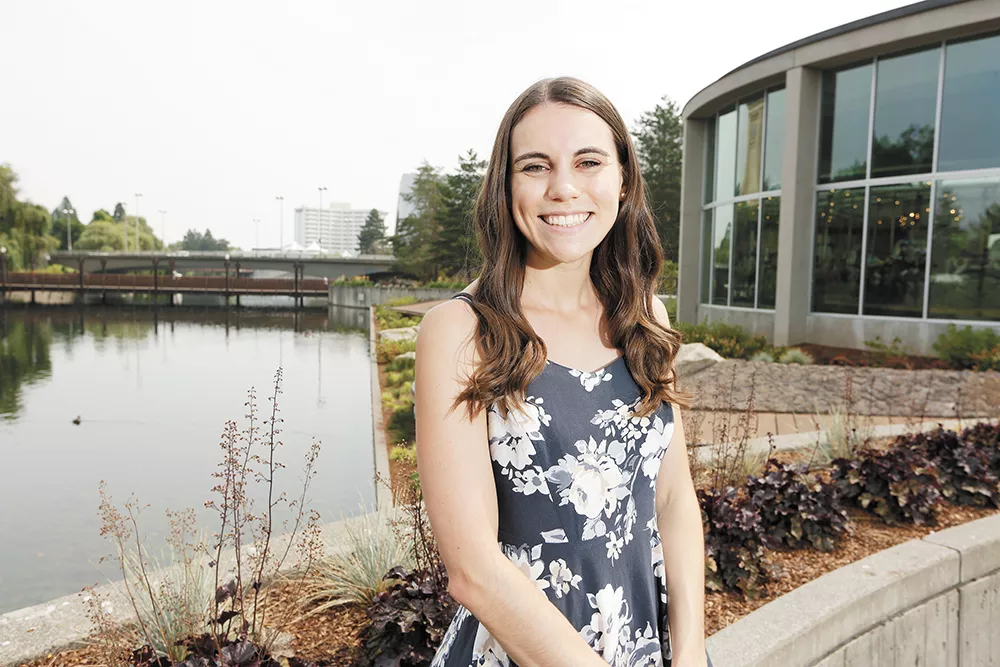 For Lauren Schubring, working to better the community just comes naturally. It's something she's always done and she believes that improving an entire community has to start on your own block.
"I've always been an inviter and an includer," Schubring says. "I feel my happiest when I'm really involved with the community. When I moved back to Spokane, nothing really felt quite right until I got involved in the community."
Schubring, 25, is originally from Michigan, and she first moved to Spokane to attend the Moody Bible Institute. After she and her husband Joe relocated back to their home state, where Schubring started working as the donor services coordinator for the Salvation Army, they realized they missed Spokane.
"Everybody's so connected here," Schubring says. "There's plenty to do, but it still feels really small."
The Schubrings moved back to the Inland Northwest in early 2017, and they both got jobs in the community center at the Arc of Spokane. Schubring now manages the Arc's community inclusion program, where she's worked since early last year.
The Arc's program currently has 65 clients, adults with developmental disabilities with ages ranging from mid-20s to mid-70s. The idea is to get them involved in activities based on their interests and to build relationships with other people. Some of the Arc's clients volunteer with organizations like Meals on Wheels or Second Harvest. Schubring says one of her former clients got involved with a neighborhood block party, and another started a weekly coloring club at a downtown coffee shop.
"So many people with disabilities don't have friendships outside their staff, and friendships really impact our health," Schubring says. She produces a binder that features a quote from the writer Robert Putnam: "If you belong to no groups and decide to join one, you cut your risk of dying in half over the next year."
"I think it's really cool to see our clients be able to identify their strengths and gifts," Schubring says, "and see them offer that to their community."
Outside of work, Schubring is the chairperson for the Logan Neighborhood Council, and has organized a monthly neighborhood potluck.
"People can start to get to know each other, and it will continue to spread," she says. "I think the Logan Neighborhood has so much potential. I really do."
While still in Michigan, Lauren and Joe launched a nonprofit called the Adventure Initiative, which was focused on getting kids to experience the outdoors. They embarked on several nature excursions with high school students; for some of the kids, it was their first time camping.
She's also attending Eastern Washington University's Riverpoint Campus, working toward a master's degree in public administration and urban and regional planning.
It's a lot of plates to spin, and it hasn't always been easy.
Through all of this, Schubring had been suffering through several years of a mysterious chronic pain. She was recently diagnosed at the Mayo Clinic with "pectus excavatum," a condition that causes concavity in the chest wall. Last July, Schubring underwent a "Nuss procedure," an operation during which a stainless steel bar is placed under the sternum to prevent organ strain.
"It's been a really hard year of recovery," Schubring says. "It's been significant for me to just push through my day, but I feel a lot better now."
Schubring credits her boss, Luke Tolley, with giving her time to recuperate and enough slack to explore other interests beyond her 9-to-5.
"To a lot of people, a job — even a job in human services — is still just a job," Tolley says. "Lauren lives it, and in a way that was not only recognizable and appreciated by me, but way above and beyond anything I've ever done.
"Lauren spreads inclusion in everything she does."
"She wants everybody to be included. It doesn't matter where she is or what she's doing; that's just who she is," says Lauren's husband Joe, who is now at Whitworth University, working toward his master's in teaching. "I've known Lauren since sixth grade. She looks for people on the edges or on the fringe and brings them in."
Before I leave the Arc offices, Schubring hands me a red sticker emblazoned with her department's credo: CELEBRATE INCLUSION.
"Hopefully we'll start seeing those all over Spokane," she says. ♦