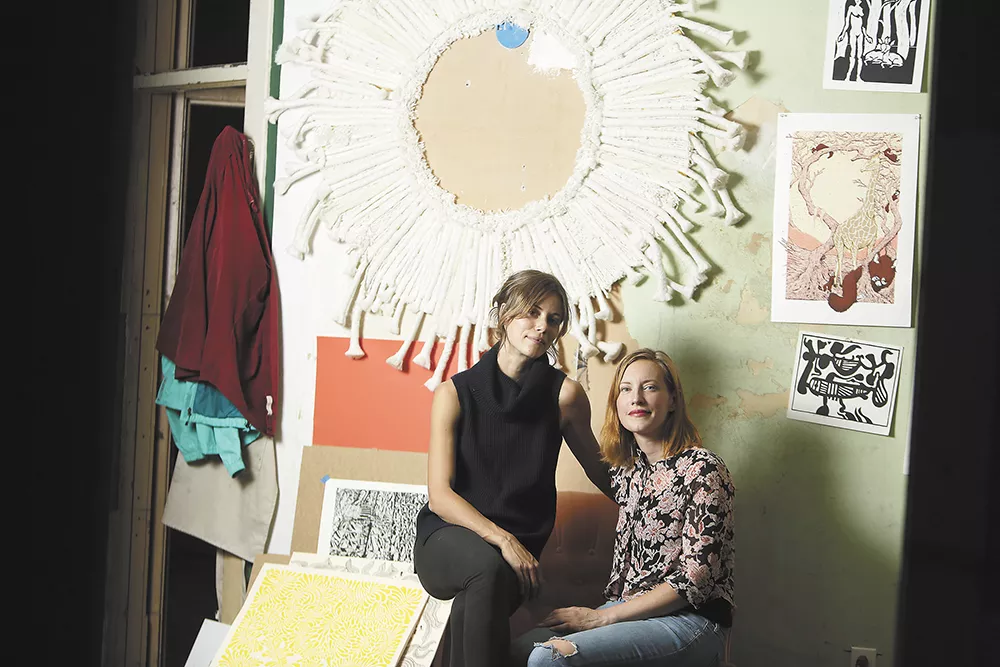 In a community that's artistically vibrant and creative, people are more involved in other forms of civic engagement, like volunteering and voting. The economy benefits. The health of its people benefit. The education of our youth benefits. All this and more has been extensively studied, and the results of that research widely published by national arts advocacy nonprofits, including Americans for the Arts and the National Endowment for the Arts.
No, the arts aren't directly solving homelessness, ending hunger, lessening economic disparities, closing gaps in education or providing access to essential social services. But the arts have been proven to help to make those goals more reachable.
"Arts are not more important than those other things," affirms Laura Becker, departing executive director of the the nonprofit Spokane Arts (spokanearts.org).
"Artists are known to be great collaborators — you see artists working in social practice, partnering with social service agencies, implementing programs that better the lives of their patients and clients — so these things are not happening singularly; there is a lot of overlap and crossover," she continues.
Yet, just as with any other nonprofit organization working to improve the community and its members' lives, arts nonprofits are no stranger to dealing with tight budgets and limited staffing in carrying out their missions.
"Funding is the No. 1 issue — there is a super-small pool of money to be tapping into in the region, and the more organizations there are, the smaller that pool becomes," says Ginger Ewing, a community arts leader and co-founder of two nonprofits, Terrain and Window Dressing (terrainspokane.com).
Founded more than eight years ago, Terrain runs its namesake annual, one-night-only arts and music showcase in downtown Spokane each October, and plans to operate a year-round gallery space in the near future. Its counterpart Window Dressing seeks to fill empty or underutilized downtown storefronts with art installations, and soon will begin placing creative business ventures in these vacant spots under temporary leases.
To address both the issue of arts groups struggling to get funding, and to answer the looming question of "why should people support the arts?" one solution is focusing more on arts education for all ages.
Anne-Claire Mitchell, a local artist and co-founder of the Spokane-based Richmond Art Collective (richmondartcollective.com), a nonprofit that provides subsidized studio and gallery space to artists, has noticed some effort here to get younger people involved in, or at least to understand and care about, the arts scene. Again, the scarcely available funding for arts comes into play.
"In terms of the city's priority for funding the arts, that disseminates into the general population and their attitudes for art and culture," Mitchell argues. "It's treated as a luxury and not an essential, and Spokane, being one of the poorest per-capita cities in the state, we're always faced with that decision of where to put our funds. That said, as a result of that there is a huge population of young professionals not directly involved in arts and culture, but interested in learning about it."
Mitchell also serves as the Spokane program coordinator for the statewide nonprofit agency Artist Trust (artisttrust.org), headquartered in Seattle. Through that position, she mostly works with individual artists, helping connect them with their local audiences, finding and obtaining resources for their projects, and organizing networking and education events targeting the local creative population.
She encourages local arts supporters, including those who can't afford to contribute financially, to come out and volunteer, or at least come to Richmond Arts Collective's gallery shows and events; the next one kicks off in September.
"Take a genuine interest in the individual artists that we're trying to support, because it really is all about them," Mitchell says.
Across the border in Coeur d'Alene, Jeni Hegsted — founder of the nonprofit arts education and gallery space Emerge (emergecda.org) and an Inlander Peirone Prize winner in 2014 — asks the community to do the same: participate.
"Emerge serves a very essential need within Coeur d'Alene, because really what we're trying to do here is bridge the gap between the coffee shops and professional gallery spaces, and give a platform for artists to show their work who are just coming onto the scene," Hegsted says.
"When artists show their work here, it validates what they're doing," she continues. "They are creative and giving, and making the community more vibrant, and we want to support them so they stay here."
Emerge, founded a little more than a year and a half ago, also offers a range of arts classes to local at-risk youth, and low-cost studio space for artists in the community. Most of Emerge's programs are run by volunteers.
"Volunteers are our biggest need, but coming to our events is a great way to support us because it's really fun. We love people to show up," Hegsted says. ♦
---
A few of the other local arts groups that need your support:
Coeur d'Alene Summer Theatre cdasummertheatre.com
Urban Art Co-op urbanartcoop.org
Spokane Civic Theatre spokanecivictheatre.com
Spark Central sparkwestcentral.org
Spokane Symphony spokanesymphony.org
Laboratory laboratoryspokane.com
The MAC northwestmuseum.org