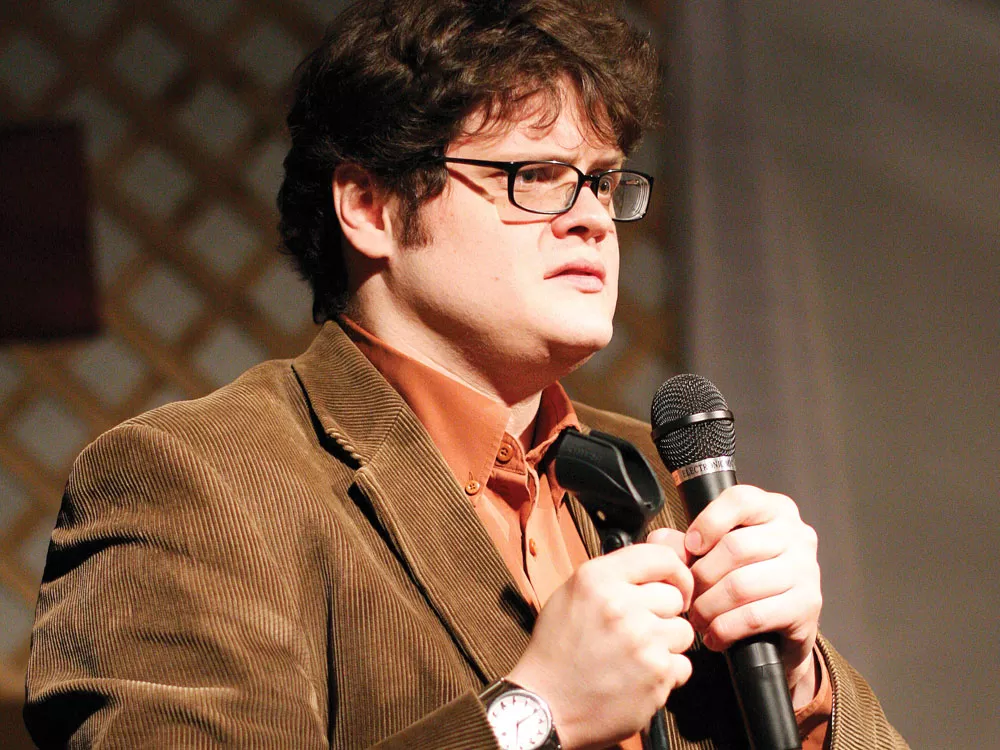 Apparently, there's a fairly large niche to be filled in the Spokane comedy scene: everyone. This, at least, is the notion behind Squeaky's Comedy, a new club that's trying to make sure nobody gets left out of the joke.
"If somebody wants to go a comedy club where they're cussing all the time, they can do that," says Troy Kirby, who runs the business half of the enterprise. "They're catering to a small niche of people. I like the Steven Spielberg model: I want to cater to a lot of people."
At Squeaky's — as in "squeaky clean" — the idea is to provide clean comedy. "I didn't want anybody on a first date to be nudging the other person and saying, 'Hey, I want to get out of here,' Kirby says. "That's important to me."
It seemed like Squeaky's was on to something Friday night. After drawing sizable crowds at a few shows at the Red Lion, they opened for the first time at their new home — Players & Spectators Casino — with a crowd of 80-plus.
Then emcee Jason Komm, who also runs the club with Kirby, hopped onstage and did a few jokes to keep the crowd warm between performers. He started riffing on Lisa Frank, familiar to younger generations as the artist behind the uber-saccharine cardboard folders decked out in neon pastel colors depicting unicorns, rainbows and other prototypically girly imagery.
"I want to write the story of the diary of Lisa Frank," he said, pausing until a few chuckles and a groan or two signaled people got his reference. "Where she's hiding in the attic from patrols of kitties and puppies." He affected a German accent: "'If you come down here, ve vill let you pet us!'" It's rare to find a Holocaust allusion in even the edgiest comedy, which creates a conundrum. Ideas can be just as raunchy as four-letter words. Can clean comedy full of "gosh-darns" and "gee-whizzes" accommodate controversial or unconventional concepts?
Could comedy free of these things be called comedy?
There's only one hard-and-fast rule at Squeaky's: no cursing. There are, however, a few soft rules. In detailing the type of subjects he considered too risqué for a first-date comic, Kirby mentioned graphic topics like incest jokes, rape jokes and other things that — by any reasonable standard — would horrify couples looking for "clean" entertainment.
And indeed, there were no howls of protest at the Lisa Frank/Anne Frank joke, no angry audience members storming out. There also weren't a tremendous number of people laughing, either, but that may have had less to do with the Holocaust reference and more with the fact that few of the largely middle-aged crowd seemed to know who Lisa Frank is.
The profanity prohibition doesn't seem to bother Meghan Flaherty, the comedian who headlined the show. She focused largely on situations from her own life during her set, including lots of jokes about her "hillbilly Jedi" husband and some embarrassing/heartwarming anecdotes about how she's treated differently because of her weight.
"The difference between what I did tonight and what I usually do is about 10 minutes," she says. "I can go into college towns where everybody's shit-faced drunk and wants to hear jokes about blowjobs, versus this crowd where I had all my friends bring their mothers, and my mother-in-law came."
Flaherty attributes much of comedy's vulgarity to how up-and-comers are exposed to the medium. Outside of the Comedy Central network and pay cable (HBO, Showtime) specials, comedians often perform in bars where patrons are unsatisfied if a minimum curse-words-per-minute ratio is not met.
"Comedians expect that people expect them [to be dirty]," she says.
Devin Barber, the headliner for Friday's and Saturday's shows, says that the hardest part of being a comedian is learning to judge the audience. At 51, he's somewhat older than the rest of the comedians at Squeaky's, but he uses that extra life experience in his comedy, ranging from topics like reality television to his experiences as a father.
Like Flaherty, Barber thinks versatility is vital to being a successful comic.
"My act is pretty much the same, but I can switch things out," he says. "I can do clean, PG-13, or I can be just as raw as Eddie Murphy."
Kirby says it all comes down to bang for your buck. "I could talk about an aborted fetus hooked up to an electric chair all night long, and yeah, that'll maybe make somebody smirk," he says. "But at the end of the day I want you to be able to find you actually got good value for your dollar."
And in that sense, Squeaky's is in lockstep with even the arthouse comedians. We haven't heard the ol' aborted-fetus-in-an-electric-chair joke anywhere in years.
Devin Barber and Rheannon Hawkins at Squeaky's Comedy on Friday-Saturday, July 16-17, at 9 pm at Players & Spectators Casino, 12828 E Sprague, Spokane Valley. Visit squeakyscomedy.com.