STORIES BEHIND THE STORIES
It took viewing the new documentary The Two Killings of Sam Cooke for me to finally delve into Netflix's ReMastered series. The show reveals how the silky smooth soul legend's 1964 murder, with an alleged prostitute at Cooke's side, served to denigrate what should be an incredible civil rights legacy. Through interviews with activists and musicians, the viewer gets a complex view of Cooke's life, and some incredible performance clips and information from an infamous 1964 meeting between Cooke, Muhammad Ali, football player Jim Brown, Malcolm X — and someone who turned out to be an FBI informant. This is the fourth episode in the ReMastered series, and well worth the time. (DAN NAILEN)
---
MIND GAMES
With dating apps so much in the mainstream, it's not that far-fetched to imagine a near future where tech implants could help users better identify their perfect match. That's the idea behind Osmosis, a French Netflix original (dubbed in English) that follows the less-than-perfect lead-up to the launch of an app by the same name. Drama builds during the beta-testing of implanted nanorobots, which the startup's founders promise can help users identify their perfect soulmate using their brain data. Concerns about whether hackers could control the implants or insert data, rather than simply mine it, become paramount. (SAMANTHA WOHLFEIL)
---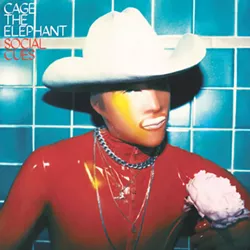 THIS WEEK'S PLAYLIST
Some noteworthy new music arrives online and in stores April 19. To wit:
Cage the Elephant, Social Cues. The high-energy Kentucky rockers play the Gorge July 13 with Beck.
The Yawpers, Human Question. Denver twang-rock trio is bound for big things with their fifth album.
Rolling Stones, Honk. Another Stones' greatest-hits comp, but the inclusion of 10 live tracks is intriguing.
Lizzo, Cuz I Love You. Say hello to your summer jams. (DAN NAILEN)
---
HERE COMES HAMILTON (BUT YOU HAVE TO WAIT)
Yes, Spokane theater lovers, Hamilton is finally coming to town — but not until the 2020-21 season. That was part of WestCoast Entertainment's STCU Best of Broadway season announcement for 2019-20, along with revealing several special engagements and a new season of National Geographic Live.
Even though Hamilton retains serious buzz, it's not enough to overshadow a stellar season coming up in the fall. And season ticket holders from this season will have first access to Hamilton tickets next year. Visit wcebroadway.com for more information. (DAN NAILEN)
STCU BEST OF BROADWAY 2019-20
Miss Saigon, Oct. 23-27
Jesus Christ Superstar, Nov. 20-24
Escape to Margaritaville, Jan. 21-26, 2020
Jersey Boys, April 2-5, 2020
Mean Girls, Aug. 11-16, 2020
SPECIAL ENGAGEMENTS
Mannheim Steamroller Christmas, Dec. 7
An American in Paris, Jan. 14-15
Once on this Island, March 17-18, 2020
The Book of Mormon, May 5-10, 2020
NATIONAL GEOGRAPHIC LIVE
When Women Ruled the World, Feb. 13, 2020
Social by Nature, April 16, 2020
From Summit to Sea, May 21, 2020