PRIZE LITERATURE
Boise-based author Emily Ruskovich's debut novel Idaho is the most recent winner of the prestigious International Dublin Literary Award, which is given annually to books that are nominated by library staff from around the world. The story of an unexplainable murder that reverberates through generations, Idaho was selected by a panel of judges from a shortlist that also included acclaimed novels like George Saunders' Lincoln in the Bardo and Sally Rooney's Conversations with Friends, and along with the award Ruskovich has received a prize of 100,000 euros. "It's been the biggest honor of my life having a book out in the world and having readers," she told the Guardian. (NATHAN WEINBENDER)
---
THIS WEEK'S PLAYLIST
Some noteworthy new music arrives online and in stores June 21. To wit:
TITUS ANDRONICUS, An Obelisk. New Jersey indie rockers occasionally sound like the Pogues with an experimental streak.
THE RACONTEURS, Help Us Stranger. One of Jack White's 14,000 music projects, and arguably the best of the lot.
PRINCE, Originals. The Purple One wrote hits for a lot of other artists, and these are his versions of "Manic Monday," "Jungle Love," "Nothing Compares 2U," etc.
MARK RONSON, Late Night Feelings. The pop-tastic uber-producer taps Alicia Keys, Camila Cabello, Angel Olsen and more on his latest. (DAN NAILEN)
---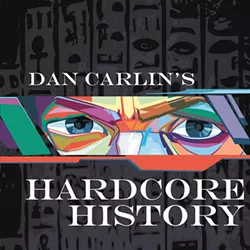 LONG LISTEN
Hearing Hardcore History podcast host Dan Carlin narrate the rise and fall of empires with a voice like two rocks rubbing together is a historical experience in itself. His episodes retell the stories of some of history's most dramatic and interesting events from ancient times to the modern era while always concentrating on the human element. New episodes come out about every six months (last week he dropped a show "Caesar at Hastings" on his Hardcore History: Addendum podcast), but that's because when they do, they're long. Historically long. Still, it makes sense to take five hours narrating Greek history from the Spartans to Alexander the Great. Many of the podcasts are free, and all just about guarantee that you'll walk away feeling better informed and wiser. Find them at dancarlin.com. (JACKSON ELLIOTT)
---
TARGET PRACTICE
If you're the type of person who doesn't want to hear actors, musicians or comedians talk about politics, be sure to avoid Wanda Sykes' new stand-up special on Netflix. The title, Not Normal, comes from an early salvo in which she starts out saying, "It's not normal that I know I'm smarter than the president." Trump and his administration provide the punchlines for much of the hour, but Sykes also lands jokes addressing aging, race and the multicultural relationship with her French wife and their children. She's a pro, capable of crafting good jokes out of sensitive subjects. (DAN NAILEN)
---
THE EMPEROR PROTECTS
Like any good sci-fi or fantasy universe, some of the best artwork comes from the fans themselves, not the corporate art departments. Such is the case with Astartes, a new and ongoing fan-made video series depicting the tabletop sci-fi world of Warhammer 40,000. Each episode, clocking in under two minutes, depicts the wordless superhumans breaching an enemy vessel and wrecking shit. It's crisp, cool and ultra violent. I'm surprised the company that owns Warhammer (Games Workshop) has yet to produce any video content that rivals the fan stuff. Support them at patreon.com/astartesfilm. (QUINN WELSCH)