VAMPY VIBES
Being stuck at home feels, I imagine, similar to the lifestyle of vampires. I've had this thought while escaping into the utter absurdity of the new season of What We Do in the Shadows, FX's vampire mockumentary based on Taika Waititi and Jemaine Clement's 2014 film. Season two brings us back inside the delightfully weird, sometimes grotesque, naivete of ancient vampire roommates Nandor, Nadja and Laszlo, plus energy vampire Colin Robinson and loyal human servant Guillermo. So far, the group has attended a "Superb Owl" party, called upon ghosts of their past selves via seance, and unwittingly turned a character played by Haley Joel Osment into a crazed zombie. (CHEY SCOTT)
---
THIS WEEK'S PLAYLIST
Some noteworthy new music hits online and in stores May 8. To wit:
Hayley Williams, Petals for Armor. The Paramore singer's solo debut veers into poppier directions.
Norah Jones, Pick Me Up Off The Floor. Nice rootsy vibes permeate Jones' seventh album.
Mark Lanegan, Straight Songs of Sorrow. The former Screaming Trees singer might be the perfect voice for going slightly mad in self-isolation. (DAN NAILEN)
---
SHATTERED GLASS
Emily St. John Mandel blew onto the literary scene with her 2014 bestseller Station Eleven, a dystopian ensemble set amid the aftershocks of a pandemic — sounds familiar! Her long-awaited follow-up The Glass Hotel is another gripping character study with hints of the supernatural that stretches across multiple decades and several fractured timelines. At the story's center is the 2008 financial collapse, but its tendrils extend to the past and the future, introducing us to a wealthy shipping magnate, a Bernie Madoff-type investor, a bartender-turned-trophy wife, a drug-addicted experimental composer and the luxury hotel on an isolated Vancouver island that links them all. (NATHAN WEINBENDER)
---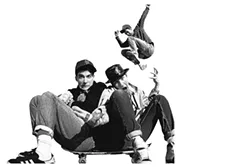 LOVE AND RESPECT
I went into Apple+'s Beastie Boys Story expecting a basic documentary, albeit one with creative twists thanks to the direction of Spike Jonze. Instead, it's a filmed live stage show featuring Michael Diamond (Mike D) and Adam Horovitz (Ad-Rock) waxing on about the Beasties' long career and, primarily, their third partner Adam Yauch (MCA), who died of cancer in 2012. Superfans might not learn a ton, but the surviving members' ease with each other and obvious affection for Yauch, who comes through as the Beasties' driving force and spiritual center, is enough to elicit plenty of laughs and tears on this nostalgic trip. (DAN NAILEN)
---
RAGE!
A sad synth plays as a city made of pixels appears on screen. "This city was once a happy, peaceful place... Until one day. A powerful secret criminal organization took over." In Streets of Rage, you must restore order with your small band of vigilante ex-cops by punching and kicking your way through waves of criminal henchmen. More than two decades since Streets of Rage 3, the franchise gets a modern reboot. And guess what? The city is under siege by criminals once again! Pick up where you left in Streets of Rage 4. Available for Xbox, PlayStation, Switch and PC. (QUINN WELSCH)