WASHINGTON STATE LEGISLATURE
District 3, House
In the race for Position 1 covering central Spokane, incumbent Democrat Marcus Riccelli faces Republican Tom Taylor.
First elected in 2012, Riccelli has served three terms in the Legislature, with a major focus on health care and access to dental care, and helped push for WSU's medical school. He works as a project manager for CHAS Health.
Taylor, a recent WSU grad who decided to run after Riccelli blocked him for making negative comments toward his constituents on his Facebook page, has reported spending $0 on his campaign. If elected, he says he'll invest 100 percent of his taxpayer salary into startups and small businesses in Spokane.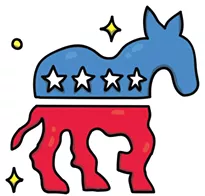 District 3, House
For Position 2, incumbent Democrat Timm Ormsby faces Republican Dave Lucas.
Ormsby was first appointed to the position in 2003 and has won re-election every two years since. He's chair of the House Appropriations Committee, which writes the House version of the budget, and he hopes to continue focusing on education funding.
Lucas was a Marine for more than two decades, serving in Iraq and Afghanistan, and the retired lieutenant colonel moved to Spokane with his family in 2013. He chairs the Rockwood Neighborhood Council, serves on the Mann-Grandstaff Veterans Affairs Medical Center committee and works with Boy Scouts in the area. He hopes to focus on addressing property crime through community supervision policy change for offenders, and eliminating unnecessary taxes.
District 4, House
Serving Spokane Valley and parts of eastern Spokane County, the race for Position 1 features incumbent Republican Matt Shea and Democrat Ted Cummings.
Shea, first elected in 2008, is an attorney and Army veteran with staunchly conservative, small government views. He's rallied for gun rights, has many fans among the prepper crowd and the American Redoubt and helped sponsor anti-transgender legislation that could require people use the bathroom that matches their physical genitals.
Cummings, a Kaiser Aluminum employee since 1988 who also owns a small ranch, ran to keep worker protections strong in the state and hopes to support apprenticeships and trade programs. He has told news outlets that Shea's "fear-mongering" and hateful rhetoric, especially toward Islam, shouldn't be tolerated.
District 4, House
For Position 2, incumbent Republican Bob McCaslin faces Democrat Mary May.
McCaslin, a former elementary school teacher, is aiming for a third term. He has voted with Shea and others farther to the right and co-sponsored a bill with Shea to divide Eastern Washington into its own state called Liberty.
May, a former city planner in California and Spokane Valley, says she'll prioritize fiscal responsibility while focusing on health care, education including vocational training and infrastructure investments.
District 6, Senate
In the open race for the Senate seat being vacated by Michael Baumgartner, Republican Rep. Jeff Holy faces Democrat Jessa Lewis. As of the most recent filings to the Public Disclosure Commission, Lewis had raised more than $219,000 compared to Holy's more than $165,000.
Holy is a former Spokane Police detective and has said he'd like to continue focusing on education affordability and public safety issues.
Lewis, who's worked as an advocate for single-payer health care, wants to focus on affordable health care for all and hopes to bring a fresh perspective on how to push for infrastructure improvements in the district.
District 6, House
For Position 1 in the House, incumbent Republican Mike Volz faces Democrat Kay Murano.
Volz supported tying the measures together to get a "fix" to the Hirst decision, which had limited exemptions for rural wells. He served in the Army and is the deputy county treasurer. He initially ran to work on education issues and intends to continue work in that area and is also working on a task force that will determine which of the Legislature's documents should be made public.
Murano works in the low-income housing sector and would push for affordable housing statewide. She decided to run after the Legislature failed to act on a capital budget during the last budgeting session in 2017, when it was held up until water-use legislation was passed.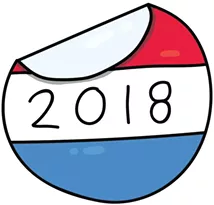 District 6, House
Lastly, for Position 2, Republican Virginia "Jenny" Graham faces Democrat Dave Wilson.
Graham, who was abused as a child and lost her siblings to suicide and murder, has a large focus on being a victims' advocate and public safety. She'd also like to focus on mental health improvements and looking at ways to reduce the business and occupation tax burden for small businesses.
Wilson, who started a computer technology school in Spokane, believes education needs to be the prime focus, as it's an investment in the state that can build a stronger economy altogether. He also hopes to work on infrastructure and economic development in the district. ♦
WASHINGTON INTIATIVES
I-1631 (pollution)
This is the "carbon fee" that's also commonly being called a carbon tax. Fossil fuel companies are spending more than $26 million to stop the initiative, which would charge $15 per metric ton of carbon pollution starting in 2020, increasing by $2 per metric ton per year, plus inflation, until the state reaches its 2035 greenhouse gas reduction goal, set by previous legislation. It would raise $2.3 billion in the first five years, with funds earmarked to address pollution, make the state more resilient to changing climate, help retrain fossil fuel workers and assist low-income families that will be impacted the most by rising gas and heating prices. U.N. climate scientists recommend carbon pricing be implemented worldwide if the world is going to remain below 2 degrees celsius warming over pre-industrial levels.
I-1639 (firearms)
This initiative would raise the minimum age to buy a semi-automatic rifle to 21, from 18, to match the current minimum age to buy a handgun. For "semi-automatic assault rifles," the measure would also implement a 10-day waiting period for purchases and require purchasers to show they've completed a safety training course. It also would allow the Department of Licensing to implement a $25 fee on gun purchases and require safe gun storage by making it a felony to leave a gun where someone prohibited from owning one could access it.
I-1634 (grocery tax)
This measure would prevent local taxes or fees on groceries, most of which are already exempt from tax under state law. Those that aren't, namely soft drinks, would also be exempt if the measure passes. Existing local grocery taxes, such as Seattle's tax on sugary beverages, would remain in place if in effect by January 2018, but they couldn't go up or be expanded if the measure passes. The measure would not prevent the state's ability to tax groceries in the future. Major beverage companies are behind the initiative with Yes! To Affordable Groceries raising more than $20 million, its three largest donors being Coca-Cola ($9.7 million), PepsiCo ($7.2 million) and Keurig Dr. Pepper/Dr. Pepper Snapple Group ($3 million).
I-940 (law enforcement)
This measure deals with the use of deadly force by police and would require de-escalation and mental health training, as well as change the liability for officers who use deadly force. It took an unusual route to the ballot, after lawmakers passed legislation with the same language, then another bill that would have immediately amended that language. The state Supreme Court weighed in to say that move wasn't one of the three allowable options for lawmakers to take with an initiative and ruled the original language should go on the ballot, without the alternative that included compromise language from HB 3003. Those who've worked on the initiative expect nearly immediate moves to amend the measure if it passes. ♦
U.S. SENATE
You might say that this is a race in which you should "vote your conscience," but do so at your own peril: When Texas Sen. Ted Cruz told the 2016 Republican Convention to vote their conscience, Susan Hutchison called Cruz a "traitor" for not simply endorsing Trump.
In other words, as the Republican Party has become the party of Trump, Hutchison has eagerly adopted her political identity as Trump Train conductor. Hutchison supports Trump's tariffs. Hutchison supports Brett Kavanaugh. When Seattle passed a local income tax, she encouraged "all to exercise civil disobedience" to refuse to pay it.
Meanwhile, Hutchison's opponent, Sen. Maria Cantwell has a voting record that puts her square in the middle of the Democratic Party. If you love Trump, you'll love Hutchison. If you don't? You'll vote Cantwell. (DANIEL WALTERS)