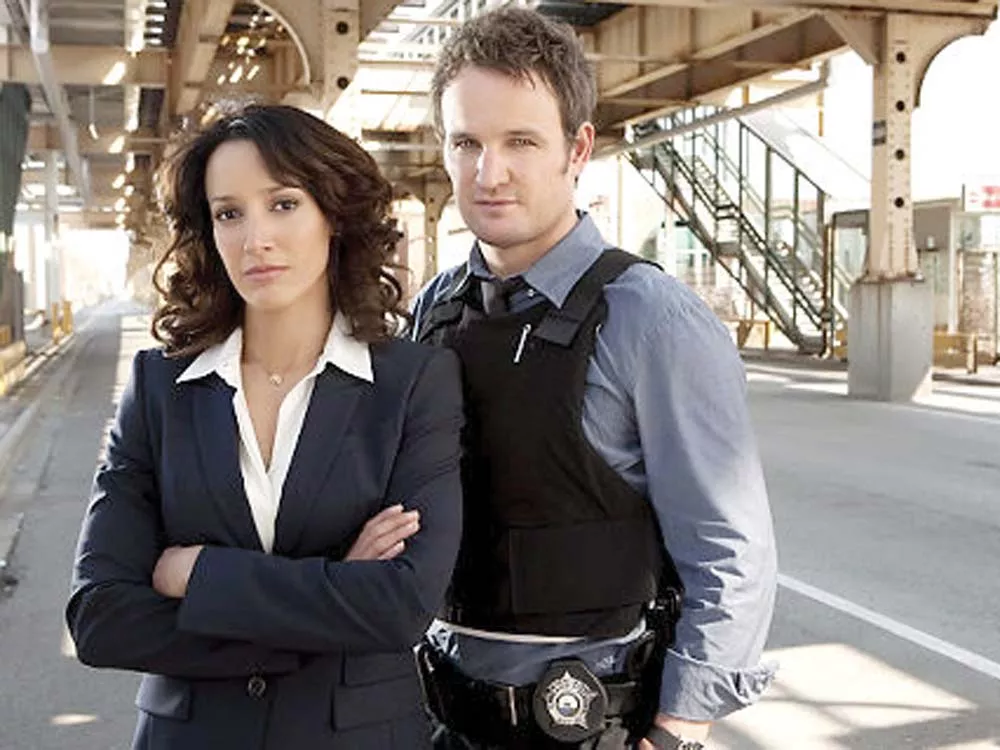 Shawn Ryan's new cop drama, The Chicago Code, has a tough job: On a broadcast network, match the brutal poetry of Ryan's former FX cop drama, The Shield.
Early on The Chicago Code was named Ride-Along — alluding to the rookie cop (Matt Lauria) riding with the legendary veteran Jarek Wysocki (Jason Clarke).
Sounds like well-trod ground. But The Chicago Code zooms out from that patrol car, out to the entire city. A half-dozen different police dramas intersect and, symbiotically, interweave.
Yes, there's week-to-week cop procedural — a case must be solved, a gang war must be averted.
But the ongoing story-lines punch harder: A hotshot young cop puts his partner in danger. Chicago's first female police chief, Teresa Colvin (Jennifer Beals) vows to wipe out departmental corruption. An undercover cop infiltrates the Irish mob. Jarek and Colvin attempt to trap Ronin Gibbons (Delroy Lindo), the alderman who'd surely burn down Chicago — again — to protect his power base. Corrupt, sinister, and devilishly charismatic, Gibbons is TV's best current villain.
In a show about fighting for the soul of a city, identifying that soul is crucial. Here, The Chicago Code is a nail-biting love letter to — and diatribe against — the city of Chicago. The iconic skyline. The Irish bars. The brutally efficient politics. Crucially, it's filmed on location. After all, a corrupt cop yelling, "You think you can change how things get done in VANCOUVER?!" wouldn't have nearly the same impact.
Occasionally, The Chicago Code feels like it makes sacrifices to be network-accessible. Ryan, who once said that playwright David Mamet taught him "back-story is bullshit," peppers the pilot with narrated flashbacks to explain characters' pasts. But then, just when you're lulled into half-attention by voice-over, that narration is interrupted — by a bullet. Narrative weakness becomes narrative strength.
There begins a stream of iconic moments — more in the first three episodes than most shows have in their entire run. Ryan turns familiar beats into jazz, playing them with poignancy. None of the individual premises of The Chicago Code are unique. But in the same way The Shield gave meaning to the loose-cannon cop cliché, The Chicago Code reinvents the police procedural by making it anything but procedural.
The Chicago Code, Fox, Mondays, 9 pm
---
TIVO-WORTHY
Only in America with Larry the Cable Guy
The days of the History Channel as the domain of the intellectual were over long ago. Now it's the domain of aliens and monsters and zombies and, most frighteningly, Larry the Cable Guy. Yup. Good ol' Larry takes us around 'Merica, the best durn country this side of the Mississippi. Larry gives his solemn vow that he will, indeed, git 'er done. (History, Tuesdays, 9 pm)

Mr. Sunshine
Matthew Perry, manager of the Sunshine Center arena, is sarcastic and cynical and turning 40, making him even more sarcastic and cynical. It's almost like he's not Mr. Sunshine at all. Considering that promos feature a traveling circus, consider the elephant-poop-joke threat level high.
(ABC, Wednesdays, 9:30 pm)

Mad Love
Poor twenty-something New Yorkers. No matter what sort of quirky banter, zany misunderstandings or crazy hookups they have, they just can't seem to find love. "Some couples are madly in love. Others are just mad!" the promo says, proud of its wit. Some sitcoms are dumb fun. Others are just dumb. (CBS, Mondays, Feb. 14)