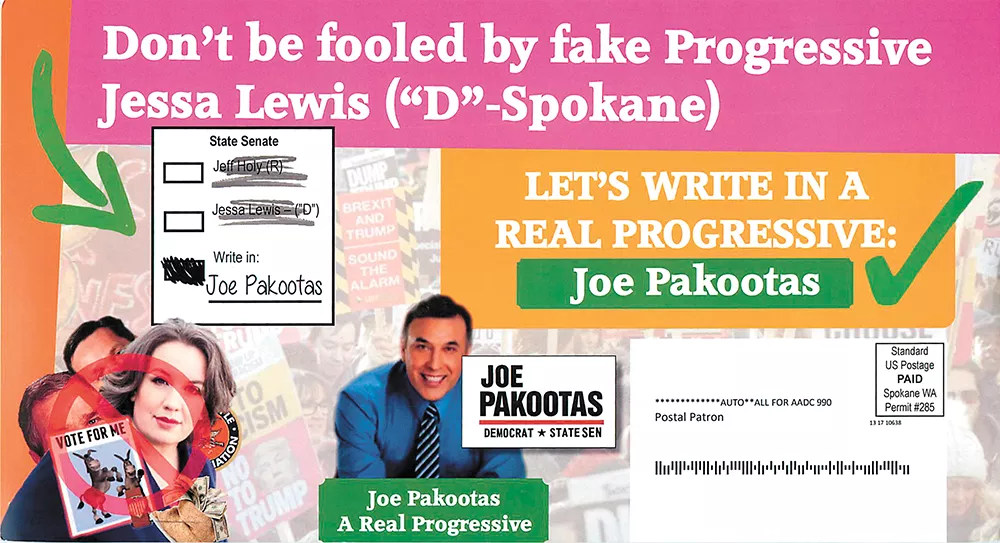 Washington state Democrats know the name Glen Morgan well. After all, he's the Thurston County conservative activist who took the state's messy campaign-finance regulations and turned them into a weapon.
He's the one who fired off a barrage of complaints to the state's Public Disclosure Commission, identifying scores of alleged campaign violations — some petty, some serious — costing local Democratic organizations across the state tens of thousands of dollars in fines.
Meanwhile, a lot of things immediately seemed suspicious about the mailers sent out last month telling voters "Don't be fooled by fake progressive Jessa Lewis ('D' Spokane)" and urging them to write in "real progressive Joe Pakootas" for the 6th Legislative District.
To start with, Joe Pakootas, who ran against Rep. Cathy McMorris Rodgers two years ago, wasn't running a write-in campaign. The mailer quotes progressive activist group Fuse Washington as urging voters to support Pakootas — failing to mention it's from Fuse's 2016 voter guide, and for a completely different race. In fact, this year, Fuse does endorse Lewis, calling her a "clear choice" and "a fierce advocate for affordable health care."
But maybe the biggest tell came from the small print at bottom of the mailer. The guy responsible for the ad, representing a political action committee calling itself the "Conscience of the Progressive?"
Glen Morgan.
Other similar mailers went out in tight races throughout the state, with conservative Morgan donning the guise of a liberal to argue that progressives shouldn't vote for Erin Frasier in the 19th Legislative District, or Connie FitzPatrick in the 26th, or Tye Menser for Thurston County commissioner — because none of them were progressive enough.
The outrage was loud and swift. It even made the Rachel Maddow Show, called out as a sleazy ploy to divide the Democratic vote. By Wednesday of last week, 31 complaints about the mailers had been sent to the Public Disclosure Commission (PDC), including from Fuse Washington.
"This is a new scam that we have never seen before," Fuse Washington spokesman Collin Jergens says. "Hopefully, the PDC will come down hard on Glen Morgan to make sure that nobody ever tries to pull a dirty trick like this again."
But it's quite possible Morgan will get away with it: Because while Washington state law is strict in certain accounting and reporting requirements, it's relatively loose on placing restrictions on flat-out deceptive or dishonest statements.
Technically, Washington state has laws against certain false statements in political advertising, including false claims about some endorsements. But both the PDC and the state Attorney General's Office say that since those laws were updated in 2009, there hasn't been a single person prosecuted or fined under them.
"Everybody is worried about Russia," says state Rep. Marcus Riccelli, a Democrat from Spokane's nearby 3rd District. "I'm worried about manipulation at the homefront here."
Untroubled "Conscience"
This year, there have been plenty of deceptive political ads in the Inland Northwest: Sometimes the ads cherry-pick a few moments over a long career to bolster a wildly false claim, like Idaho gubernatorial candidate Brad Little's primary ad calling Rep. Raúl Labrador — one of Congress' foremost immigration hawks — a "liberal" on immigration.
Other times they get essential parts of an ugly premise wrong: One ad from U.S. Rep. Cathy McMorris Rodgers sought to accuse her opponent, Lisa Brown, of voting for legislation that would have put a dangerous sex offender, Donnie Lee Fisher, out on the streets. But an Inlander dive into the legislative record showed that high-risk sex offenders wouldn't have been released with any of the versions of the bills Brown voted for.
(McMorris Rodgers acknowledged earlier this year that she regretted the tone of the ads, at least.)
The Inlander asks Morgan if he has any pangs of unease or queasiness about his latest tactics. Does his own conscience prick him?
Not so much.
"I don't feel any guilt over it," Morgan says. "Would I do it again? Probably not."
Instead, in our conversation last week, he lobbed several new inflammatory accusations against Jessa Lewis that he didn't bother to put in his mailer.
Morgan won't even agree that his ads were intending to be deceptive. He sticks to his story: He says he was inspired by his progressive friends who were dissatisfied with the options. They wanted a choice, he argues, and he's just helping inform progressives that they have one.
But to believe that, you'd have to believe him when he explains why one of his PACs is called "the Conscience of the Progressives."
"I don't think that's deceptive," Morgan says. "My name is all over that. I'm not saying I am a progressive."
He's just saying he's serving as a conscience for progressives, he insists.
"I'm not the conscience of the conservatives," Morgan says. "I'm sure as heck not the conscience of the Republicans."
But to buy that, you have to also believe Morgan wasn't trying to trick people into thinking he was a progressive when he named one of his other PACs, "Real Progressives in Thurston County," and when he chose the email email executivedirector@waprogressivevotersforchange.com.
You'd have to believe Morgan read the Inlander's story about how Lewis' personal experiences with a sexual assault, an unplanned pregnancy, poverty and homelessness converted her from a mainstream conservative to a "progressive Democrat," and decided that the takeaway was that she'd once voted for George W. Bush and Dino Rossi.
Either way, some people were fooled, at least initially. Fuse Washington received angry messages from members who thought Fuse had sent out the mailer.
"Do not EVER mail me another lying flyer again," one emailer complained to Fuse.
Right to Lie
In its complaint to the PDC, Fuse Washington leans heavily on one passage of Washington state law in particular, one prohibiting "a false claim stating or implying the support or endorsement of any person or organization when in fact the candidate does not have such support or endorsement."
But Morgan makes two Clinton-esque arguments in response: First, the endorsement wasn't technically false because Fuse had endorsed Pakootas, albeit for a different race in a different election year. And second, Pakootas isn't technically a candidate this year, so the passage doesn't apply.
There's a larger challenge, however: The current version of the state law barring certain kinds of false statements in campaign ads has never been tested. Earlier versions of the law, however, were struck down twice by the state Supreme Court.
The law had been used to punish deceptive advertising about a physician-assisted suicide initiative, which featured exaggerated claims like "your eye doctor could kill you." But in a 1998 ruling, the state Supreme Court concluded that was unconstitutional.
The law was revised. But after the PDC fined a candidate for falsely claiming that a state senator had "voted to close a facility for the developmentally challenged," the court again concluded that the state's law punishing false advertising was unconstitutional.
"The notion that the government, rather than the people, may be the final arbiter of truth in political debate is fundamentally at odds with the First Amendment," Justice James Johnson wrote in his 2007 opinion.
A dissenting justice, however, worried it represented "an invitation to lie with impunity."
So the law was revised again. Washington state still has a provision against ads with "false statement of material fact about a candidate for public office," but the bar has been set extremely high — the lie has to be ugly enough to be defamatory and it has to be made intentionally or with a reckless disregard for the truth.
There's no guarantee the provision against false endorsements would survive a court challenge: The U.S. Supreme Court has also generally protected the constitutional right of politicians or political activists to lie — including, even, false claims of military service.
"It's a brilliant trap," Lewis says. "If I try to say, 'No, look at how progressive I am,' then I give them a ton of fodder to say 'she's out of touch.'"

tweet this
In many ways, it's left up to the media outlets, like this one, to fact-check deceptive ads. But sometimes the fact-checks themselves can become fodder for deceptive ads.
A McMorris Rodgers' TV ad this year, titled "Truth," panned over an Inlander fact-checking article that the campaign had digitally altered to remove sentences critical of a previous McMorris Rodgers' ad.
Not only that, but by spending a lot of time fact-checking deceptive statements, journalists can get tangled up in the very debate that a dishonest politician or activist wants to advance.
Morgan admits to the Inlander that he may have been wrong about Lewis not being a progressive. But Lewis argues that this admission, too, is calculated.
"That's the thing: It's a brilliant trap," Lewis says. "If I try to say, 'No, look at how progressive I am,' then I give them a ton of fodder to say 'she's out of touch.'"
Served Cold
Even after the election, the damage done by dishonest advertising can remain. Matthew Howes, the small business owner of a local pizza joint, was running for Spokane City Council last year when he was hit with a negative attack ad.
But the ad didn't go after his politics. It went after his business, claiming his pizza joint had been dinged with 24 health-code violations since 2005. The ad was roundly condemned — not only were many of the code violations for minor issues, but a number of them were from before Howes owned the restaurant.
Still, Howes lost the election. But the consequences weren't just political. Howes says he saw the business at his pizza joint take a hit. And today, Howe says, the impact, whether from the ad or simply from his run for office, has continued to linger.
"It's been a tough year," Howes says. "The economy is way up, and I'm still feeling the effects."
It was crazy, he says. The ad had come from "Spokane For Honest Government," a PAC funded primarily by the local fire department union.
"What did they really have to gain by bashing a local little restaurant?" Howe says. "It's sad that, for a $40,000 a year job, they're willing to wreck a man's reputation that they built for nine years, 10 years."
Spokane For Honest Government was made to pay a $7,000 fine before the election: But that was for other public disclosure violations made two years earlier. No complaints about the pizza ad were filed.
Indeed, the wheels of the PDC spin slowly. That's the case with the Morgan mailers, too.
"Even if the PDC comes down hard on Glen Morgan and gives him a big fine, it's going to be little consolation if his tactics have helped elect [Jessa Lewis' opponent] Jeff Holy and others around the state," says Jergens, the Fuse spokesman.
Last week, Fuse sent a letter to the PDC, urging them to refer the case immediately to the state Attorney General's Office. A year earlier, the Attorney General's Office would have been able to swoop in and take control of the case themselves, but that power was taken away this year by the Legislature. The change was part of a suite of reforms this year aimed at addressing the huge backlog caused by a flood of PDC complaints.
The guy who'd filed many of those citizen complaints clogging up the system?
Glen Morgan. ♦