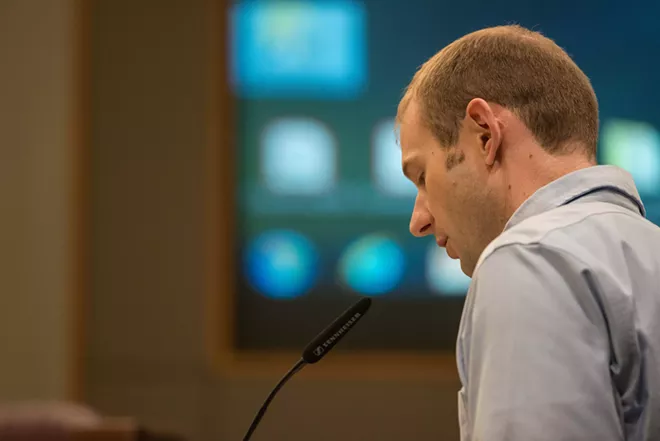 A
s the city of Spokane scrambles to find more shelter space before winter hits
, the employee heading up those efforts is resigning.
Kelly Keenan, Spokane's Community Housing and Human Services Director, submitted his resignation to Mayor David Condon on Monday. His last day will be Friday, Oct. 11, according to his letter of resignation. Keenan did not immediately return messages from the
Inlander
seeking comment.
"Kelly has poured his time, talents and passion into supporting our most vulnerable through community services and resources," Condon says in a prepared statement. "He has led a highly qualified team through a very difficult transition addressing the needs of those experiences homelessness while best practices have evolved in a short period of time. I am sorry to see him go."
Tim Sigler will take the role of interim Director for Community Housing and Human Services in the meantime. Kirstin Davis, a spokeswoman for the city, says Sigler has worked "directly with [Keenan] and the team since 2014." She says the city remains committed to opening a new targeted capacity shelter augmented with warming centers this fall.
Condon did not ask for Keenan's resignation, Davis says.
The CHHS department has been at the forefront of the push to find a new 24/7 shelter location outside the downtown core ever since the 24/7 capacity was closed at House of Charity, run by Catholic Charities, in 2018. But the city has
repeatedly missed its own deadlines to do so
. Now, the city is still trying to find a location for a new shelter that will be operated by the Salvation Army before the winter hits.
City Council President Ben Stuckart says Keenan let him know he was about to resign on Monday before Keenan notified staff and the mayor. Stuckart says he doesn't know exactly why Keenan made the decision, but he noted that Keenan was "under a lot of pressure."
Stuckart and other council members have criticized city administration for not having a plan in place for additional shelter space following the reduction at House of Charity. But Stuckart says he places zero blame on Keenan. He says its "really sad to lose him."
"I just don't think he has the support of the administration. They did not make these type of issues a priority," Stuckart says. "The shelters were opened late last year, despite assurances from the administration. They never put the resources into it last year, didn't make it a priority this year. We could have had this all wrapped up already."
Davis, the spokeswoman for the city, says the mayor "remains committed to achieving needed outcomes to serve those experiencing homelessness."