as common as log cabins are to the region's forested areas, farmhouses are ubiquitous throughout Washington's Palouse and Idaho's Panhandle, where older homes are often nestled into a windbreak of poplars and surrounded by agricultural accouterments. The style is not limited to farmers, however. Renewed and sustained interest in the versatile farmhouse style means elements of it are appearing in remodels and new homes as well.
But what makes a farmhouse? Generally speaking, they were modest homes that were built onto as their occupants' families and farms grew. They are characteristically wrapped in white clapboard, often with black trim, and a peaked, shed-like roofline, with dormer windows and a wraparound porch.
Farmhouses, says Uptic Studios' principal and co-founder Matthew Collins, are all that and more. "A farmhouse is also a homestead, family compound, multigenerational hub and a functional environment to live/work/play."
Combined, that means an emphasis on form as well as function.
An Ultra-Modern Farmhouse
Rising out of 30 acres of farmed alfalfa on the Palouse, Sarah and Nick's home is a reflection of their active lifestyle — she is a long-distance runner, he cycles — and a blend between her desire for coziness and his for modernity. They also wanted to be close to town, yet allow ample room for their children and dogs to run free.
With a recommendation from their real estate agent, Suzy Dix, the couple worked with Uptic Studios, a Spokane-based firm whose most visible projects include Iron Goat Brewing and Maryhill Winery.
Their approach to home design was unique, Sarah says.
"We started by evaluating our existing home and eliminated spaces we weren't using and enlarged spaces we wanted to use more and in different ways. We worked back and forth on floorplan designs for quite a while and once the floorplan was dialed in, Matthew unveiled his vision for the exterior. We were blown away."
According to Collins, "The concept of the home developed on the idea of breaking the different functions of living into separate spaces, allowing the in-between zones to serve for entry, circulation and moments of transition."
The home (featured on the cover of this magazine) has steep, peaked roof lines, making it appear as though it were three connected buildings. The central structure is mostly glass, while the buildings flanking either side resemble aged cedar, helping make the house look like it has been on the land for many years, says Sarah.
"Visitors to the house expect a very choppy interior," says Sarah, "but in reality it is very open and flowing," with the kitchen as the hub. It features a sleek kitchen island where everyone gathers, an L-shaped countertop, high ceilings and plenty of room for a sturdy wooden dining table, bench and chairs.
The kitchen, like much of the house, includes one of Sarah's favorite features: huge windows, which bring the outside in. "It is bright and sunny all day long," Sarah says. "At night it feels like you could reach out and touch the moon."
The backside view of the house reveals a full-length patio — a spin on the conventional farmhouse porch — while an inside/outside fireplace functions as a both a visual focal point and entertaining area.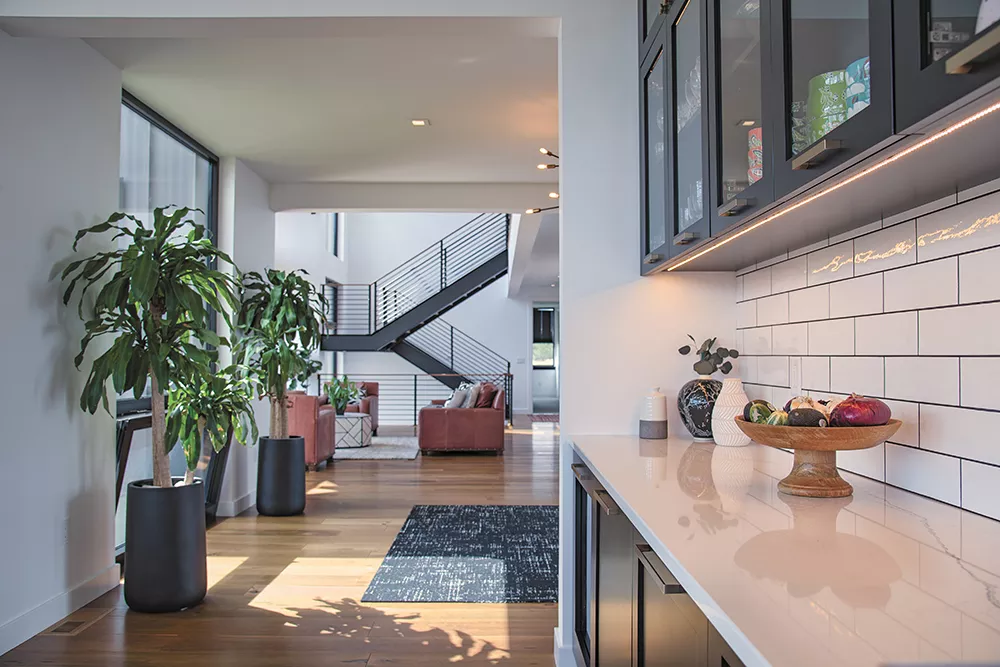 While Nick had a big role in the overall design, Sarah took on décor and interior design, incorporating wide plank wood floors throughout, for example. "The majority of the house is black and white with raw wood accents, and a pop of color here and there to soften the starkness of the black and white," she says.
"The family celebrates a modern lifestyle, but are still deeply connected to the region and the surrounding Palouse," Collins says.
Contemporary Take on a Classic Style
Longtime Colbert residents, Debbie and Todd Rogers didn't start out wanting a farmhouse, says Debbie, who considers herself a city girl. Rather, they wanted a place large enough for their family of 15, including seven grandchildren, yet also befitting times when it was just the two of them.
Located on 20 wooded acres, Debbie also knew she wanted to bring the outdoors in: "lots of natural wood, big windows letting in lots of daylight, and pops of color and greenery giving life."
But as they worked with Rippy Construction, a modern farmhouse was what they ended up with. The two-level home includes a master bedroom and bath, guest bedroom and bath, a great room, kitchen, pantry and laundry/mud room on the main level. The daylight basement adds three more bedrooms, two bathrooms and a bonus room.
"This layout suits our needs perfectly," Debbie says. "And Cameron (Rippy) had the great idea of using the area above one of the garages for a 'man loft' for my husband, in lieu of a shop. He loves it!"
In addition to abundant windows, white shiplap siding, and black accents outside, the interior features barn-style lights, ceiling beams, bridge faucets over the apron sinks in the kitchen, and a bathroom with subway tile and black grout.
To Debbie, however, farmhouse style is less about a look and more about a feeling. "I love home," she says, "the thoughts, the feelings that are invoked with just the mention of the word."
For her, farmhouse style is inclusive. "All are welcome, anytime. Young, old, quiet, loud, funny, serious — everyone belongs here in my home that is made up of new and modern as well as antique and vintage," she says. "It's the diversity, the unexpected, the juxtapositions that I love — always paired with the homey and the comfortable — and I feel like the farmhouse style suits this perfectly."
Some of that juxtaposition of design includes more industrial or contemporary elements, which gives the place a refined, rather than rustic, look, says Jill Rippy, the office manager and executive coordinator for Rippy Construction (formerly Rippy Homes), which she and husband Cameron Rippy founded in 2010.
"The grand scale and scissor trusses of the back porch also pull more to contemporary than classic farmhouse. The sleek, simple and industrial style handrail definitely has a contemporary feel. The finish selections chosen by the homeowner make this house feel like home for them," she says.
Resurrecting a North Idaho Farmstead
A few years ago, Alisa Lewis and her husband Kyle, who has worked for nearly 20 years in construction, were flipping houses in the Spokane Valley when they discovered what would be one of their most significant projects: their future home, which now serves as a model for their custom construction company.
"We specialize in farmhouse style new builds, custom stick-framed shops with living quarters or 'barndominiums,' and small commercial updates and new builds like coffee stands, office buildings, medical offices and retail spaces," Alisa says.
At the time, Alisa was working as a home care nurse with patients in the Dalton Gardens area of North Idaho when a small, dilapidated 1950s-era house caught her eye. It was on the corner of an acre that looked to be a turn-of-the-century farmstead, judging by the classic red barn nearby on the property and Dalton Gardens' history of small-scale farming. It was for sale by owner but the phone number was disconnected, so Alisa persisted until she was able to speak to someone about the 800-square-foot-house, which was actually rebuilt from a 1900s farmhouse on the same foundation, she later discovered.
Within a few days, they purchased the fixer-upper and squeezed into a single bedroom with their two young children. They slowly transformed rooms and added others, including a three-car garage with a second story bonus room, which they tied it into the remodeled original home, for an additional 1,000 square feet.
A new roof, siding, windows, walkways, doors and the quintessential farmhouse porch helped make the stunning transformation complete. They've since added an orchard and garden, with plans for chickens and goats. The kids play in the old red barn — they call it the clubhouse — which they've heard used to be home to the prior owner's donkeys.
"We love the clean simple farmhouse style, and we kept it that way," Lewis says. "We chose one white for the whole house, same window pattern, one black for the doors, and kept the roof line cohesive with farmhouse dormers."
The minimal color scheme outside continues inside the house, where Lewis's design talents really shine. Furnishings, fixtures and accents are mostly black, white, neutral or wood, and the décor is an eclectic mix of salvaged items, contemporary shabby chic, and industrial elements like the kitchen island and stools.
"I used to own a vintage rental company that served the Northwest with farm tables and vintage pieces for weddings and events," says Lewis, who kept her favorite pieces from the Farm Chicks Vintage & Handmade Fair, which she used to host.
Their kitchen table, for example, is from a Spokane Valley architect, while the arched window frame nearby is from a Palouse church.
"Our upstairs loft definitely has a more modern farmhouse vibe with a cowhide rug, the industrial metal staircase and our rawhide leather couches." The "Hale Navy" wall (from Benjamin Moore) and family pictures make this a treasured spot for the Lewis family, who recently welcomed another baby.
---
Farmhouse Style: A Primer
Marnie Hansen, an independent designer based in Spokane specializing in color, renovations and new construction interiors from start to finish, defines farmhouse style as a "beautiful mix of warm woods and metals, layering textures, whites, and neutrals to embody a laid-back, all-are-welcome kind of vibe."
The style is an acknowledgement to a particular lifestyle, she says. "It's a nod to a slower time, a more relaxed style of living where people come first and real life is shared around the table. A well designed farmhouse has a cohesive mix of vintage and modern, keeping the overall feeling fresh yet unpretentious, and collected over time."
To put your own spin on it, advises Hansen, personalize your space. "Hang your story on your walls, infuse your family heirlooms into the design, and put your own personal spin on it to keep it feeling uniquely yours." The result, she says, is "a warm, welcoming retreat at the end of a long day, to connect with your loved ones in a space that is best exemplifies the feeling of home."
— CARRIE SCOZZARO
---
What Makes Farmhouse Style So Popular?
Jill Rippy wonders if it isn't a desire for a slower-paced lifestyle.
"We are all so busy with the things we need to get done for work, home and kids that the thought and feel, (even if it is on a subconscious level) of coming home to a place that represents a time and era where people had time to rock in rocking chairs on their front porches and watch the grass grow or the sun set, a place that feels like a refuge from the world, a time when life was just a little simpler, is of course very appealing."
Besides, she adds, farmhouse style construction is easy on the eyes and simply beautiful.
— CARRIE SCOZZARO