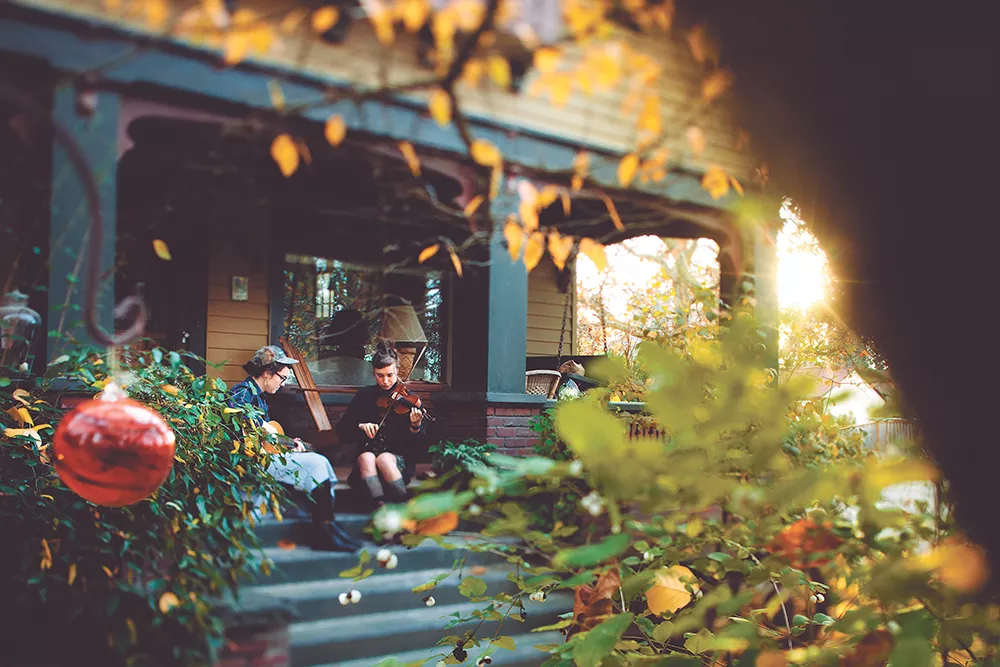 There's something primitive about the music that Dry and Dusty plays. It's like they're breathing life into the parched bones of a bygone era. One that, for sisters Sally and Ruthie Jablonsky, is full of legends and sea monsters that their old-time band sings about.
Old-time music, which traditionally features fiddle, banjo and guitar, came out of Appalachia and is a mix of British Isle stylings and American slave tunes.
"It's older than bluegrass and different than folk music we think of today," Sally explains last week at a downtown coffee shop.
Together, the sisters play traditional tunes along with their own songs. This isn't hootin' and hollerin' dance-hall music (although they can do that too). It's more serene. On stage, their instrumentation has a lively, rustic quality that works perfectly with their breathy harmonies.
The sisters have tattoos and piercings, and wear little makeup. They sport short, blunt bangs. It could be easy to mistake them for some sort of poser Northwest folk band. But in many ways this music wasn't a choice; the Jablonsky sisters grew up with folk music.
They each learned to play fiddle at age 5, and attended fiddle conventions and contra dance events (similar to square dancing, but in line formations) as kids and teens. Both women also play guitar and banjo, and Ruthie knows mandolin and bass. Their musical pedigree includes mom and singer Melanie Luedders, who directs the Spokane Community Choir, and dad Eugene Jablonsky, a former Spokane Symphony bassist and also a jazz band performer.
"Our dad's in probably 10 bands. We can't keep up," Sally says.
But now that it's up to them to play this music, they won't turn away. There's something special, they say, about making music with your sister. It allows their relationship to bloom.
"There's a pretty big age gap between us," Sally says. "And I wanted us to be friends."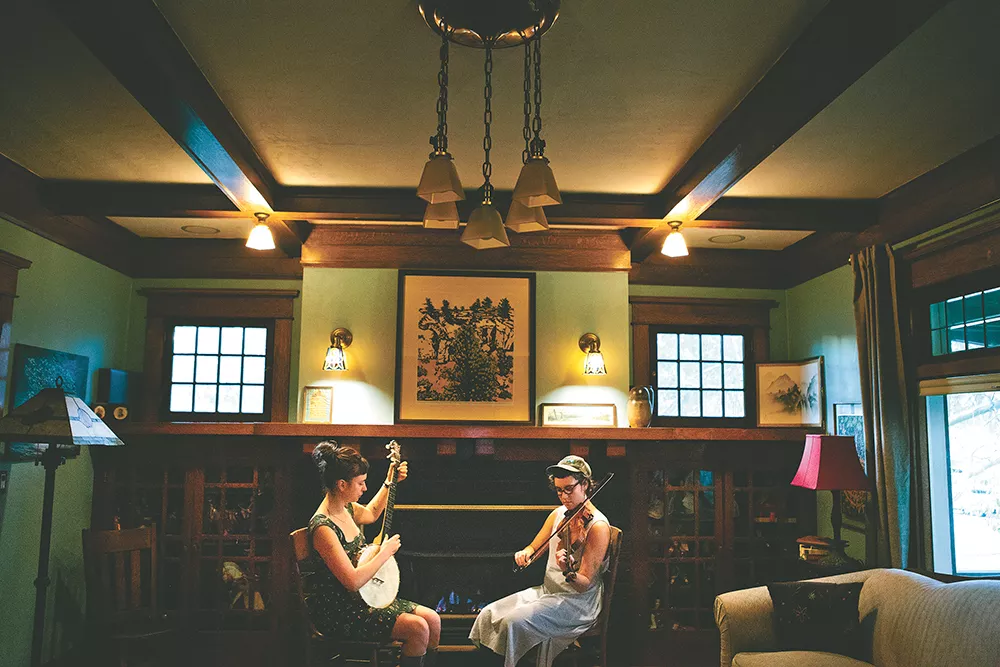 A couple of years ago, Ruthie, now 23, was attending Western Washington University, while Sally, now 29, had moved back home after living and making music in Portland for five years. They decided that playing music together would keep them close. With Dry and Dusty, they'd play wherever they could around the state, sometimes with a backing band, but mostly as a duo. In Spokane, they played coffee shops and the Bartlett and Checkerboard.
This all built up to a three-month national tour starting in May. The band played down the West Coast, along with a haunted house art installation in Santa Fe and some down-and-out bars through the south. They made it as far as Nashville before calling it quits one month early. Ruthie was exhausted, and Sally's Crohn's disease had flared up to a debilitating level.
"We'd never been on a tour that long before and it took its toll," Ruthie says. "But it was the best time."
After their tour, Sally started a new side project with her boyfriend and Ruthie moved to New York City for a job. But she felt swallowed up by the Big Apple's enormity; she missed home. Since September, they've both been back in town, currently living with their mother, working part-time at a preschool and making their music a priority. It's what their club, the Try Harder Society, dictates.
"It's halfway a joke, but also real," says Ruthie, who has "Try Harder Society" tattooed on her upper left arm. Sally is president and Ruthie is vice president of their made-up group, which serves as a constant reminder to stay optimistic and strive for their goals.
Recently, that's meant adding electric guitar to their set, playing more shows, as they're doing this weekend at the KYRS Silent Auction Gala, and gearing up for a new recording this winter.
Their first full-length, Hell Blazes & Heck Fire!, released in January, included a handful of Sally's songs and one of Ruthie's, as well as old-time classics.
"We play a lot of traditional stuff, and I've listened to it so much over the years, that's what makes sense in my brain to write," Sally says. "When I'm heartbroken especially, I need to write songs. When I'm happy, it's a little harder to dig down deep."
They like the idea of living in Montana or Idaho or even Alaska someday, where they can continue to share their old-time music and pass on the tradition to a new generation. But for now, Spokane is home base before heading out on tour again in the spring. This time, however, they know their limits. One month on the road will suffice. ♦
KYRS Silent Auction Gala feat. Dry and Dusty • Sat, Nov. 12, at 7 pm • $25 • All-ages • Hamilton Studio • 1427 W. Dean • kyrs.org • 747-3012