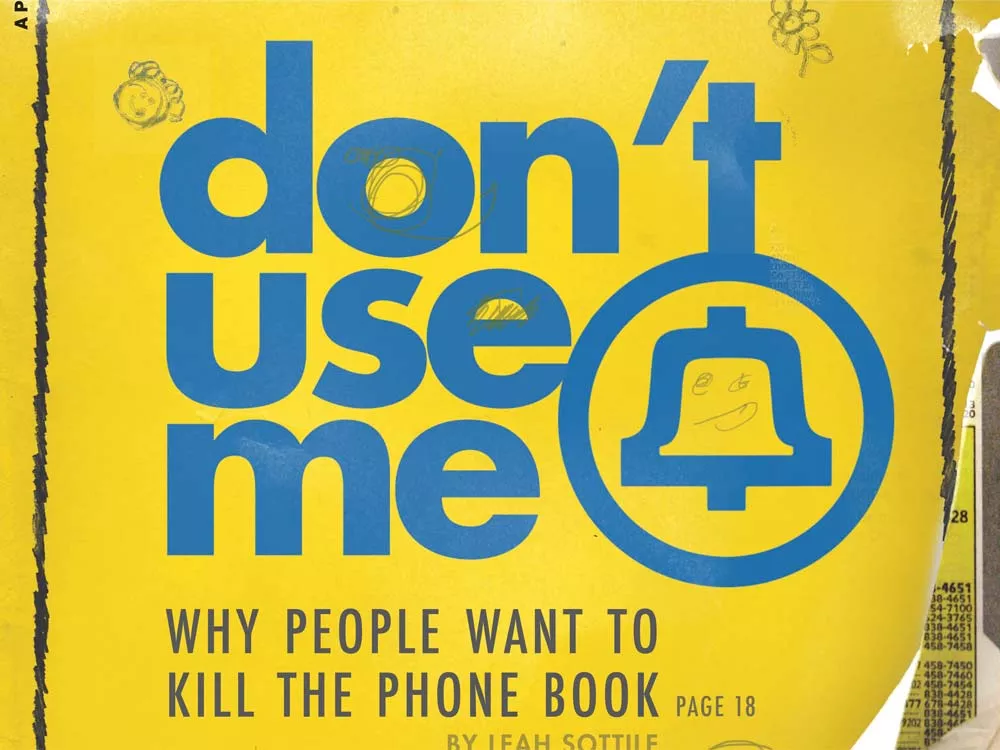 With the advent of online directories, phone books have become more of a nuisance than a public service to many consumers. Even Yellow Pages Directory Inc. suggests the books are better for lining birdcages than as a source of information, albeit on its "go green" website.
Fed up, Seattle created an opt-out registry for phone book delivery, which took effect last week. The program is the first of its kind in the nation and soon could come to Spokane.
State Rep. Reuven Carlyle, D-Seattle, says he plans to introduce a bill to expand the Seattle opt-out statewide. "The success in Seattle is an indication that the public wants this option," he told the Seattle Times last week.
The issue has been given national attention from news outlets including The New Yorker, which has predicted "impending doom" for the "thudding tomes."
The Inlander wrote on this topic last year predicting the same thing.
But not everyone agrees that the end is nigh. "If it's regarding waste management and recycling, then I think it's [an issue] to be determined locally," says state Rep. Matt Shea, R-Spokane Valley.


Two million Yellow Pages books are recycled in Seattle every year at a cost of $350,000. And since the opt-out registry went live last week, more than 124,000 phone books have been taken out of circulation.
But Spokane may not see savings from such a program since it gets paid for recycling.
From newsprint alone, up to 400 tons of newspaper is recycled every month, bringing in about $10,000 in revenue for the city, says Willie Lampe, president of Spokane Recycling.
"We pay [the city] for most of the material that comes off of the curb," Lampe says. "If the phonebooks were taken out of the newspaper, they'd receive less revenue for that."
Ultimately, the environmental benefits of doing away with phonebooks outweigh the revenue, says Suzanne Tresko, recycling coordinator with Spokane Regional Solid Waste System.
"It makes more sense to conserve the earth's resources by not producing unneeded phonebooks rather than waste those resources on the manufacturing and transportation of a product that you didn't want in the first place," she says.
Neg Norton, president of the Local Search Association*, says phone book companies have been working to lessen their waste, reducing their paper use by about 35 percent.
But according to Yellow Pages Goes Green, about 540 million yellow page directories are printed every year, using 7.2 million barrels of fossil fuel, 3.2 kilowatt hours of electricity and the destruction of 19,000,000 trees — a lot of environmental impact for a service citizens are clamoring to opt out of.
Since Seattle's opt-out ordinance passed, Yellow Pages has sued the city over its registry. Its rationale: the First Amendment.
"We claim that directories are speech and therefore entitled to First Amendment protection," says the Yellow Book Association's Norton. "The government has no right to single out one form of material based on its content."
Seattle District Judge James L. Robart threw out the lawsuit, saying that as commercial speech, phone books are not allowed the same measure of protection. The Yellow Book Association is appealing that decision.
Spokane City Councilman Bob Apple agrees with the court's decision, saying this is not an issue of freedom of speech. Phone book companies, says Apple, can find their "soap box" elsewhere.
"Free speech is one thing," says Apple. "Dumping something on my porch is another."
* A previous version of this story misstated Norton's affiliation.