Here in the Northwest, we all like to spend time in the great outdoors. Yet with any outside activity comes some risk, including being bit by a pesky tick that could be carrying something nasty. While most cases of the tick-borne Lyme disease are centered in the upper Midwest and Northeastern U.S., there were seven to 22 cases per year in Washington and two to 14 cases per year in Idaho between 2005 and 2015, according to Centers for Disease Control data.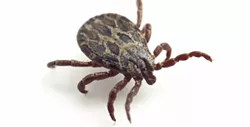 So besides it just being gross to be bitten by a blood-sucking tick — and seeing that reported cases in our region are not incredibly common — why should we be concerned? That's partly what attendees can learn at an upcoming seminar in Spokane that seeks to "unravel the mystery of Lyme disease," hosted by Dr. Marty Ross of Seattle, who's been treating Lyme disease patients for the past 12 years.
Lyme disease is treatable by antibiotics, but if left untreated its effects can be severe. Though there is some controversy in the medical community, some patients who've battled the infection report having lasting, chronic symptoms after treatment. At the seminar, hear from people who've been affected by the disease, including a young woman who battled a late stage case.
NW Lyme Patient Workshop • Sat, March 25, from 10 am-4 pm • $5-$15 • Gonzaga University, Hemmingson Center • 702 E. Desmet • nwlymepatientworkshop.com • 206-962-9439