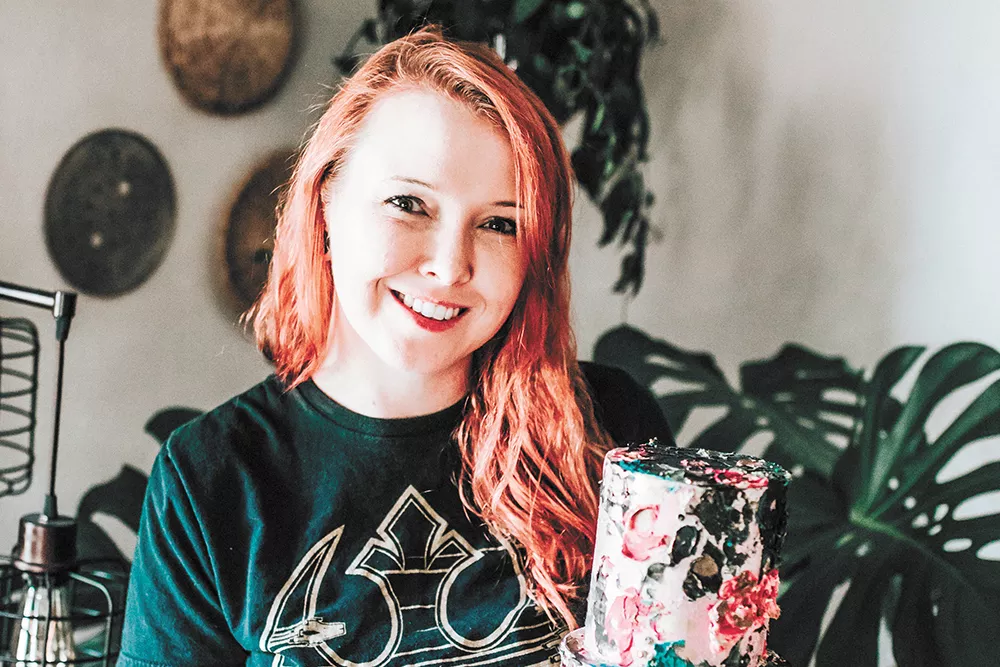 There's no shortage of hops growing in the Northwest, yet that doesn't stop Iron Goat Brewing from crowdsourcing hops every year for its SpoHop IPA. Head to the brewery Saturday, Sept. 14, at 11 am for the picking of vines donated by the community — most grown in backyards throughout the city. The resulting fresh-hop IPA will be available a couple weeks later in the taproom, and everyone who participated in the event gets 50 percent off each pint. Check out the brewery's Facebook page for full details.
In other beer news, the region saw the opening of two new breweries last weekend: For the Love of God Brewing in Spokane's Audubon-Downriver Neighborhood, and YaYa Brewing Company in Spokane Valley near the I-90 Pines Road exit.
Owned by Steve Moss and his wife Dawn, For the Love of God's family-friendly taproom opened with seven beers on tap and a food menu with various small plate options. The small-scale, two-barrel brewhouse primarily plans to focus on modern styles. For an idea of what kind of beers Moss will brew, one can look at the opening weekend taplist which included the passion and pineapple milkshake IPA (a fruit-forward hazy IPA brewed with milk sugar), and a strawberry rhubarb pie sour.
Out in Spokane Valley, brothers Chris and Jason Gass opened the tasting room doors of YaYa Brewing Co. On tap were five beers brewed on YaYa's 10-barrel brewing system, like their flagship Angel IPA, as well as guest beer and cider. The taproom is all ages and offers housemade sodas featuring local Side Hustle Syrups. (DEREK HARRISON)
SWEET & SPOOKY TREATS
Spokane baker and pastry artist Christine Leaming, owner of Sweets Geeky Cakes and an Inlander profile subject last summer, is about to make her Food Network debut.
Earlier this month, Leaming announced on her bakeshop's Facebook page that she'll be appearing on this year's Halloween Wars bake-off competition show, as a cake artist for the series' ninth season. This year's season of Halloween Wars is set to premiere Sept. 29 at 9 pm ET. The show pits six teams of three — "an expert pumpkin carver, cake artist and a sugar master" — against each other to create spectacular Halloween-themed food displays. Find the series' complete schedule at foodnetwork.com. (CHEY SCOTT)
SUMMER GRUBBIN', HAPPENED SO FAST
This summer welcomed Honey Pig BBQ to the Garland District, serving up ribs, pulled pork, brisket and more every Friday and Saturday. That's the good news. The bad news is that Honey Pig is now closed for winter after a final Friday feast last week at which they ran out of grub early thanks to word of mouth on their final season cook-off spreading fast on the shop's Instagram and Facebook pages. According to their posts, expect the smoker to fire back up in April or May. In the meantime, you'll have to hit one of the myriad other barbecue joints that have popped up lately for a cold-weather fix of slow-cooked goodness. (DAN NAILEN)
END OF SUMMER FREEZE
After a brief shutdown, Brain Freeze Creamery's Kendall Yards location is back up and scooping its decadent, creamy ice cream as of the middle of last week. The local creamery's lower South Hill location, however, is now permanently closed. In a recent Facebook post, Brain Freeze said its owners had been planning to shutter the South Hill spot at the end of the summer season for profitability reasons. (CHEY SCOTT) ♦