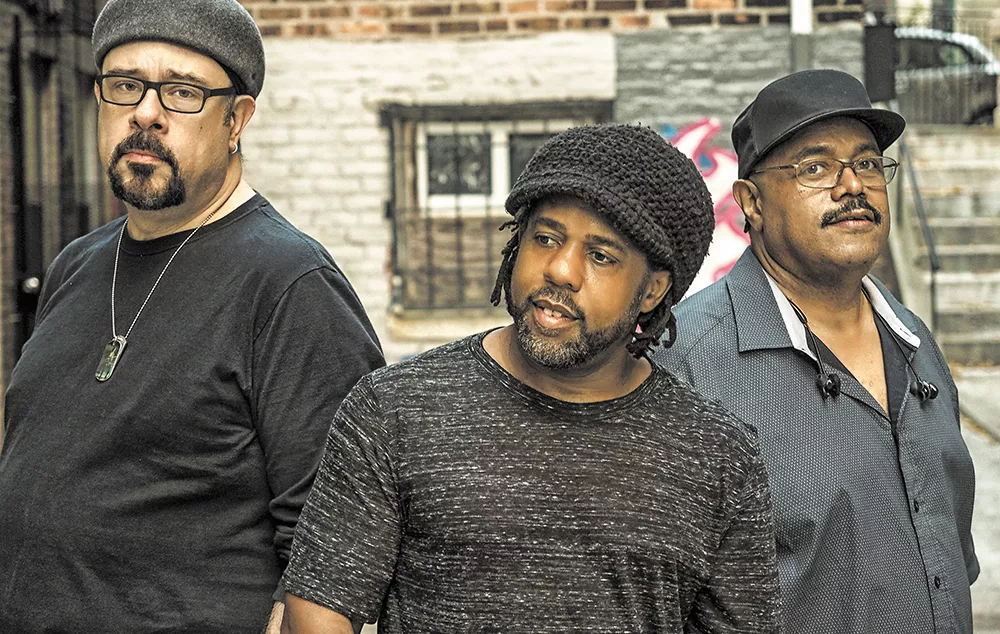 Victor Wooten remembers sitting on his mother's lap backstage at a Curtis Mayfield show. He was about 6 and, along with his four older brothers, had just finished playing the opening set for the influential soul musician. His oldest brother, Reggie, was about 14, Wooten says.
Now 53, Wooten (above, center) recalls that Mayfield was supposed to play two shows that evening, but left after the first, sending the promoter scrambling.
"You boys should get out of show business while you're young," Wooten recalls the promoter saying to the young band.
Good thing they didn't.
Wooten, one of the founding members of Bela Fleck and the Flecktones, is now a five-time Grammy winner, and is widely considered one of the greatest bass players ever.
While his wife emptied the dishwasher, the Mountain Home, Idaho-born musician spoke to the Inlander from his home in Nashville about his upbringing as a touring musician, his new record TRYPNOTYX, taking a knee before NFL games and his role as a music teacher.
INLANDER: You started learning music at 2 years old? Who taught you?
WOOTEN: It was my oldest brother Reggie who taught me how to play. He was 10, and he's teaching me at 2 years old. How did this 10-year-old boy get his younger brothers good enough to be an opening act on a major tour in just a few short years? That's the real story. We still call him the teacher, and that's what he still does.
You're often credited with popularizing a different technique for playing the electric bass. Can you talk about that?
Larry Graham [of Sly and the Family Stone] is the guy known for inventing what we call 'thumping,' what's now called 'slapping.' He used his thumb, and so my brother Reggie showed me how to use my thumb in the same way he would use a guitar pick in an up-and-down motion. That opened up a portal for creativity in my brain.
When I joined Bela Fleck and the Flecktones and became popular in the '90s and the rest of the world got to see it, the techniques became more widespread. But I'm not the only bass player to have ever done it. I owe credit to Reggie, Larry Graham and Louis Johnson of the Brothers Johnson.
You were very young when the Wooten Brothers were touring and sharing the stage with the likes of Curtis Mayfield, the Temptations, War and Maze. What was it like as a 6- and 7-year-old hanging around those guys?
It's just what we did. We played music. I'd come home, do homework, take naps, and play gigs on the weekends. But my gigging started really before I even started school. I grew up knowing that. In a sense, there was nothing for me to learn or adapt to. Just grew into it.
Are there performances you recall seeing as a kid that have shaped your approach?
It doesn't just come from music. I learn from athletes, too — Michael Jordan, Bruce Lee, Tiger Woods, Pelé. What I noticed about Michael Jordan, when he came back [after playing baseball], he was an older, more mature athlete. He figured out a new game because there were younger, faster and more athletic players. So instead he'd shoot a fadeaway jumper or use his teammates.
I feel like that's where I'm at in my career now. I don't have the same athleticism. I don't have to do backflips with the bass like I did when I was younger. But I still have a story to tell, and I can take the Michael Jordan approach.
After 10 solo albums, is there one song that holds particular significance for you?
Quite a few years ago I put out a song that I was reluctant to even talk about called 'I Saw God.' It's just about, 'Hey, I just saw God walking down the street. He looked like you. She looked like me,' ya know? It represents God as a male or female.
That was one I knew was going to make people think, question, maybe rebel. But it was a song I felt was necessary. In history, a lot of times it's musicians who are causing changes.
You're a thoughtful, philosophical person. Are there any social issues on the top of your mind currently?
There's always something. Our president, like him or not, he's got us communicating.
Like with Colin Kaepernick [kneeling before NFL games], a lot of people didn't ask why he did it, they just said he was disrespecting the flag. We want to condemn without getting into the reasons for it. To understand the reason is to find the solution. He was kneeling for a good reason that needs to be addressed. A lot of African American men and women are and have been abused by the police. I've seen it since I was a kid.
I am against the president's criticism and calling those players names that my mother wouldn't let me use. This is our top man calling these guys names, but not addressing why they're doing it. As my mom would say, 'Now you know you're wrong.'
Your most recent album, TRYPNOTYX, features Dennis Chambers on drums and Bob Franceschini on saxophone, who you'll play with in Spokane. What's different about this record from your previous work?
I treated it as a band record, so it's not just mine. It's just the three of us, so there's no designated chordal instrument, which was fun to figure out and forced us to exercise our creativity.
In the end, we supplemented it with vocalists, but they're singing sounds and melodies, not lyrics. One vocalist is Michael Winslow from the Police Academy movies, Spaceballs and stuff with Cheech and Chong.
I also found a woman from India, Varijashree Venugopal, and heard her singing on Facebook along to John Coltrane's 'Giant Steps.' She's on the record singing these jazz tunes, and doing it in a way I've never heard. ♦
The Victor Wooten Trio • Sun, Jan. 14 at 8 pm • Bing Crosby Theater • 901 W. Sprague • $37-$117 • bingcrosbytheater.com • 227-7638