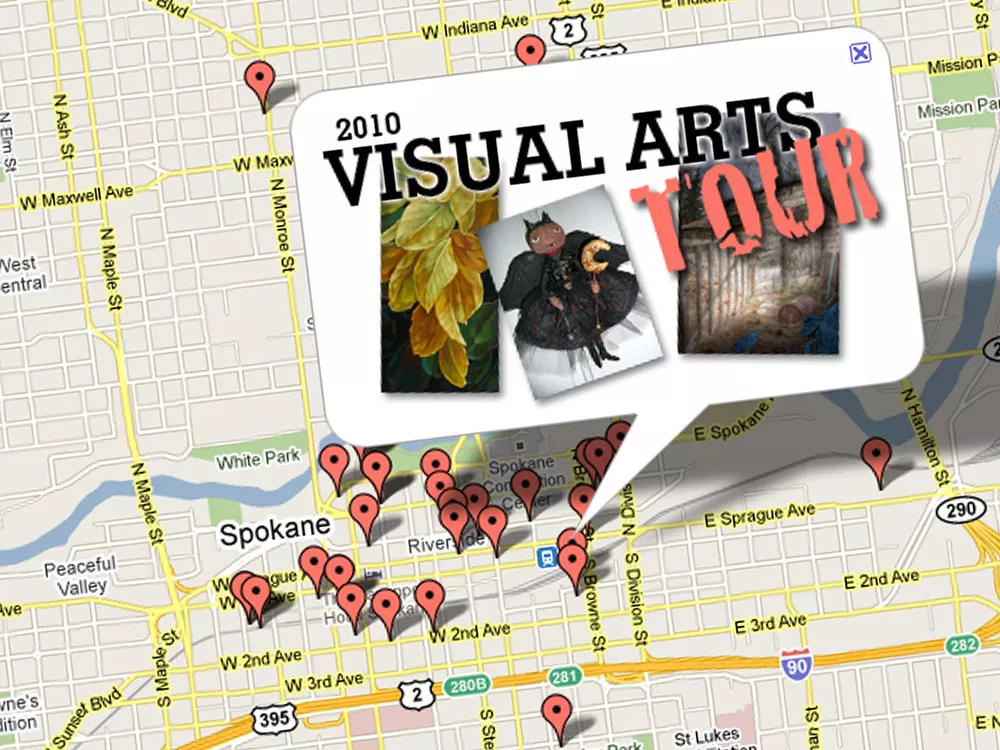 Spokane's Visual Arts Tour, a biannual self-guided tour, will take place on Friday, Oct. 1, from 5-9 pm; some galleries will stay open during the weekend. The tour includes 41 exhibits Downtown, in Browne's Addition, the Garland District and Spokane's International District.
See all 41 art exhibit locations, their hours and contact information in our interactive tour map!
View
Visual Arts Tour
in a larger map
INLANDER SUGGESTED EVENTS
Kolva Sullivan Gallery
115 S. ADAMS ST.
Archie Bray Resident Exhibition
Nearly 60 years ago, Montana brickmaker Archie Bray created a workplace "for all who are seriously and sincerely interested in any of the branches of the ceramic arts" — forming an incubator where artists could meet, study and give birth to ceramic art well beyond convention.
His vision would eventually become the Archie Bray Foundation, where residents study for up to two years. The resulting work is exemplary, a natural outgrowth of the communal creativity and study. Kelly Garret Rathbone, for example, is one of 20 residents whose work will be on display at Kolva-Sullivan, which has shown Bray work for nine years now. A former student at the prestigious Parsons School of Design, Art Institute of Chicago and Florence (Italy) Academy of Art, Rathbone digs deep into the past — incorporating Renaissance themes and contemporary materials, including clay and glass — to create work in the full spirit of Bray's vision. Fri, 5-9 pm; Sat, noon-4 pm; through Oct. 29. Call: 458- 5517 (CS)
Clearstory Gallery
1202 N. GOVERNMENT WAY
Suwanee Lennon: The Fourth Scroll
When her birth mother died last year, Suwanee Lennon felt something shift. Lennon is the daughter of a Thai woman and American serviceman who at age 3 was given to an aunt and uncle to rear. "After years of running away from the reality of my past," she says, "I now believe wholeheartedly that by sharing my story with the world, I'm also being the voice for those unable to share and speak of their pain and suffering."
Her relatives — like others in the village — were isolated for their leprosy, a much-misunderstood yet completely curable disease. When an American woman adopted her as a teenager, Lennon's path crossed the ocean of possibilities, eventually leading to photography.
The Fourth Scroll pays homage to Lennon's three maternal influences and highlights her childhood village, enabling her to do what she does best: finding beauty and joy in unexpected places. Fri, 5-9 pm; through Jan. 15. Call: 499-2678 (CS)
Chase Gallery
808 W. SPOKANE FALLS BLVD.
Selene Santucci: Figurative Meets Abstract, A Ten- Year Retrospective
Selene Santucci's paintbrush favors the colors of the sunset, but not just the shades of the sky itself. The paintings' dreamlike forms are drenched in warm tones ranging from golden yellows to rich teals and pinks — the kind of hues only present for a few minutes as the day comes to a close. The soothing colors cumulate to form scenes painted from Santucci's imagination and memories, which are often represented hazily rendered but other times starkly focused. Regardless of clarity, the subjects are always defying notions of symmetry, reality and continuity. Although some may not find her work initially attention-grabbing, others will get lost in Santucci's paintings — especially those willing to explore the curious manifestations of her memories. For those eager to peer through her looking glass, hurry along while you're still able to take in the mysterious collection. Fri, 5-9 pm; through Oct. 29. Call: 625-6079 (TH)
Terrain 2010
1011 W. FIRST AVE.
Terrain has gained a little weight since its freshman year — but pity not — it was all muscle. The past few months, artists have swarmed to submit their pieces. The welcoming arms of Terrain have opened wide, as this time around attendees will be blessed with three times as many pieces from twice as many artists as last year. In addition to the visual art by only up-and-coming local artists (ranging from sculpture to graffiti elements), Terrain will also host a strong musical component, including the fabulous James Pants. This is all fine and good, but what really floats all kinds of boats is that the festival is open to all people, all ages, at no cost. There will of course be beer and wine available to those of age, but make sure to bring cash. Go and feel lucky. Terrain is something special. Fri, 5 pm-1:30 am. Call: 953-1301 (TH)
1900/GESTALT STUDIO
114 W. PACIFIC AVE.
Sheila Evan and Robert Barnstone
Sheila Evans' oil and pastel paintings convey peace, calm and balance. Architect and metal sculptor Robert Barnstone will display steel sculptures. Fri, 10 am-9 pm; Sat, 10 am-5 pm; through Oct. 15. 363-1900

ARTISANS' WARES
808 W. MAIN AVE., SUITE 216.
Wendy Zupan Bailey, Susan Burger, Kathryn Gray, Deborah Majewski and Sharon Ronning: Witches, Bats and Cats
This October-themed show will feature dolls and other fiber pieces made with polymer clay, fabric and recycled materials. Fri-Sat, 10 am-9 pm; Sun, 11-6 pm; through Oct. 31. 456-6030

AREA 58
3036 N. MONROE ST.
Omer Howard and Andrea Tuinstra: Clay, Canvas, Board—New Images
Enjoy the Fauvist acrylics of Omer Howard and the work of Andrea Tuinstra, who combines majolica and china painting techniques in a series called "Clay Canvases." Fri-Sat, 10 am-6 pm; Sun, 10-4 pm; through Oct. 31. 327-0427

AVENUE WEST GALLERY
122 S. MONROE ST.
Lezlie Finet and Cheryl Halverson: From Fire and Ashes
Watercolorist Cheryl Halverson and potter Lezlie Finet display unique views of the power and fury of fire. Music: Tracy Carr on guitar. Fri, 11 am-9 pm; Sat, 11 am-6 pm; through Oct. 30. 456-3187

BARILLI CELLARS
808 W. SECOND AVE.
Carol Schmauder: Shattered Reality
A watercolor exhibition of Schmauder's "Shattered Reality" series. Fri, 4-9 pm; Sat, 12-6 pm; through Oct. 2. 995-4077

BARRISTER WINERY
1213 W. RAILROAD AVE.
Dean Davis: Abandoned Beauty
Dean Davis' 20 haunting photographs taken in and around abandoned structures. Music: Acoustic Blues by Lyle Morse 7-10 pm. Fri, 12-10 pm; Sat, 12-5 pm; through Oct. 30. 993-9310

BRICK WALL GALLERY
530 W. MAIN AVE./SKYWALK
Richard Heinzen: Travelers Through Hospice
Join photographer Richard Heinzen as he captures the humanity, love, strength and dignity of people receiving hospice care. Fri, 5-9 pm; Sat, 12-8 pm; through Oct. 31. 928-7721

BROOKLYN DELI & LOUNGE
122 S. MONROE ST.
Selina Shehan: "life after neon"
This series of acrylic paintings utilizes both bright and dark colors to illustrate the human skeletal form. Fri-Sat, 11 amclose; through Oct. 31. 835-4177

CONTRACT RESOURCE GROUP
811 E. SPRAGUE AVE., SUITE D
E.L. Stewart, Tom Bowman, Jan Hoak, Marsha Marcuson, Jo Simpson and Jeff Allison: Local Inland Northwest Artists
E.L. Stewart, known for her intriguing figure work; Tom Bowman, showing colored-pencil work; Jan Hoak's fused-glass pieces, Marsha Marcuson's foliage, flowers and landscapes; Jo Simpson's dramatic scenery; and Jeff Allison's textured mixed-media pieces. Fri, 5-9 pm. 458- 0411

DODSON'S JEWELERS
516 W. RIVERSIDE AVE.
Kyoko Niikuwi and Patti Reiko Osebold: Sublime & Complex: The Fine Paper Art of Japan
Niikuwi practices the traditional art of torn paper; Reiko Osebold creates paper dolls. Fri, 5-9 pm. Sat, 10-5 pm; through Oct. 31. 624-4163

DOWNTOWN PUBLIC LIBRARY GALLERY
906 W. MAIN AVE.
Bill James: A Retrospective Tribute to a Spokane Artist
Watercolors and architectural drawings from 1958 through 2000 will be shown. A prominent architect for 65 years, James Garland District Browne´s Addition International District "Worm" Rhea Griffen was a lifelong artist. Fri, 5-9 pm; Sat, 10 am-6 pm; through Oct. 30. 444-5307

GALLERY OF THUM
2910 N. MONROE ST.
Various artists
Mixed-media artists Edward Gilmore (demo on Friday at 6 pm) and Cecile Charles (demo on Saturday at 2 pm) will be featured alongside Katrina Brennan's ceramics, Nannette Bishop's repurposed metal and Denise Roberson's hand-wrought fabrics. Fri, 10 am-9:30 pm; Sat, 10 am-7 pm. 294-9234

GINA'S DESIGN CORNER
1 N. BROWN ST.
Rhea Giffin: Winsome Words and Curious Birds
Come see the whimsical work of this Coeur d'Alene artist. Music: Suhanna Hamilton and Marshal McLean. Fri, 9 am-8 pm; through Nov. 2. 624-2205

THE GLOBE BAR & GRILL
204 N. DIVISION
Wren Van Bockel, Bruce Maurey, and Cristie Dunavan
Van Bockel paints an imaginary world for her characters to inhabit and play in. Maurey uses primary hues and bold lines in his narrative paintings. Dunavan entertains with darkly humorous mischief-makers, unconventional pinups and "piles of sexy zombies." Fri, 9 am-8 pm; open Sat-Sun; through Oct. 31. 869-2320

GRANDE RONDE CELLARS
906 W. SECOND AVE.
Deborah Sheldon: Landscapes
Sheldon will be exhibiting a new collection of oil landscapes based on color and reflection of light. Fri, noon- 9-pm. Sat, noon-6 pm; through Oct. 31. 455-8161

INLAND CRAFTS, CITY HALL
808 W. SPOKANE FALLS BLVD.
Sampler of 2010 Inland Crafts Exhibition
Contemporary crafts by several 2010 Inland Craft artists. All work one-of-a-kind. Fri, 5-9 pm. 624- 8566

INLAND NORTHWEST LAND TRUST
35 W. MAIN ST.
Viza Arlington, Michael Ault, Jeanne Dammarell, Bob Griffith, Betsy Jewett, Rich Leon, Lisa Prochnow, Gay Witherspoon and more: Words and Woods Inspiration and Conservation
Ten artists share perspectives on nature with a camera, brush, printmaking or words. Fri, 5-9 pm; Sat, 10-3 pm; through Oct. 2. 328-2939

JUNDT ART MUSEUM, GONZAGA UNIVERSITY
502 E. BOONE AVE.
"Drawn to the Wall IV" (Jundt Gallery) and "Robert Lloyd: How Do You See China?" (Arcade Gallery)
Five Inland Northwest artists draw directly on moveable walls, while the Lloyd exhibit features 16 digital photographs of China taken during a 2008 visit. Fri, 10 am-9 pm; Sat, noon-4 pm. "DTW4" through Oct. 9; "HDYSC" through Nov. 13. 313-6613

KRESS GALLERY
RIVER PARK SQUARE, 808 W. MAIN
Melissa Cole and Ric Gendron: Beauty and the Beast … Monsters, Mermaids, Demons and Divas
Not the usual Pacific Northwest figures and wildlife from Cole and Gendron. Fri, 5-9 pm; through Dec. 27. 363-5317

LILLIAN CONN ANTIQUES & GALLERY
1001 W. AUGUSTA AVE.
Melville Holmes, Fritz Bachmeyer, Dinah Carlson, Suzanne Jewell: Living with Art
Melville Holmes' watercolor and oil paintings depict the beauty and serenity of Manito Park and the Spokane River. Fritz Bachmeyer was influenced by Italian-trained church painters. Fri, 5-9 pm; Sat, 10-5 pm; through Oct. 31. 329-1005

LION'S SHARE
1627 N. ATLANTIC AVE.
Devonia Grashio, Olivia Brownlee, Caelan Angell, and Joan Becker: Halloween and Harvest Time
Paintings and drawings by artists ages 11-92 will be shown. Music, poetry and fresh scones from The Scone Ranger complete the evening. Fri, 5-9 pm; Sat, 5-9 pm. 327-1113

THE ONION
302 W. RIVERSIDE AVE.
Brendan Genther: Art Can Be Therapy; Art Need Not Exist
Within Borders Brenden Genther presents his own interpretation of energy and emotion through the use of texture and color. Fri, 11 am-1 am. 747-3852

PARSONS
421 W. RIVERSIDE AVE., SUITE 108
Helen Parsons and Dirk Parsons: Lines
Whether it's the 20/0 paintbrush Dirk Parsons uses in his abstract paintings or the innumerable stitches in the fiber art of Helen Parsons, the use of lines by each artist borders on the obsessive. Fri, 5-9 pm; Sat, 10 am-4 pm. 624-5058

POTTERY PLACE PLUS
203 N. WASHINGTON ST.
Dan McCann: A Fish Out of Water Can Survive As Long As It Has a Good Chair
McCann makes creative use of bric-abrac. Fri-Sat, 10 am-9 pm; Sun 11 am-6 pm; through Oct. 31. 710-0362

QUALITY FLOORS AND INTERIORS
706 E. SPRAGUE
Photographs by Ned Fox
Fox has 40 years of photographic experience. Music: Mark Rhodes on acoustic guitar. Fri, 9 am-9 pm. Sat, 10 am-3 pm; through Oct. 29. 747-2295

QUEEN ANNE CONDOS
605 S. BERNARD ST.
Tim Lord, Peter Presnail, E.L. Stewart: Three Themes
The lifestyle exhibit features the newly renovated Queen Anne Condos as a perfect venue for art. Fri, 5-9pm; through Oct. 31. 847-3501

RIVERSPEAK COLLECTIVE
523 W. SPRAGUE AVE.
Kinetic
This multimedia exhibit features mobile work by the RiverSpeak Arts Collective, including Conrad Bagley, Selina Shehan, Brooke Matson and many more. Fri, 5-9 pm; Sat, noon-5 pm. 466-0376

SALON DE LA VIGNE
819 W. RIVERSIDE AVE.
James Francis La Vigne: Recent Works
Three distortion oil paintings and the Spokane Grandfather and Gonzaga series will be exhibited. Fri, 5-9-pm; through Oct. 29, by appointment. 217-2081

SARANAC ART PROJECTS
25 W. MAIN AVE.
Erickson/Kolbo: New York
Jen Erickson's drawings reflect her interest in information systems. Scott Kolbo's drawings, prints and video projections are filled with recurring characters and humorously grotesque environments. Fri, 5-9 pm; Sat, noon-5 pm; through Oct. 30. 230-7758

SECOND SPACE GALLERY
610 W. SECOND AVE.
Jessica LaPrade: Amplified Growth
LaPrade reinterprets the natural world by integrating technological and urban contrivances into her textural studies of nature. Fri, noon-9 pm; Sat, noon-6 pm; through Oct. 30. 847-3501

SPOKANE COMMUNITY WAREHOUSE
505 W. RIVERSIDE AVE.
CHAIR-ity Event
As a fund-raiser for the Spokane Community Warehouse, local artists will creatively decorate chairs. A raffle winner will be drawn for each chair. (To purchase $1 raffle tickets, visit spokanecommunitywarehouse.org.) Fri, 5-9 pm; Sat, 1-8 pm. 991-3546

SPOKANE POTTERS GUILD
1404 N. FISKE ST.
Members and Students of SPG
Eighteen potters will display their work. Fri, 5-9 pm; Sat, noon-2 pm. 532-8225

STUDIO CASCADE
117 W. PACIFIC AVE., SUITE 200
Garric Simonsen: Reading Between the Lines
Simonsen's work explores the tension between contradictory ideas. Fri, 5-9 pm; through Oct. 28. 835-3770

J.F. THAMM GALLERY
11 S. WASHINGTON ST.
Fritz Renato Bachmeyer: The Art of Old Master Painting
An exhibit by contemporary master painter Fritz Bachmeyer features oil paintings of Spokane scenes in a style influenced by the old masters. Fri, 11:30 am-9 pm; Sat, 10 am-5 pm; Sunday noon-5 pm; through Oct. 31. 868-7434

TINMAN GALLERY
811 W. GARLAND AVE.
Harold Balazs: Winding Down
In this exhibit of completely new art, Harold will offer his characteristically idiosyncratic works in a smaller volume and at lower prices as he winds down his immensely productive career. Fri, 5-9 pm; Sat, 10 am-6 pm; through Oct. 30. 352-1500

TINMAN TOO
809 W. GARLAND AVE.
Casey Klahn: The Dramatic Landscape
Casey's New School Color Pastels are a contemporary body of landscapes in which color is the subject. Fri, 5-9 pm; Sat, 10 am-6 pm; through Oct. 30. 352-1500

TRACKSIDE STUDIO
115 S. ADAMS ST.
Chris Kelsey and Mark Moore: Wood Fire
Wood-fired sculpture and pottery by Chris Kelsey and Mark Moore. Fri, noon-9 pm. 435-7097