As a Republican and a Democrat, we don't always agree, but we are united on this: I-976 is a serious threat to the Spokane regional transportation system. Spokane needs a transportation system with improved mobility, safety and efficiency to move our community forward. Initiative 976 will be a huge step backward, undermining just about every aspect of transportation in our city, county and state.
I-976 is a misleading initiative on this November's ballot. It sounds good, but like all offers of a free lunch, it's not free: It de-funds state and local transportation budgets so that our most needed projects and programs become at-risk for delay or cancellation. This includes Spokane's North-South Corridor, the Barker Road project, road maintenance and pothole repair as well as numerous transit projects.
That's not in the ballot language, and it's not overstating the case.
Many have been confused by thinking that the North Spokane Corridor and other projects are "fully funded." But that "full funding" is based on a revenue projection that will be cut by $4 billion if I-976 passes. So, everything considered "funded" will have to pause as the state's transportation budget is re-written. And the re-written budget will look significantly different after that $4 billion is cut. Some projects will be cut entirely while others are reduced or delayed.
As a region we have worked hard to ensure that Spokane's roads and transit system gets as much support as projects on the west side of the Cascades. Following the 2015 bipartisan Connecting Washington transportation funding plan, Spokane is finally getting its fair share of state transportation dollars. If I-976 passes, all of those funding wins for Spokane will be in jeopardy.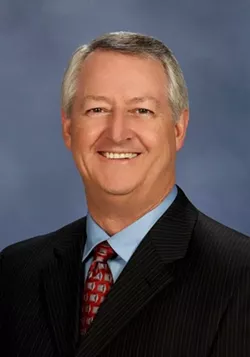 That's reason enough to vote against I-976, but there is actually more. The initiative also eliminates the ability of Transportation Benefit Districts (TBD) to collect car tab funds. TBDs are typically employed by cities who use those local dollars to solve local problems. If passed, I-976 would take $2.5 million away from Spokane's TBD — most of which is used to repair residential streets. It would reduce the street maintenance budget by almost 60 percent and also hurt our ability to provide pedestrian improvements such as ADA ramps and sidewalk repairs.
Cities, faced with big cuts to local road repair budgets, would be forced to either neglect the work, thereby letting the streets to get worse, cut services in some other areas, or raise other revenue. None of these are good options.
I-976 also forces cuts to our transit systems, which are essential for reducing congestion and increasing mobility. State mobility grants, which would be undercut significantly by I-976, support regional bus service and transit for people with disabilities, veterans, youth, senior citizens and low-income riders.
An effective transportation system not only improves the quality of our lives, but it is also the foundation upon which we build a thriving economy and grow or bring new jobs to the area. Whether it is building new capacity to support job growth or building bridges to improve safety and mobility, adequate transportation funding is critical to a healthy and thriving community. That's exactly why now would be a terrible time to see cuts and lose ground on our transportation system.
For these reasons and more, community leaders, business leaders, labor and environmental leaders from across our region and our state have all come together to oppose I-976. It threatens our quality of life, our economy and our environment. It's just too big a risk. Vote no on I-976. ♦
Andy Billig, D-Spokane, is a state senator representing District 3. Al French, a Republican, is a Spokane County commissioner.