click to enlarge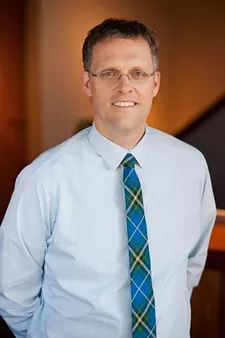 The last time the Spokane City Council tried to stop sprawl by withholding public utilities, it spawned condemnation from all three county commissioners and resulted in Mayor David Condon's first veto.
Now, the council is considering a subtler solution that would still give the city greater influence over regional growth.
"It puts us more in the driver's seat," Councilwoman Amber Waldref says.
Spokane Utilities Director Rick Romero has presented a new plan to give the council more control over where it extends water service. Under the proposal, the city would use the current Urban Growth Area boundaries to define its "retail" water service area, highlighting where the city will extend water service in the next six years.
"The idea is you'd have to get a vote of the council, and get on the six-year water plan, to get retail water outside the retail service area," Councilman Jon Snyder says. The city would update its plan every year, at a minimum.
This latest battle over growth dates back to last year when, over the objections from the city, Spokane County widened its urban boundaries to allow denser developments. The council fired back in March, passing an ordinance that banned the city from extending water and sewer services to future properties added to the UGA until all legal challenges were cleared up.
In one sense, this new plan is less restrictive than the one Condon vetoed — it doesn't handcuff the city council's ability to extend water services and it doesn't apply to sewer systems.
But depending on the makeup of the council, it could easily become more restrictive: Theoretically, even if the county were to legally expand its UGA, the city council would still have to vote to change the water map. If it doesn't, developers could be waiting for a water hookup for a very long time.
Initially, City Council President Ben Stuckart was skeptical, but says he's been convinced that Romero's strategy is a good one. Stuckart hopes that by giving the city more leverage in planning growth, the city and the county will work together better.
But there still are knotty legal questions left to untangle: Is the city allowed to effectively deny water service to properties inside the UGA? And does this plan give more homeowners the right to just drill wells instead?
That last one question worries County Commissioner Todd Mielke: "My concern is we're going to have a whole bunch of individual property owners that under the law have the right to sink their own wells." Mielke believes that could eventually have serious long-term ecological ramifications.
The new plan hasn't completely pacified developer groups either. Spokane Home Builders Association lobbyist Michael Cathcart calls it a "slightly modified version" of the ordinance vetoed by the mayor and complains that it's still putting up roadblocks for development.
"It's a better system in that the city can vote to allow water service [for developments in legally challenged UGA expansions]," Cathcart says. "It's still not a good system in that an anti-growth city council could say, 'No, we're not allowing water service.'"
Besides the proposal, something else is changing: With City Councilman Steve Salvatori's resignation, the council's liberal bloc has the opportunity to add a fifth member for a veto-proof majority. Stuckart, at least, intends to pick up another ideological ally.
"If I get to vote for who joins me on council," he says, "I want to make sure they share my value system." ♦