I
swear, if I hear "I Don't Care"
by Ed Sheeran and Justin Bieber again, my head will explode. This has defined my summer so far, and I see no end in sight.
But don't let that overplayed single deter you from checking out a few hidden gems on Sheeran's new album,
No. 6 Collaborations Project
.
Sheeran decided to do something really neat with his newest record — he features the features. And it really is what he says: a bunch of collaborations.
I'll admit that when I first heard it, I thought it was inventive and fresh. Then I listened more, and while there are some definite high points among the featured guests and beats, most of the album fails to feel authentic.
The first legitimately good song is the single "Cross Me," featuring Chance the Rapper and PnB Rock. While the chorus of that song drones on and on about the same thing, the album is about the guest artists, and Chance the Rapper's verse in "Cross Me" is one of my personal favorites of his, with lighthearted, almost funny lyrics, like "Get your ass with a cross kick," when he focuses on the fact that his girlfriend can probably beat you up.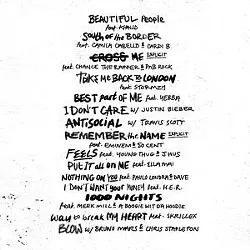 "Best Part of Me" will make you feel like you're listening to Sheeran's 2011 album
Plus
, which is a welcome addition on this album of off-beat pop-rap hybrids. It's a slow, acoustic ballad featuring YEBBA, who you might recognize from Chance the Rapper's "Same Drugs." The back and forth between her and Sheeran reminds me of when Beyoncé sang "Perfect" with him.
Sheeran's one of the few stars today who could pull off such a star-studded record. But as he tries repeatedly to blend in, on songs like "BLOW" with Bruno Mars and Chris Stapleton, and on "Remember the Name" with 50 Cent and Eminem, you kind of feel like he's the odd man out on his own record.
So for me, this album fails because Ed Sheeran doesn't really do what he's loved for — except for on "Best Part of Me."
If you pick this album up to hear his unique, intuitive style, as on 2017's
Divide
, then you may be disappointed. But in the end, with such an amazing cast of artists on board, he manages to duct tape the whole thing together.