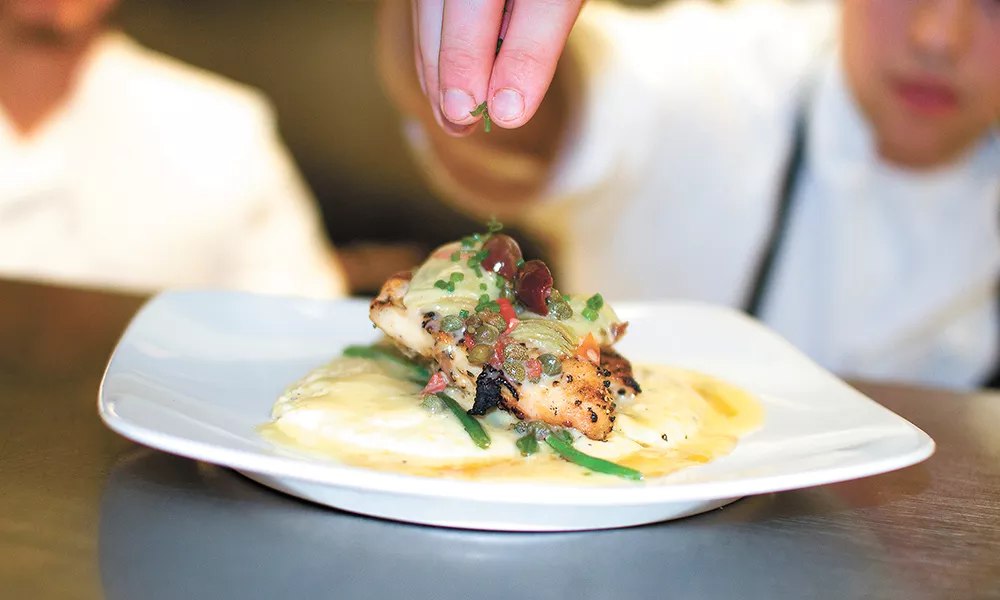 Chef Angelo Brunson has stayed close to home when figuring out what to name his restaurants. Angelo's Ristorante on Fourth Street obviously is self-named, and the recently opened Martino Tuscan Grill is an adaptation of Brunson's middle name, Martinio, and his nickname, Martini. Although the restaurant's name references Tuscany, a central Italian region including coastal areas, sweeping hillsides, and the famed province of Florence, the menu is a broad-based assortment of classics.
The veal chop Fiorentina ($44), for example, with marinated and grilled rosemary, garlic and caramelized apples, hails from Florence, yet the spicy linguini alla puttanesca ($13) is from Naples, while the chicken Milanese ($15) originated in Milan. Also on the menu is cannoli ($9), fried pastry dough formed into a cylinder with a delicate yet rich ricotta-based filling, which originated in Sicily.
In addition to its rich and diverse culinary heritage, a sense of Italy's physical landscape is represented throughout the restaurant, which is now unrecognizable as the former Rivelle's River Grill. The gorgeous mahogany bar is still present, yet darker woods, leather seating and teal linens are new, as is the mural of a quaint Italian town prominent on the east wall.
Close to a movie theater and popular summer concert venue, Martino Tuscan Grill is an ideal place for a glass of wine or beer and appetizer, like red Dungeness crab cakes ($16) or the cured salmon crostini ($12).
For lunch, try the wild sockeye salmon primavera with spring vegetables and lemon basil butter sauce ($16) or the light, yet filling, potato gnocchi in a creamy roasted red pepper sauce ($15). Brunson and his head chef, Jeremy Regnere, recommend the pollo al foresta for dinner — a grilled chicken, flamed with Tuaca (an Italian brandy liqueur) and served with wild mushrooms ($26) — as well as the spiedino de mare, grilled prawns and sea scallops on a bed of mussels and clams ($35).
With a busy restaurant already to his credit, why would Brunson want to open another?
"Riverstone really needed an Italian restaurant, and it's really such an excellent area," he says. ♦
Martino Tuscan Grill • 2360 N. Old Mill Loop, Coeur d'Alene • Open Mon from 11 am-3 pm; Tue-Sat from 11 am-10 pm • martinotuscangrill.com • 208-930-1464