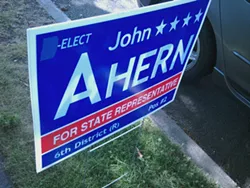 Republican John Ahern, currently up against two foes in his quest to retake Washington's 6th District Legislative seat, has his lawn signs out in full force. But a quick glance at one of them on the way into work provided evidence he may not be as hardcore a conservative as he likes to think he is.
Though a steadfast denier of human-affected global warming (telling the Spokesman-Review it's responsible for "less than one-half of 1 percent," though what that percentage was or referred to was left unclear), Ahern appears to be re-using the signs from (one of) his earlier re-election campaigns, merely taping over the "Re" part of "Re-elect John Ahern."
Whether these signs were stored by Ahern himself or just the person who planted them in the front lawn, it's clear that, knowingly or not, someone's doing their part to save the planet (even if it saves money, too). John Ahern: Accidental Environmentalist.
Note: From a semantics standpoint, the signs don't even need to be taped over. Since Ahern was in fact elected at one point, you could still advocate for his re-election; though implied, the word does not require concurrent terms of service.