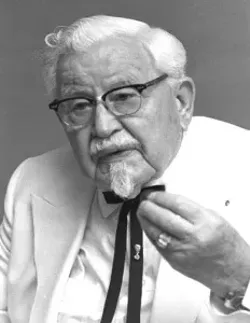 Sen. Bernie Sanders, I-Vt. (not pictured at right), is currently filibustering the tax-cut compromise in the U.S. Senate. Sanders, a self-described democratic socialist who identifies as an independent, is apparently furious over the fact that the plan is giving cuts to the very wealthy.
But this isn't your wussy, modern filibuster, where you only need 41 senators to pledge not to vote for cloture to prevent even bringing a bill up. He's engaging in a good ol'-fashioned filibuster, the way it was meant to be done: getting to the Senate floor, standing up in front of the chamber, and talking about everything under the sun. Thus far, topics include:
— The disappearing middle class
— Dams

— The quality of the site slate.com

— Arianna Huffington's Third-World America, "a very good book"

— High-speed rail (and how it's not necessarily "high speed" at all, since sometimes it takes longer to get places than it used to)

— The maladies of a 65-year-old constituent who has to chop wood to keep up with the cold, despite back surgery.

— Campaign finance

— The Glass-Steagall Act

— Income inequality

— Bridges

— Poor quality of education

— FDR's "infamy" speech of Dec. 8, 1941. (Though he said he "saw a video" of it, which I'm fairly certain doesn't exist.)

— Teddy Roosevelt's thoughts on the estate tax (this one even had a chart! Five points for visual aids, Bernie!)

— Christmas present shopping, and his inability to find a product manufactured in America

— The overpayment of athletic superstars
He's been going since 10:25 am EST (7:25 am here), and shows little sign of slowing. Sen. Mary Landrieu, a Democrat from Louisiana, also helped out earlier but hasn't been seen in awhile. We'll keep the list updated if it gets more interesting. You can check it out
live on C-SPAN 2
.