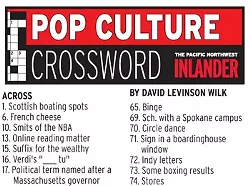 The crossword that we run in the The Inlander each week is a nationally syndicated feature written by David Levinson Wilk, a professional puzzler (and a writer for Who Wants to Be a Millionaire?) who has written several crosswords for the New York Times.
So imagine our surprise yesterday, when we got halfway through this week's puzzle and found 69 Across (see image, right).
The answer contains three letters.
Did you get it?
There are many people even in Spokane who don't realize that WSU has a campus here, so it warmed our (admittedly nerdy) hearts to know that puzzlers across the country will now be hip to the U District.
You'll find the puzzle on page 59 of the paper out today, or you can download it in PDF format here.