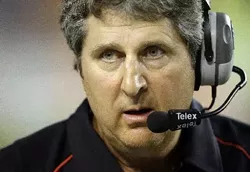 Thompson's lawyers denied access to jury — Attorneys representing former SPD officer Karl Thompson have had their request to interview jurors from his trial last month denied by a judge. The jurors convicted him of two felonies in relation to the 2006 death of Otto Zehm. (SR)
Medical examiner rules Starbuck was strangled — A medical examiner has determined Chanin Starbuck, the mother of five and recent divorcee who was found dead in her Deer Park home over the weekend, was strangled to death. Police say Starbuck's ex-husband is not a suspect. (KXLY)
Man robs NorthTown Mall Champs at knifepoint — At 9 pm Tuesday, a man tried to walk out of Champs at NorthTown Mall with a pair of shoes he did not pay for, say police. When confronted by a clerk, he showed a knife and left the store. (KREM)
WSU welcomes new head coach, gives him $1.8 million to hire staff — Mike Leach, who allegedly mistreated a player at his previous position at Texas Tech, will be the new head coach of the WSU football team. The university has given him $1.8 million to "fill out his staff". (KXLY)
Tonight

Allegro Baroque and Beyond at Pasty Clark's Mansion.

Small Works Invitational exhibit at the Art Spirit Gallery.
"Lang and Rue: Verses" exhibit at the Jundt Art Museum.

Winner of worst sex writing in fiction award announced. (Daily Beast)

National Geographic is home to a ton of Pearl Harbor Day interactive media. (National Geographic)
Those fighting for marijuana legalization find support from African-American clergy members.
(Stranger)
Rock and Roll Hall of Fame 2011 inductees announced. (
Village Voice)

Obama takes on LGBT discrimination abroad, faces outrage.
(Reuters)