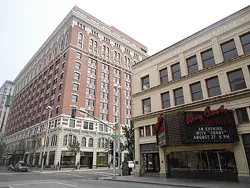 The Bing Crosby Theater is up for sale. Owner Mitch Silver says that he has plans to sell it this year.
Silver bought the theater in 2004 for $788,000 from the Metropolitan Mortgage & Securities Co., after that company's financial meltdown. The building, constructed in 1915 and originally called the Metropolitan Theater of Preforming Arts, or simply "The Met," requires some maintenance, according to Silver, including work on sidewalks and repairing water damage on the roof.

"At this point, we don't have a sale," says Silver. "I had someone interested but we could not make a deal."
The building is now valued at $807,000, the Spokane County Assessor's office told the Journal of Business. Silver says that the building could sell for $1.3 million after repairs.

The Friends of the Bing Crosby Theater group, which helped rename the theater in 2006, has been interested in purchasing the building for the community, according to Silver.

"I would love to work with the group and give to the community," Silver says. "I have met with them, but there are no concrete plans."
Since the Building is registered with the Spokane Register of Historic Places, repairs will have to be cleared with the register's Landmark Commission to make sure that the restoration of the building respects the historic integrity of the theater, says Kristen Griffin, a historic preservation officer with the group.

"Rehabilitation of the building means that the building can be change to be useful, but we have to protect the building's character," she says. "The owners would have to agree to a particular set of standards."
According to Silver, he plans to hold an auction for the building in the spring.