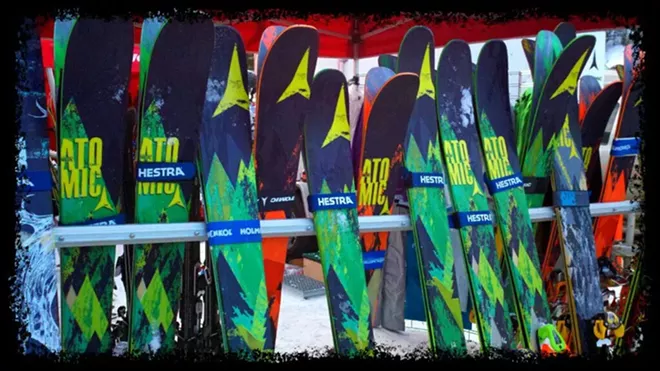 For two days last week I was in a skier's dream. A brand new, freshly tuned and waxed set of skis every run I took (except for that one pair which reminded me that I wasn't dreaming. If you were with me, you will know exactly which ones I am talking about). I have had dreams that are similar in content although usually involve a foot of fresh snow. The first day brought us brilliant sun and fast moving groomers. The second day brought a fresh blanket of snow and less than ideal visibility but a good day to switch out the Red Sol-X lens for my favorite Smith lens, the Red Sensor Mirror.
This is the third consecutive year that I have attended the WWSRA Ski & Snowboard demos at Mission Ridge just outside of Wenatchee, Washington. The conditions are typically not ideal for testing out the big boards, which seems to be all the rage with rocker, camber and sidecut flowing smoothly from all of the ski reps mouths. Attendees range from shop employees, owners and representatives from area ski resorts. Exhibitors are from all over showing off next years alpine and tele skis, snowboards, ski poles, boots, helmets, goggles, GoPro's, foot beds and even some clothing lines.
For two days you are ripping down the mountain at mach speeds, laughing, talking shop, and being stoked about next season's gear (even though we are still enjoying the current one). There are shot-skis filled with whiskey, brats cooking on BBQ's, kegs of IPA and what seems like an endless supply of canned beer. Goggle tanned faces, smiles and friends surround the Salomon fire pit which makes returning to the hotel after the first day nearly impossible. The party does finally dissipate and makes it way to downtown for more of the same.
The morning comes too early after dinner, hot tubs and more apres-ski activities. The morning brings more skiing, more socializing and then reality sets in. It's time to go home and return to my skis. Fortunately, I love my skis but in previous years after returning from the two-day demo party, I have had a hard time motivating myself back on my skis as they just didn't have the same response or the same feel as the new ones I had just been spending the last two days ripping around on. This is when the real hangover kicks in.
There are great things on tap for the 2012-2012 line-up. I am already looking forward to skiing the 2013-14 lineup and, more importantly, attending the demos next February.