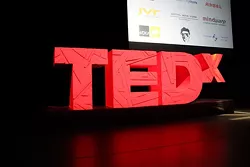 The annual TED Conference was held in Southern California last week, and one of the presentations that's had bloggers buzzing is this one by University of Pennsylvania professor Vijay Kumar, whose team has been working on quadrotor drones — little flying bots that can work together to perform scary-difficult tasks, like playing the James Bond Theme song (see 14:45 in the video) and generally taking over the world.
But if you think that's cool, you should know that TED is coming to Spokane. Next week.
St. George's School, in north Spokane, has been working with the TED organization since September to produce a TEDx event, a separately run event that borrows the look, feel and philosophy (technology, entertainment, design, "ideas worth spreading") of the TED-produced blowouts. (This one will actually be called TEDx St. George's School, but future events could earn the TEDx Spokane moniker.)

The event, which will feature a number of national speakers (including former footballer Mike Utley and Facebook co-founder Andrew McCollum), in addition to several local ones, will be held at St. George's on Tuesday, March 20, but the deadline for entering the lottery to attend is tomorrow.
To get in on the action, go to tedxsaintgeorgesschool.com and follow the links to the registration form. It's a pretty painless process. Name, address, plus an About Me section, three things you want to know more about, and three websites that define you.
Officials from St. George's said this afternoon that there were still a number of seats left, so you may still have a shot, but you better act fast.