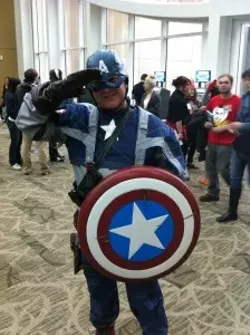 Merlyn's Scif-Fi/Fantasy Gaming, Comic and Book shop will be holding an event tonight to release Marvel's new crossover comic, X-Men vs. Avengers.
The night will kick off at 5 pm with promotional freebies offered by Marvel Comics. An Avengers vs. X-Men-themed Heroclix battle (a collectible miniatures game) will take place at 6 pm. Finally, at 8 pm, the release of the comic.
According to Merlyn's owner John Waite, Merlyn's will take the side of the Avengers. Employee Chris Martin will be suiting up as Avenger Captain America to give out hugs, high fives and patriotism to attendees.
"We go to the San Diego Comic Con and he always has a costume," says Waite. "He's had a Ghostbusters costume and a Indiana Jones one, but this is probably his best. People loved it at the Seattle convention."
Merlyn's is located at 19 W. Main Ave. Waite encourages people to come and pick a side but forewarns that Merlyn's staff is sticking by the Avengers.