Just short of a year since their last visit here to the Knit stage, Skeletonwitch — an Ohio metal quintet — brings their show to the much more intimate all-ages venue, the Hop!
The Prosthetic Records band plays a brand of thrash that's tightly wound and uncoils fast. Skeletonwitch toys with the typically masculine nature of thrash, though, by adding in Chance Garnette's signature black metal vocals over the top of speeding guitars and new drummer Dustin Boltjes' blastbeats. It's dark, evil headbangery — and just the type of band that's awesome to see up close on a small stage.
Come see Skeletonwitch with BarnBurner, Odyssey, Benign, and Reign of Ashes today, Tuesday July 31. They'll be playing at 7 pm at the Hop. Tickets are $12 for all ages.
For more information click here, or call 368-4077.
Gillian Welch, the American folk songstress who we profiled here, will perform tonight at 8 pm at the Bing Crosby Theater. Tickets: $32-$35. Click here to purchase tickets or call (509) 227-7638.
Tags: folk , Americana , live music , Music , Video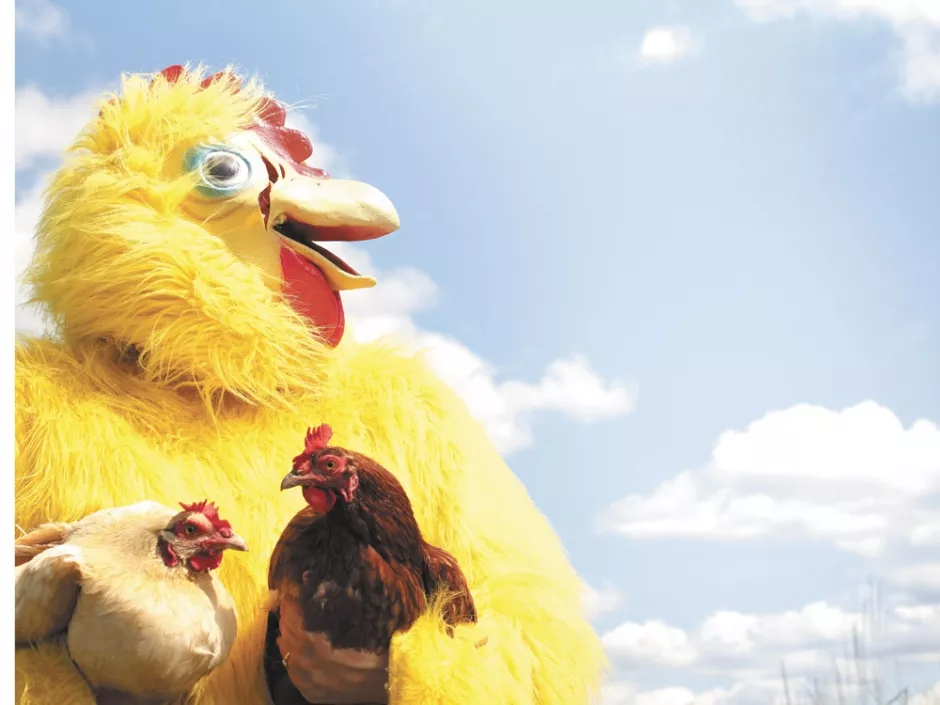 Did you know America produces an estimated 9 billion chickens a year and we eat about 7.5 billion? Does that startling figure make you hungry?

If so, stop by Main Market Co-op today for a taste of guilt-free, hormone-free chicken from Heritage Naturals, who we profiled here. Hurry. The complimentary tasting started at 10 am.
Tags: tasting , chicken , free range , Food , Image
Here
Woman pepper-sprays senior citizen (KREM) 
Spokane fails to control its booze hounds (SR) 
Ferguson's to reopen (KXLY) 
Idaho's young are screwed (Boise Weekly) 
Elsewhere
Colorado shooter charged with 24 counts of murder (WashPo) 
Tale of a shrinking lake (NYT) 
A trip to the My Little Pony Convention (Orlando Weekly)  
Tonight at the Bing
Tags: morning brief , spokane , idaho , colorado shooter , pepper spray , booze crackdown , my little pony , idaho youth , unemployment , News , Video
To the couple in my apartment complex who stole my milk out of the
community kitchen. Thanks for not drinking it all and throwing it in the
garbage. How low can you get.
Tags: Jeers


I can't believe we've made it this far. With you having to go back to
Seattle and me being in Cd'A for the majority of our relationship and now
you're living with me. We get to see each other every day and I have never
been happier in my entire life. Everything you do just catches me in awe. I
love you more than you would ever know. Everything about you just makes me
love you so much more, your laugh can make anyday better no matter what
happens. I always look forward to coming home from school and having you
hide somewhere in the garage and scare me or jump up and hug me. I never
would of thought that the kid that waved to me at the beach that one day
last summer would ever mean this much to me, but you do and I'm the
luckiest girl in the world having you in my life as my boyfriend. You are
the love of my live and I can't wait to spend it with you baby. Happy One
Year my love and may there be many to come. I love you most infinity. So
ha! toe jew! P
Tags: Cheers


To the couple who is as broke as we are, but still stopped to help get our
car to the side of the road out of traffic and then took me to get gas,
even taking me all the way back to my car (not to mention sharing your food
with my husband and me, as well!). Our humble thanks to you again. You will
be blessed for your selfless kindness, good hearts. Why is it that the
people who have the least are always the first to extend a hand to help, to
seat you at their table and share what little they have? It comes by grace.
Good luck to you both. We hope to meet again. Til then, Happy Trails.
Tags: Cheers


I have been an employee of a company located in the Wells Fargo Building
for over 5 years. Our parking lot is under the freeway by LC. It's not so
bad in the morning, but when I walk to my car in the late afternoon, I am
accosted by the downtown cretins. They yell at downtown workers who park
above Second Ave., throw footballs over our heads as we pass, call us names
and last week, I was hit in the leg by one of them who threw a rock because
I stepped over his friend as he slept on the sidewalk! They should be
forced to go into the military instead of loitering. Perhaps, they should
get rid of their tattoos and piercings and get a job. Perhaps, they should
be forced to stay in school and learn a trade! I am one of many who have
complained about these hoodlums, but to deaf ears. They are terrorizing the
downtown area and something should be done.
Tags: Jeers


To the bartender at the downtown deli/bar. Please stop ruining what once
was a nice relaxing place to hang out. The regulars don't even come in
anymore while you"re working. You have a horrible attitude, you overcharge
(and by overcharge i mean charge me for things I don't even get), play the
worst music ever (no hip hop in a dark lounge please), and you have no idea
how to make a real drink (too much vermouth in a martini ruins it). So
please do us all a favor and work on these issues or go back to the deli
side so we can start going there again.
Tags: Jeers


on 3/13/05. You were wearing a mint green, leprechaun suit. I was wearing
my flip flops. You asked me to limbo. Tag-you are it--with the telephone
calls. Onto Chinese. These days, I see you as a loving husband, a beautiful
father and my best friend. I see you sharing your wisdom daily and have
never learned so much from another human being. I see you sacrificing daily
for the greater cause. Since I don't have a mountaintop, this will have to
do. I see us and our many adventures ahead. I love you, more. y.a.m.m.f.
Tags: Cheers