For this week's Cat Friday, we decided to introduce faithful readers to the lovely kitties owned (or do they own us?) by The Inlander's cat-loving staffers. After the blog theme was chosen, I sent out an email to all of the cat people in the office, asking them to send me photos and descriptions of their feline friends, and here's what I got!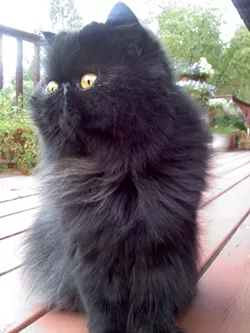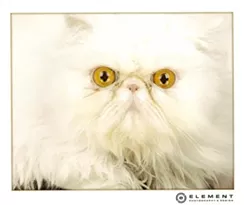 We have two cats at our house. Abby (white) and Bubba (black), both are Persian. Abby is a rescue cat, she's about 12 years old and loves water. She is a total pain in the ass whenever she hears water running, and makes it very clear that she wants some. You can see from the pics that she has a drinking problem.
Bubba just turned 4 years old - yes we celebrate his birthday. Bubba comes from a line of show cats and his brother was a regional champion. His human mom is a practicing vet in Coeur d'Alene and does a great job with some beautiful kitties. Bubba loves attention and sitting on laps. He loves to play with ribbon and string. He's very muscular and strong and has a pretty good bite for a 7-pound cat. I can only imagine what it would be like if he weighed 70 pounds. It's their house, we just live there.

— Bruce Deming, Senior Account Exec.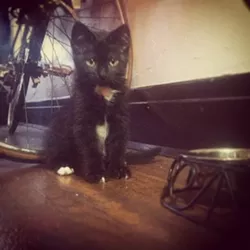 RAFI
His name is Rafi, based on an absurd human character from a sitcom called The League (See video here, not appropriate for all ages). Mostly, though, I just call him "kitten" or "cat." My boyfriend and I adopted him as a tiny fuzzy kitten from the Spokane Humane Society almost two months ago (late July), propelling us fully into adulthood, coupledom and "weird cat people" status. We think that makes him about 5 months old now, but we're not exactly sure. Oops. He is hyper and obnoxious and kind of a little asshole. He likes sleeping, and occasionally making mischief, in the newspaper recycling.

— Heidi Groover, Reporter
COCO INEZ
This is Coco Inez, an only cat child amongst three dog siblings. She thinks she is a dog and she probably is at heart. Coco wakes up promptly at 7 am every single morning and demands to be fed by slamming open the bedroom door. She's learned how to open door handles.
She spends her days obsessing over the neighbor cat and staring out the window, eating catnip, napping in random chairs, pulling down Mom's curtains and cleaning her brother's head. She is a calico through and through and at 9 pm every night, she gets her cardio in by running every stair several times and beating up the puppy. She is 1-year-old and was a farm kitty. I chose her because of her sassy attitude and half-smile across the side of her face caused by her fur pattern. She is spoiled and knows it!
— Alanna Spencer, Marketing Coordinator
Mufasa, Age 5
Likes: Crunchy cat treats, catnip mice, staring at fish tanks, and knocking over house plants and then pretending I had nothing to do with it even though my paws are covered with dirt and everybody knows it.
Dislikes: Being brushed, closed doors, moths, and the vacuum cleaner.
Motto: "I had nothing to do with that broken thing on the floor, I swear."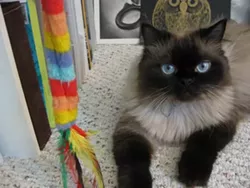 Samwise, Age 4
Likes: Ping pong balls and crinkly toys. Climbing into bags, boxes, cupboards, the pantry, holes in the ceiling, and generally anywhere I'm not supposed to be - and going to sleep. Trying to trip the people I live with while they're carrying things or going down the stairs.
Dislikes: Loud noises, dogs, kids, getting locked in the pantry when I'm sleeping in it, and off-brand cat food.
Motto: "All my toys are stuck under the fridge again."
Cocoa was born on Sept. 15th and is two-years-old. In this picture she was hunting a grass hopper… she is a bad-ass hunter and an excellent hider.
— Rebecca Rison, Advertising Assistant
Piccola (pronounced Peek-oh-lah) hates when people say her name wrong. I adopted her as a tiny little kitty from the Spokane Humane Society in 2003, which makes her 9 years old. I like to say that Piccola is a perfect cross between Celine Dion, Kim Jong Il and the Buddha. She's a complete diva, can be very zenful and peaceful, and yet, she is also a tyrannous and undemocratic, ruling over the house with an iron paw. She enjoys peanut butter, sleeping in places she's not supposed to (in linen closet, on new furniture) and having casual conversation. She is the quirkiest animal I have ever met in my life.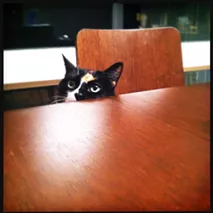 Una (Oo-nah) is also 9 years old, and was adopted from the Spokane Humane Society. Una likes a lot of quiet time, full bowls of food and cackling at birds outside. Her favorite prank is to wait for her people to fall asleep so she can put her paw in their mouth and watch them freak out. Una also seems to be able to read minds. Like many full-figured women, Una is not to be messed with. She will only take so much crap from her cat and dog sisters before she brings the pain. For this, she is respected and feared by her animal brethren.
— Leah Sottile, Reporter and Music Editor

Laggy, as my family calls her – we're not sure how her nicknamed morphed into this, but that's usually how nicknames go – was found on the side of the highway, at the Tum Tum post office out on Long Lake. At the time we lived way the hell out in the country, and had stopped on our way home on a cold, rainy December night to get the mail. My sister and brother spotted a cold, wet, little kitten cowering under the big blue letter drop box and, to make a long story short, that's how we came to bring her into the family. She became my family's first indoor-only cat (we lost too many mouser kitties to let that happen again).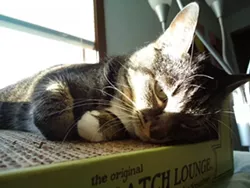 Alice is a very, very spoiled cat – and she rules the house like it's her kingdom, and it definitely is. She hates other cats, so she's been an only kitty her entire life. She LOVES little rattle-y furry mice toys, and the corrugated cardboard cat scratchers, but only the inclined ones. She spends her days napping on my bed and watching birds out the window. Her favorite night activities are walking around the house with a toy in her mouth yowling as loud as she can, and opening closet doors because she thinks she lost a toy in them. Her favorite treat are Greenies, and she gets them twice a day and is on a classically-conditioned routine, so if you are late giving them to her she surely will let you know. Laggy turns 9-years-old on Sunday the 23rd and yes, I have some super cool kitty things I bought on Etsy stashed in my dresser for her.
— Chey Scott, Listings Editor