Cat Friday readers, it's time to raid your grandma or great aunt's stash of tacky ceramic cat figurines.
Sit her down first and gently tell her that in the end, doing this is best for everyone – she gets rid of some clutter around the house that no one in the family wants to inherit, and by doing so she'll also help some real homeless kitties living on the streets. That last statement should make her eyes sparkle with cat lady joy.
Once you've successfully hijacked the tchotchkes, safely pack them up in a box so they won't break if jostled and send them off to The Teal Cat Project, in Omaha, Neb.
The Teal Cat Project has been a favorite kitty-related cause of mine for some time now, and I feel it's the perfect time to share just how cool it is and how you can get involved and help.
Image from the Teal Cat Project.
To sum up the way it works, the awesome people behind the organization take tacky, dorky (okay, and sometimes really cute) cat knick-knacks – also called tchotchkes, pronounced with the first "t" silent – and makes them hip and cool again by spray painting them a cool, fresh shade of teal. The kitties are then sold for $25-$35 on the organization's website, with all of the proceeds benefiting a chosen cat rescue group or shelter somewhere in the U.S.
It's a pretty nifty and hip way to up-cycle unwanted knick-knacks that most likely will end up on a thrift store shelf or at a garage sale.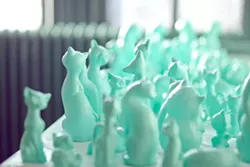 Teal Cats sporting their new coat colors. Image from the Teal Cat Project.
It's been quite a while since I went out scouring the local thrift stores to amass a collection of kitty tchotchkes to send off to TCP headquarters in Omaha, but it was a mission I took pretty seriously. (To date I believe my sister and I shipped off three or four large-sized flat rate boxes of TCP donations over several months' time.)
It was also a lot harder than one might think to find the little guys – turns out there must be a lot of cat ladies doing the same thing around here, or maybe there's just too many reluctant folks willing to give up their cat tchotchke collections.
The Teal Cat Project heavily relies on kitty lovers all over to help in its mission of rescuing ugly tchotchkes and helping homeless kitties because – as you could guess – Omaha only has so many ceramic cat knick-knacks lying around.
If you plan to go head-to-head with yours truly to save some kitties by going on the hunt for cat tchotchkes to donate, there are some guidelines you'll need to follow, since not every ugly cat figurine out there makes for a good Teal Cat. These FAQs are all listed on the org's website.
Cats need to be ceramic or porcelain. Not of resin, wood, plastic, or glass. 
Cats must be vintage – do not go buy up all the cat figurines at the dollar store or Walmart. The point is to repurpose and reuse what's already out there. 
Cats need to be single kitties, meaning not a figurine that is a bunch of kitties together or that have another purpose other than being purely decorative. No candleholders, saltshakers, planters, etc. 
Cats should not cost more than $5. If it's more than $5 it's probably actually worth something and might be a legitimate collectible or an antique. 
Cats should be between 3 and 12 inches to work. Too small = un-paintable and too big = not a knick-knack. 
The most important thing to remember is to pack the kitties well enough to get them to TCP headquarters without breaking. I've followed the group on Facebook for quite some time now, and kitties arriving broken seems to be a reoccurring issue. All your effort of hunting for and buying tchotchkes is wasted if they don't get there in one piece!!!
Pack your donations well so they arrive in one piece! Image from the Teal Cat Project.
Maybe you're not ready to go out hunting for TCP converts, and that's okay. Maybe you just want to get one of your own to sit on a shelf as a reminder of the kitties in need of some TLC in the world.
For many reasons, Teal Cat campaigns are only offered three or four times a year, since campaigns are largely dependent on how many cats are donated. Usually each campaign includes several hundred cats, and they also tend to completely sell out in the first day -- sometimes in merely hours. Each Teal Cat in a campaign comes numbered with a little tag on its neck so you'll know where yours ranks in the growing Teal Cat family. As mentioned, each Teal Cat campaign benefits a designated cat shelter or rescue. The November campaign helped kitties affected by Hurricane Sandy, for example.
It sounds like a new Teal Cat campaign – benefiting the Tree House Humane Society in Chicago, a cage-less, no-kill cat rescue – is coming up soon, so keep your eyes open for the announcement that it's started by following TCP on Facebook or by signing up for its email newsletter!
This little teal kitten was sent to me as a thank-you from the TCP for rescuing cat tchotchkes from the shelves of Spokane's thrift stores!