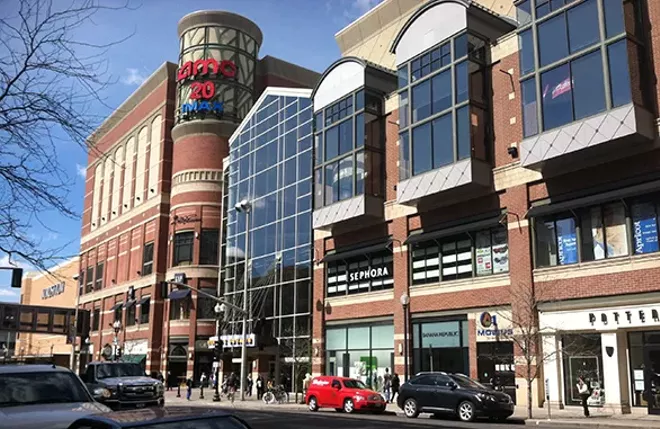 Sephora, the latest big chain to stake out a spot in Spokane, opens tomorrow at River Park Square. The makeup-and-beauty giant already has a presence at local malls, but this is the first full store in the area. The store is located on the second level, where part of the Abercrombie & Fitch store used to be.
Sephora stores carry more than a hundred brands, as well as the Sephora label, for wall-to-wall lipstick, blush, nail polish and more. Name a color visible to the human eye, and they've got the matching eyeshadow. (Recently they've been promoting a Disney Jasmine Collection with 15 shades of eyeshadow pulled directly from scenes in the 1992 movie
Aladdin
.
Rumor has it
the
Little Mermaid
-inspired set is coming this fall.)
Doors will open at 10 am. It's hard to know whether there will be a line of eagerly waiting customers, but Spokane has a history of giving chain stores an enthusiastic welcome.
People went crazy for the grand opening of H&M last fall, and camped overnight for the opening of Trader Joe's, too. Chipotle opened in north Spokane last year after fans demanded it on Facebook. In 2011, hundreds of people lined up for the opening of the Apple Store.
Why does Spokane love its big chain stores so much? In 20 years of Best of the Inland Northwest results, readers frequently picked new national arrivals for the year's Best New Business: Restoration Hardware in 2001, Old Navy in 2002, Cabela's in 2008, Trader Joe's in 2012.
Here at The Inlander we try to encourage shopping local, but it's impossible to deny that bigger chains make us feel like a bigger city. Even if you don't really want chain stores here, you want chain stores to want to be here. And businesses that employ people are always better than empty storefronts.
Later this year, we've got Buffalo Wild Wings coming to the Valley. But what some Spokanites really want, though, is a Whole Foods and an IKEA.