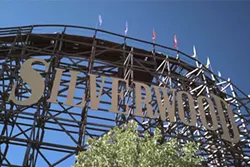 Either
Silverwood
is in cahoots with the weather, or they just got lucky, because it looks like it's going to be a beautiful opening weekend for the theme park in north Idaho.
Back when there was still snow on the ground, we told you about the two new rides opening this year — a spinning, swinging thrill ride named the SpinCycle and a family ride called the Barnstormer.
To commemorate the park's opening in 1988, admission this weekend is just $19.88 per day. (Typically it's $44 for general admission, and $23 for seniors and children under 8.)
If you can't make it this weekend, they've also got free admission for moms next weekend for Mother's Day (one mom per family) and half-price weekend after that, on May 18 and 19.
UPDATE: Silverwood let us know that you'll have to wait a little longer for the new rides: "...the two new rides are still under construction. All other big coasters and rides are open. There will be a new Nick Norton Magic Show this weekend, as well as a new train robbery."
UPDATE 2:
As of May 28, both new rides will be open for the first weekend in June, which is also when
Boulder Beach Water Park
opens for the season. SpinCycle opened officially on May 25 for Memorial Day weekend, and Silverwood posted this photos of its first group of riders. (They also posted this
video of what it's like to ride it
, if you're feeling strong-stomached.)