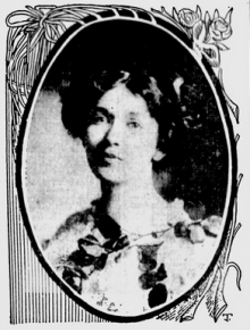 Every good Spokanite should already be aware that Father's Day was first celebrated right here, 103 years ago. The idea came to Spokane resident Sonora Smart Dodd a year earlier while in church listening to a Mother's Day sermon, because she and her five brothers had been raised by their father after their mother died in childbirth. She felt that fathers deserved to be recognized for their important role, too, and got church leaders on board with the concept.
But since you have to assume everyone in Spokane already knows that, here are some additional facts culled from old newspapers for historical trivia fans to share at today's family gatherings:
1. Mrs. Dodd felt fathers were disrespected in popular culture and hit songs of the day. Two popular songs that always get mentioned are "Everybody Works but Father" and "Father, Dear Father, Come Home with Me Now," which feature lazy, drunk fathers who aren't doing a thing to help out around the house. "Those were the days when fathers were pretty much in the doghouse," Dodd said in a 1970 article.
2. Mt. Spokane is a symbol of Father's Day. The mountain was dedicated as the "Father Mountain" in 1930 and the summit camp was dedicated on Father's Day in 1934. (There is even a poem about it.) A copper sun ball sculpture was erected in 1932, promoted by local women's organizations, to celebrate George Washington and Father's Day.
3. Some people were already rather cynical by the 1950s. From a 1952 article:
"Father's Day, a folk festival which forces innocent men to perform such rites as smoking the varnish off new pipes, falls on June 15 this year. … The holiday sputtered along without any great groundswell of acceptance until fairly recently, when the manufacturers of wallets, carpet slippers, trick razors, synthetic leather belts, galluses, cravats and pot metal clasps for same discovered the poor old glassy-eyed Pop was good for staving off the summer slump."
4. Mrs. Dodd didn't mind the commercialization, and suggested your father might like steak. "It has focused attention on observance of the day," she said in 1938 about advertisements, "and, best of all, it has created jobs in making gifts for the nation's fathers." She turned down offers to endorse liquor, soap and other products, but always encouraged gift-giving. In a 1962 article she said: "I would never endorse anything, but steak would be nice for father on his day, wouldn't it?"
5. Congress didn't officially recognize Father's Day until 1956. President Wilson participated in Spokane's festivities by pressing a button from Washington D.C. in 1916, and the observance was permanently established for the third Sunday in June by President Nixon in 1972. Congress passed a joint resolution in recognition in 1956, 42 years after Mother's Day was recognized and decades after Dodd started campaigning for it.
6. Other cities have tried to claim the honor of inventing Father's Day. Some news stories have given credit to a woman in Richmond, Va., and this origin story is still floating around. A reverend in Vancouver apparently suggested the day in 1912, and a service recognizing fathers was held in 1908 in West Virginia. Chicago has also taken credit. A club in Danville, Ill., passed resolutions to celebrate the holiday in 1911, but politely took back all claims to credit after hearing that Spokane had already thought of it.