It's been two weeks since the Blue Spark abruptly closed its doors, and it's still got people shaking their heads over the state of downtown Spokane. And then yesterday Ciao Mambo announced it's closing its doors — though the company has now confirmed it will reopen as another MacKenzie River Pizza location.
With those closings following the abrupt end to Catacombs and Scout earlier this summer, people are feeling cynical: "Why don't you just say Spokane is closing?" It's worth talking about why and asking ourselves what could make Spokane's downtown a better place. Mourn however long you need to, complain however much you want.
But let's also remember to appreciate what we've got and what we're getting. Here are five new downtown places to be excited about, and this isn't even close to comprehensive: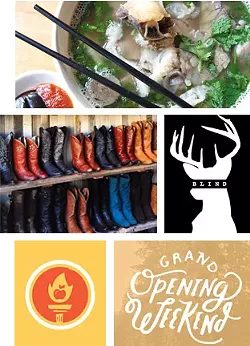 5. The Blind Buck
The newest spot on Division in the Main Avenue hub is a speakeasy-style joint planning on a grand opening in August. Spokane's not lacking for a good cocktail, but why not another? In the owners' updates it's obvious they're putting a lot of work and care into the place, and their enthusiasm is catchy.
4. Pho City
It's about time we had genuine Vietnamese pho among the city's downtown lunch options. The family-run restaurant has been open since the middle of June, so it's about time to stop by if you haven't already.
3. Vintage Angel
The latest stylish addition to the growing Carnegie Square and West End shopping area — just ignore the Otis Hotel dead zone — is next door to the Anthropologie-like Artemis, with a treasure trove of reworked vintage dresses and boots. The whole area is having a big sale this weekend if you've been waiting for an excuse to stop by.
2. Liberty Ciderworks
This state is pretty good at apples and booze, so it's about time for cider to start catching on in Spokane. Liberty Ciderworks is getting started up on Washington Street just south of the train tracks, and we're looking forward to tasting what they come up with. Dry, not sweet.
1. The Bartlett
It's been more than six months since the community put together more than $20,000 to support The Bartlett, a new mid-size music venue. It's become much more than an ambitious idea: There's a building and a grand opening date and — just launched this week — a website to tell you all about it.
None of those places are dead-ringer replacements for what's closed, of course. But don't get too down, Spokane.