Sitcom junkies know Neil Patrick Harris as the catchphrase-prone ladies man "Barney Stinson" from How I Met Your Mother. Older TV fans know him as "Doogie Howser," titular kid doctor on Doogie Howser, M.D. Cultured Broadway types know him as the host of every Tony Awards ever and star of Stephen Sondheim's Assassins. Stoners know him as the frightening party animal "Neil Patrick Harris" in the storied Harold & Kumar Go to White Castle franchise.
And at Spokane-based video game developer Cyan, creator of hit-game Myst, they know him as the guy who carried the funding of their next big project over the threshold into reality.
Cyan's Kickstarter, requesting $1.1 million to make a new video game, Obduction, had a pretty decent start, raising nearly $350,000 in just two days. But nearly all high-profile game Kickstarters raise a big amount of money in the first few days – that's when the hardcore fans dive in. The question was whether Cyan could extend beyond their passionate fanbase, tap into the same market of relatively casual gamers who played Myst, and make Obduction happen.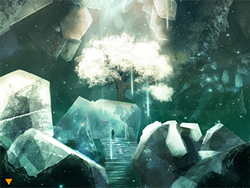 Now, it's not unusual for a Kickstarter to resemble an upside-down bell curve. In the last days, fans who really want to see the project happen may up their pledges or amp up their outreach efforts.
But inside the offices of Cyan, founder Rand Miller says, the stress was real. If they missed the goal even by a few thousand dollars, Cyan wouldn't get a penny. The team kept looking at the trend line, seeing the project was on shaky ground.
"You can't run a business and expect to always succeed," Miller says. "You think realistically. There were plenty of times when we were right on the edge." There were times, he says, when he thought they wouldn't make it.
Cyan aimed to be nimble, listening to feedback from fans, offering new reward levels and add-ons for funding, and adding new stretch goals. If they raised $1.3 million, they promised, they'd add language localization and support for the Oculus Rift virtual reality device. $1.7 million would add an entire additional world and "roadtrip mode" to the game, where one player can play, while the other can offer advice, observation, or backseat heckling.
Some good fortune broke Cyan's way. In-depth video game websites Polygon and Gamasutra published stories. But funding remained slow. Yesterday, Cyan decided to take a step it had been reticent to take: sending out emails to everyone who had played Myst Online asking for more help.
But yesterday, came a single tweet from Neil Patrick Harris (@ActuallyNPH). Mr. Patrick Harris's account has 7,090,756 followers. That's more than 33 times the population of the city of Spokane.
About 3 pm yesterday, he tweeted "Remember Myst and Riven? The creators are Kickstarting a brand new game: #Obduction." 3 days left to help fund." Nearly 900 of his followers retweeted that tweet, sharing it with their own scores of followers.
"Without a doubt, you get someone like Neil Patrick Harris, you're like oh my goodness," Miller says, assessing the impact. "As far as I'm concerned it was right on the line. Yesterday when he tweeted the surge was — everybody noticed the surge."
Numbers spiked to their highest level since October 18, bringing in $74,179 in a single day. The momentum's continued into today, as Cyan's already raised over $90,000 as of 3 pm.
Check out this KickTraq chart:
"It makes you realize just how powerful Twitter is, as well," Miller says.
Other heavy hitters have also tweeted their support, including Bungie, the company that made Halo, Jonathan Blow, the indie darling who created Braid, and Richard Garriott, who created one of the first massive multiplayer games with Ultima Online.
But only a select few tweeters have the punch of Neil Patrick Harris. He's a huge Myst fan, telling USA Today in 2009 it was his favorite game growing up. "I loved Myst," he said. "There was no time limit, and there were no weapons or weapon packs to acquire. You just went around and solved puzzles. It was very immersive. Loved it."
When he hosted the Video Game Awards in 2010, he told Entertainment Weekly, "If they came out with a new Myst, I'd probably start crying. I love those games so much. Riven was great."
And that, my friends, is the power of fame: The ability to summon what you love into creation.
When last two days of the Kickstarter wind down, there will celebrate at their north Spokane County offices. Then they take a breath — "This has been like adding another job to everyone in the company. The Kickstarter beast has to be fed," MIller says — and then they get right down into fleshing out the games design.
Miller calls the Kickstarter process "invigorating," noting how it has actually supplied the company with energy. Overall, he says, it's much nicer than the publisher-driven process of legal documents, attorney meetings, and negotiations.
"It's fun being on this side of the goal," Miller says. "It's interesting being on the other side, it's a lot more fun being on this side."