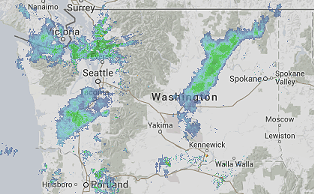 Tis' the season for snowfall, and this weekend may be bringing it. According to the National Weather Service, Spokane can expect rain and possibly 1-5 inches of snow. (Yippee.)
Luckily, the city has already released its snow removal plans, which will hopefully keep the weekend roads safe. Mayor Condon's main focus is improving safety for public travel, as well as alerting drivers when a snow event is declared. Some options to stay in the loop include spokanecity.org, City Cable 5 and email distribution networks. For those smartphone users out there, Facebook and Twitter will also have the latest updates on snow. You can also get text alerts by texting 385-5775, or you can call the snow hotline at 385-5775 for a recorded update.
The city also has electronic variable message signs along the city's main arterials — Division Street, Third Avenue, and the Maple/Ash corridor — with a purpose of telling drivers about expected road conditions and closures.
The city declares a "snow event" when two inches of snow is on the ground, and when four more inches is expected. (This is a "stage one.") During a stage one event, all parked cars must be moved off the arterials and fixed bus routes within six hours of the event being declared.
"Stage Two" is more severe, when six inches of snow is on the ground and even more is expected. During a stage two, a whole city plowing is required and cars parked in residential areas must be moved to the odd side of the street within six hours of the event declaration.
The city always plows the arterials, bus routes, hospitals, medical districts, and neighborhood business districts first, but, in the event that a Stage Two rears its ugly head, there will probably be a plow or two in your neighborhood. To find out where you fall in the plow pecking order, here are the snow plowing progress maps for the City of Spokane, Spokane Valley and the rest of Spokane County.