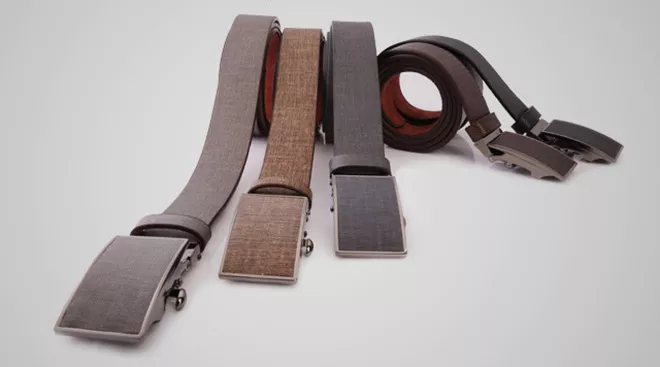 The main problem with belts is the holes. That's how Don Wilder of Coeur d'Alene saw it — there are never enough holes to get a perfect fit, and the ones you do use stretch out over time. The ones you don't use ruin the sleek line of the belt.
So Wilder designed a stylish new belt that doesn't use a traditional buckle — and his line of Eastwood Slider Belts are now a runaway success on Kickstarter. The campaign met its $15,000 goal within 48 hours, and has now raised more than $87,553 with five days left to go.
Kickstarter campaigns in the "design" category have been known to do quite well because backers are essentially paying in advance to get a physical thing. The Pebble Watch campaign — a watch that interfaces with your phone — broke all kinds of records in 2012 by raising more than $10 million, and it's still the most successful Kickstarter campaign ever. Similar belt projects have also been successful.
Wilder's project got started when he decided to go abroad and live in China for a year after college. There, he says, he saw a new level of men's fashion, with young men happily spending hundreds of dollars for distinctive, high-quality fashion symbols.
At $55, a single belt is not outrageously expensive — and getting one is clearly the primary reason people have pledged to support the Kickstarter campaign. (Of the five colors offered, basic black is hands-down the most popular.)
With help from a Chinese friend who has experience managing factory production, Wilder is contracting with two factories in China and recently visited to see how things were coming along.
The campaign ends next Monday, Jan. 20. The belts will be available to buy later at eastwoodbelts.com.