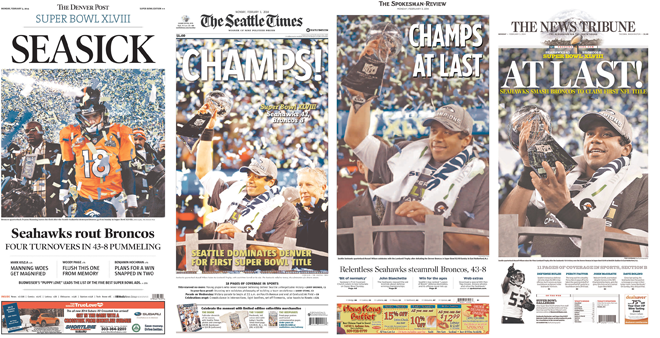 SEAHAWKS!!!
The Seahawks won the Super Bowl, for the first time ever, in resounding 43-8 win over the Denver Broncos. (Seattle Times)
HERE
A truck carrying ammonium nitrate crashed on Saturday on U.S. 95 between Coeur d'Alene and Sandpoint, killing the driver and spilling about 500 gallons of the liquid fertilizer. (Bonner County Bee)
A new bar/nightclub called the Daiquiri Factory drew a protest during its opening weekend for a drink called the "Date Grape Koolaid." (KHQ) Here's the original post we wrote Friday.
Assistant Chief Craig Meidl stepping down to lieutenant isn't the only command staff shakeup at the Spokane Police Department. (S-R)
One of the owners of a Valley espresso stand that was vandalized in January is now suspected of doing the damage herself. (S-R)
Two children in the Plummer area died after falling through the ice on a pond. (KREM)
THERE
Actor Philip Seymour Hoffman, 46, was found dead of an apparent drug overdose in a Manhattan apartment.
Deep political divide in Thailand turned violent as people voted Sunday to choose a new government, with one group attempting to block the election. (TIME)
Woody Allen's adopted daughter, now 28, describes his alleged sexual abuse publicly for the first time; Allen has denied all allegations. (NYT)
A man who turned up in a battered boat in the Marshall Islands says he drifted at sea for 13 months. (CNN)
Punxsutawney Phil predicts six more weeks of winter. (CNN)