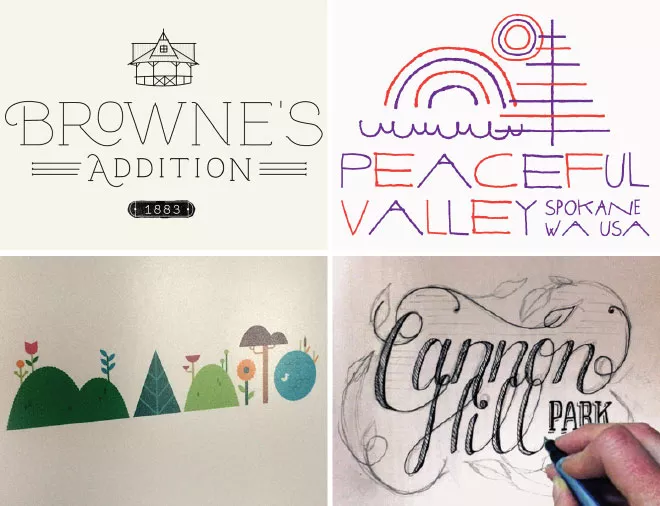 Two years ago, a group of local designers launched a branding project for some of their favorite Spokane neighborhoods. Tonight, it returns with new neighborhoods and the addition of beloved parks as The Hoods 2.0. The show is hosted by Fellow Coworking and Luke Baumgarten, who wrote about the first iteration of the project back in 2012 when he was a staff writer here at the Inlander.
The new neighborhoods include: Cliff/Cannon, Manito/Cannon Hill, Riverside, Northwest, Grandview/Thorpe and Kendall Yards.
The parks include: Manito Park, Cliff Park, Franklin Park, Holmberk Park, Shadle Park and Linwood Park.
Place is a powerful influence in art of all types, partially because it's a fun challenge. The character of a place is by nature communal, because it's based on the impressions of many people and defined by the ways those impressions overlap. It takes into account history and expectations, because when we become familiar with a place we can see its long arc of change.
This also makes it controversial, which is partly why people seem to never tire of discussions about our city and our neighborhoods. (Both recent commentaries we've had about "Spokane" as a concept — here and here — drew dozens of comments. And the first Hoods show was not without some controversy.) In every city, there's a constant conflict between the official vision for what a place should be — defined by neighborhood councils, city leaders, visitors bureaus — and the full picture of what it is right now for all the people living and working there.
It's something we've been thinking about a lot here at the Inlander with our Sprague Avenue project. We were interested in Sprague in the first place because it's a thread between so many diverse stories. In some ways, it's an attempt to deconstruct the common idea of "East Sprague." If you haven't read Thom Caraway's poem for our Sprague project, you should do that.
It's also the theme of a series of local landmark prints Inlander Art Director Chris Bovey has been doing on the side for the past year. Here's one of his latest ones — which is not part of the Hoods 2.0 show, but maybe 3.0 will include areas just outside Spokane proper: